Writing Newsletters as a Personal Injury Attorney
January 12, 2020
Have you ever thought about sending out a newsletter? As a personal injury attorney, it's important for you to stay in front of your target audience. After all, injuries are something that definitely aren't planned. But as an attorney, you can plan how well you put yourself in front of your community so that if the time comes when they need a personal injury attorney to represent them, they remember your name. A newsletter is one of the many ways you can do this online! In fact, it's one of the best ways. Want to learn some of our best tips and tricks to writing a newsletter? Keep on writing to find out how to increase opens and clicks, and gain more clients!
At Hyperchat Social, we love to help our personal injury attorneys stay in front of potential clients. If you'd like to start sending out a monthly newsletter, but would prefer to let someone else take the reigns, we'd love to set this campaign up for you. Click HERE to speak with a newsletter expert on how we can help you Turn Social Into Sales!
Why Should I Send Out a Newsletter?
It's officially 2020. Did you know that there are 4.2 BILLION active email users? In fact, for every $1 spent in email marketing, you yield an average $38 return on investment. (Source: Hyperchat Social) While we love posting to Instagram, Facebook and Twitter, there's no denying the power of email. In fact, email is almost 40 times more effective than Facebook and Twitter COMBINED for acquiring new clients. Newsletters are a great way to increase personal connections, get quality leads, spread brand awareness and increase website traffic.
Who Should I Send a Newsletter To?
There's so much power in sending out a newsletter. But, you have to have the right recipients to really capitalize on your message. For example, if you only have 10 people in your audience, your reach isn't very large. But, when you cast a large net, you'll increase the chances that someone will respond positively to your newsletter and convert as a future client. As a personal injury attorney, we recommend sending your newsletter to a list of prospects that belong in your target audience. If you have a CRM system, touching base with these people through email marketing is a great way to utilize this contact list to the fullest. In fact, Mailchimp allows you up to 2,000 contacts in their free pricing plan. When it comes to sending out newsletters, the more the merrier! If you have a large number of contacts, make an investment in your business by upgrading to Constant Contact or a paid Mailchimp account.
How Do I Send a Newsletter?
At Hyperchat Social, we love working within Mailchimp and Constant Contact when creating newsletters. If you're just getting started, either of these platforms will give you the templates you need to create a newsletter that looks great. When it comes to deciding between the two, there are a few differences you should know.
Mailchimp's services are completely free for users whose contact list is less than 2,000 emails. If you have a low marketing budget, then the cost-effectiveness of Mailchimp is a great reason to choose it for your email marketing strategy. Mailchimp can also be integrated with Zapier to connect leads' Facebook Ad data to their Mailchimp accounts, meaning that leads will get added automatically to your Mailchimp audience and start receiving your newsletter. If you have a larger base of emails you'd like to send to, we'd recommend Constant Contact, as it has great list management tools and organizing segments is a breeze.

Check out our blog 'Mailchimp Vs. Constant Contact - Which is Better For You?' to learn more!
What Should Be In My Newsletter?
Now that you have a place to create your newsletter, what do you include in it? As a personal injury attorney, there is a lot of different information you can add-in. But, you want to remember that your main goals should be staying in front of your audience and keeping them interested enough to click back to your website or contact you for more information.

Below are some of the topics we'd recommend mixing into your newsletter to reinforce your brand, play a part in your community, and build your expert reputation:
Company News/Events- What's happening in your business? People want to match a face to your business name. After all, they'll be placing their trust in you to handle your case. Some of the day-to-day happenings may seem mundane you, but they establish your business' personality.
Relevant Trending Articles- One way to stick out as an attorney is to inform the community of recent law changes. Most people don't track them, and it makes you look like a reputable source of knowledge when they're included in your newsletter. Find something about your state, your area, or something fun! They don't all have to be legal based. Find something that you find interesting. Odds are, others will find it interesting too.
Blog Posts- Do you have a company blog? Like the trending articles, this is a great way to catch the attention of recipients and grow your website's traffic. Articles are great to share, but having your own custom content really shows off your industry expertise.
Contact Information- While we recommend including a lot of content in your newsletter that promotes thought leadership, that doesn't mean that we don't recommend scattering a few hard sells here and there. After all, your recipient may need to remember who is sending them the email and what you specialize in. Insert some ads that act as a call to action back to your website and make sure to include your contact information at the footer of your message. If you offer free consultations, this is a great place to advertise this.
How Do I Get People to Read My Newsletter?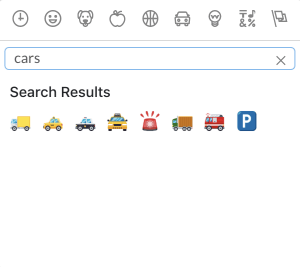 The best way to get people to open your emails is an intriguing subject line. We touched on how popular email marketing is in this day and age. With that in mind, it's important to remember that other businesses are busy filling up the inboxes of your recipients. You don't have to use clickbait to get people to open an email. But think to yourself. What would make you open a company newsletter instead of deleting it? Try making it the name of the article or blog you think is most interesting. Want to make it more enticing? Throw in some emojis to spice things up. We've really seen this make a huge difference in the way people respond to newsletters. Because emojis are rarely used in everyday subject lines, this is sure to make your email stand out. As a personal injury attorney, there is a lot of emojis that can come in handy. We often use sirens, cars and even the briefcase emoji in our content.

When Do I Send My Newsletter Out?
As we said, inboxes get cluttered. You want to make sure your newsletter is sent out at a time that makes sense for your target demographic. If it helps you, you can set a specific date and time to send your newsletter out each month. For instance, you may want to stray away from sending a newsletter out during a weekday morning, since a lot of people are at work and clearing out their inboxes.

One big thing to ask yourself, especially in the holiday season, is, "When are people away from their email?". A lot of people don't check their emails consistently over the holidays. Know that it is okay to switch up the date here and there to maximize the amount of views your newsletter receives. When you first start out, we recommend trying out different times and different days of the week. You'll find what works best for you! Analytics are your best friend. You should keep track of what is working and what is not to use when creating future editions.

How Often Should I Send Out A Newsletter?
What makes the most sense for your business? At Hyperchat Social, we recommend once a month but it is really up to you and what is sustainable for whoever is creating it. Starting with a monthly newsletter is a great way to get in a rhythm of making an effort each month to connect with prospective clients. But, you want to make sure you are consistent with it, as you'll likely gain readers who look forward to getting a message from you in your inbox.

As a personal injury attorney, there are constant law changes and recalls that you can talk about. Another great way to stay in touch with prospects is by sending out an e-blast on a trending topic. If there's something relevant to your industry that is getting a lot of traction, you can post about it or write a blog post on it. One step further? Create an eBlast on it and send it out for your audience to see. You never know who may read the message, especially when it's a topic that people want to know about. These don't need to have a lot of different sections or images of your team. Instead, create something that is informational and goes over one topic. That way, these are more of "press releases" than your monthly newsletter.

Want to send out a monthly newsletter but don't want to make your own! No worries, we've got you covered. Schedule a time with a newsletter expert by clicking HERE!
Prev
Small Business Marketing on Pinterest
Creating Graphics For Financial Advisors