Why Native Video On Linked In Is Better Than Being On TV
October 25, 2017
Recently, LinkedIn started to give you the ability to shoot native video on your phone and directly upload to LinkedIn when you run your posts for the news feed.
Most people still don't realize that LinkedIn is a thought leadership platform, and videos centered around management, recruiting, leadership, and topics that help with personal growth will be viewed the best…
NO MATTER WHAT the source of your video is when you post it on LinkedIn.
I recently ran a test on this by shooting a very simple native video that lasted 24 SECONDS and asked this management question:
What matters most? Activity, Effort, or Results?
It didn't really matter to me who answered or what they answered, but I wondered how big native video could be on the LinkedIn platform.
THE RESULTS?
You'll find out in just a few minutes.
I had to compare and contrast this native video with the other types of posts that I've been strategically putting on LinkedIn which consist of the following:
I am a regular on CNN's Headline News TV with a personal finance expert gig. Every time I go on the show, I use the URL from Facebook and post it up on my feed.
I post frequent content of original articles almost on a weekly basis on a wide variety of topics. While the truth is that I have had articles do well in excess of 100,000 views, it's not the norm. I'll show you a normal article and how many people view it especially if it is financially related.
3rd Party articles are another source of posts where I will newsjack a particular article and put it up on the feed for the viewing of my followers.
So why is it that native video will kick the s**t out of even your public appearances? Here is what I found out:
Posting 3rd Party content:
There are various ways to post 3rd party content, but you need to realize that most people on LinkedIn aren't really interested in any technical part of your business.
Thus, using 3rd party content that involves celebrities, superstars, or completely universally important issues will get clicked on the most. Notice, because "The Shark Tank" is so popular that just the image of Daymond John will double to triple your normal views.
If you build a smart lead conversion funnel off the article, you'll increase your chances of getting a lead, and you'll get yourself more views. A basic personal finance article would average me 400 to 500 views, but this one got almost 900 views.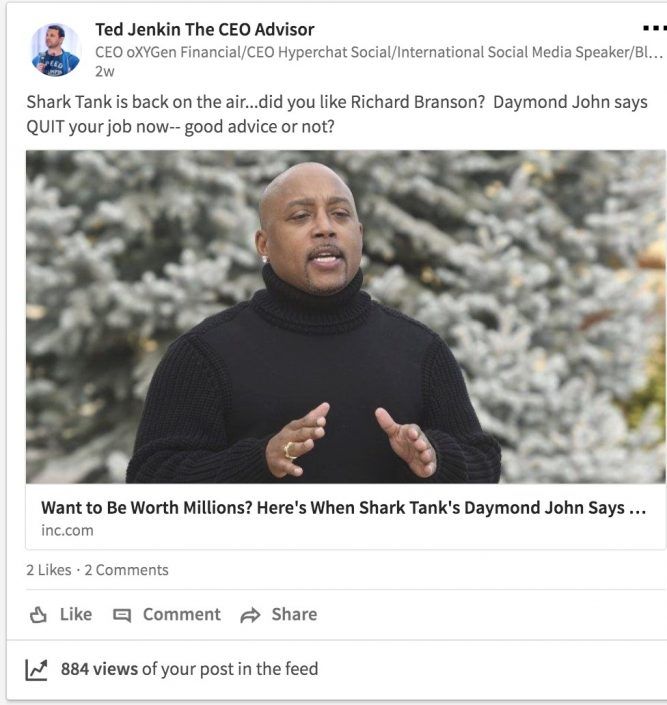 The CNN Show:
You would think that being a regular on CNN Headline News would help business. (umm….it does) This is especially true if you are good on TV.
Now, I get listeners who ping me all the time. These videos do exceptionally well on Facebook and You Tube, but when it comes to LinkedIn this takes a back seat even with the TV personality because of the content.
In this case, the Headline News video did more than 1,400 views and we placed an embed card in the video. Most people would be delighted with 1,400 views, but it still seemed light in numbers given the popularity of the TV program.
Writing A Long Form Article:
I wrote an article on how to talk to your spouse about money which got highly rated on the Wall Street Journal (and was truly a good read). However, on LinkedIn it barely worked up a sweat because this is a very esoteric financial topic and doesn't affect the day to day business and leadership questions that bewilder most of the leaders and managers out there.
LinkedIn Native Video—Crushes All Competitors
As I shared in the beginning of this article, I asked a very simple management question while standing outside of the St. Regis before work one morning. Within just a week of it being on Linked In, the results were remarkable with almost 2,400 views (truth in lending that LinkedIn considers 3 seconds of viewing a video "viewed). Irrespective of the LinkedIn view count definition, the number of likes were more than anything I posted in a month and the interaction was substantially higher.
It's ironic to me that I didn't catch on to this sooner. Well over a year ago, I wrote an article titled, "Why You CoWorkers Talk About You Behind Your Back". This article is one of the highest rates articles I ever wrote and still gets plenty of views today. You want more action on LinkedIn….then maybe you should talk to the natives.
Prev
10 Ways To Drive More Facebook Business Page Likes
Getting Great At Making A Media Pitch