What Is LinkedIn Jail?
March 14, 2021
And Why Am I In It?
What Is LinkedIn Jail?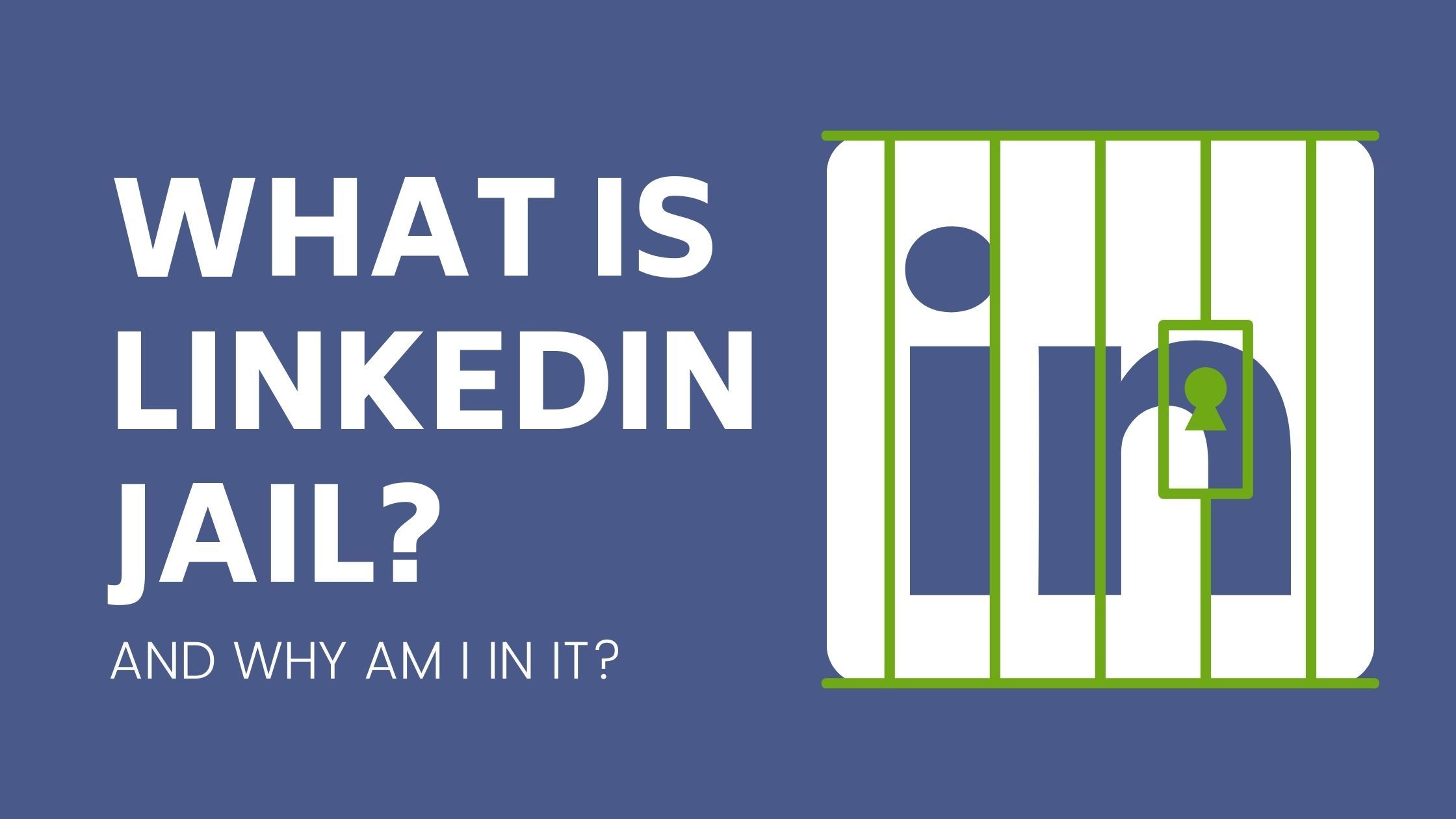 There is no doubt that LinkedIn is a powerful social media platform. In fact, it is so powerful that you probably already knew that. We would strongly agree that LinkedIn marketing is one of the best methods to expanding your professional network in this current digital age. It has never been easier to find members of your target audience and reach out to them in a way that feels organic and personal, despite being complete strangers. With LinkedIn, we are able to find out information on prospects before they even step through your front door for their first meeting.
Despite all this power, LinkedIn isn't limitless. In fact, it has its own limitations and one that we hear about often in our office: the dreaded LinkedIn jail. Not sure what that means? No worries. We are going to go into deep detail today about what this means and whether or not you're facing this issue now!
What Is LinkedIn Jail?
Essentially, LinkedIn jail is LinkedIn's way to keep their platform organic. In today's generation, fake news runs rampant and advertising can be overwhelming. With so many people sensitive to social posts, LinkedIn wants to prevent bots from taking over the kingdom they have established for themselves. After all, what good is networking if the network you are connecting with isn't real or beneficial? At the end of the day, LinkedIn is just another business with rules and regulations that users need to adhere to so that they can partake in the fun of online networking.
'LinkedIn Jail' means that you have had a restriction placed on your account because you have had an increase in activity. Most likely, you have reached out to a significant number of users on LinkedIn, which is triggering this response. Because of this, it is incredibly important to keep out of jail if LinkedIn is your main form of lead generation.
How Do I Know If I'm In LinkedIn Jail?
The most common way we see people figure out that they are in LinkedIn jail is because you are no longer allowed to send out connection requests to users who are not in your network currently. A few messages to look out for are "We've restricted your account temporarily" or "It appears you're visiting a very high number of pages on LinkedIn with supernatural frequency". It is important to read these notifications when they arise, as you want to make sure not to become a repeat offender with your actions.
As stated above, LinkedIn jail is typically temporary. Yet, sometimes we find ourselves stuck in it for a long period of time with no end in sight. If this is you, we recommend reaching out to LinkedIn support for help. That way, you can submit a direct ticket about your issue and hopefully have it reviewed soon. If this is one of your first times in jail, you shouldn't have an issue finding a "get out of jail free" card. But, if this is the third strike, you could have an uphill battle ahead of you to get your features restored.
Why Did I Get Put In LinkedIn Jail?
Unfortunately, LinkedIn does not set parameters for who they charge with this offense and who they let run free. If you're frustrated about this, you aren't alone. There is no magic number to how many connection requests are too many connection requests. That's why we recommend spacing out how many messages you send out throughout the week.
What Can I Do While I'm Stuck In LinkedIn Jail?
If you now have a 'record' and your account is flagged, not all hope is lost. In fact, there are a lot of things you can do in the meantime to generate leads and conversations. During this time, I would recommend reaching out to your first-degree connections. These are the individuals who are already in your network. While you won't be able to reach out to new users, you can drip on the prospects you have already connected with. No matter what, revisiting leads is always a great practice, as you never know where they are at and they may be prepared to move forward through the sales process, even though they may not have been in the past.
What Can I Do To Stay Out of LinkedIn Jail?
LinkedIn has enacted this restriction to prevent the influence of third-party apps on their terrain. By doing this, they proactively keep control of their platform, which is understandable. Even if you aren't using a third-party tool on LinkedIn, you can still find yourself locked away without an end in sight.
To keep out of LinkedIn Jail, I recommend doing all that you can to come across as a genuine human. Send out friendly connection requests that are personalized and don't come across as "spammy". This will bid well for you twofold, as most people do not like it when you approach them with a hard sell in their LinkedIn inbox. Sometimes, you can find yourself in LinkedIn jail because another user has reported you as spam. The more conversational and real your message is, the less likely this scenario is to happen.
Always be respectful with the interactions you lead on LinkedIn and stay away from any content that looks inappropriate or illegal. This will keep you safe from hacking, too!

Why Do I Need to Be Careful?
LinkedIn jail may sound funny, but it is a big obstacle if you run into it. Especially if you are used to doing a lot of business on the platform. It's a serious matter that could negatively affect your progress. Just like there isn't a magic number to how many invitations you can send out per week, there also isn't a magic number to how long you will be stuck in jail if you find yourself in it.
If LinkedIn sees increased activity and chooses to restrict your account for excessive page requests on a repeat basis, LinkedIn Jail can become a permanent issue for your account. Your LinkedIn profile can be permanently restricted, and you will no longer be able to send out invitations to others. This will take away any opportunity of expanding your network to communicate with new prospects.
Prev
How to: Increase Your Reach on Facebook
Beginner's Guide to Running a Social Media Contest