What is Clubhouse and Why Is Everyone Talking About It?
April 11, 2021
Clubhouse
What is this new social media app?


Introduction
Clubhouse is an invite-only app that allows users to start or join audio-only "rooms" with followers or the general public. Launched in early 2020, it was exclusive to elite professionals. A year later, the app has caused much buzz in the media, calling it the next best thing in social media.
History of Clubhouse
Clubhouse launched in early 2020 by Paul Davison and Rohan Seth. The cofounders' goal was to build a more human experience through social media. Instead of the usual picture posting, one can create a Room and converse with other like-minded individuals. According to the founders, when done, they want users to leave the app with deepening friendships, making new connections, and learning something new.
Why are People Just Learning About Clubhouse?
Clubhouse's priority was to market exclusively towards CEOs, celebrities, and influencers with a big following. In the beginning, these specific people were the only ones who could send and receive Clubhouse invites. The app has become more accessible, causing more of a buzz in the media. But how does it work?
App Tour

When the user opens the app, they will see the current Rooms in progress related to their interest on the homepage. Users can navigate through searches, inbox, calendar, and notifications. To get to the explore page, tap the search icon to see suggestions of whom to follow, topics, and clubs the user might be interested in.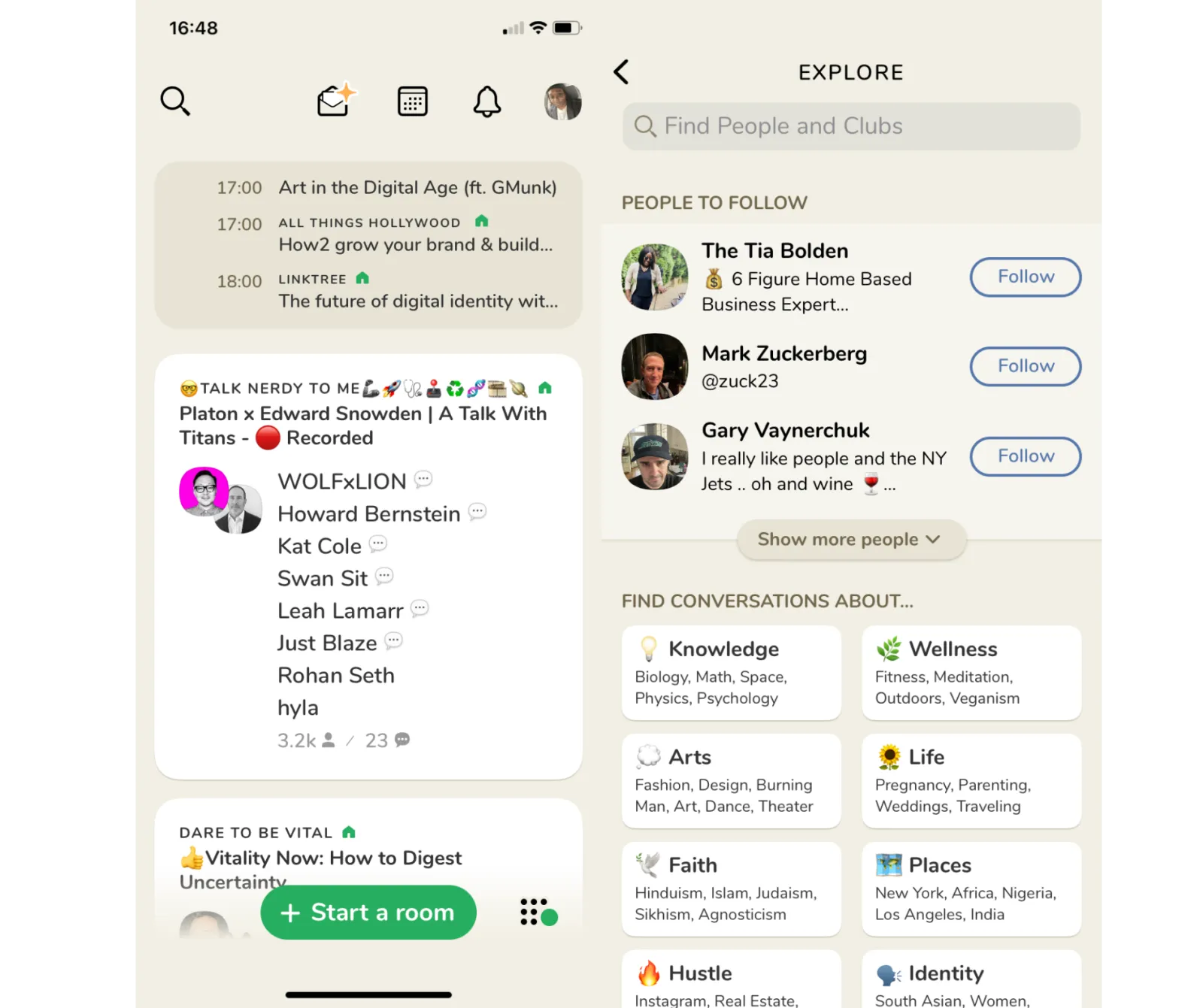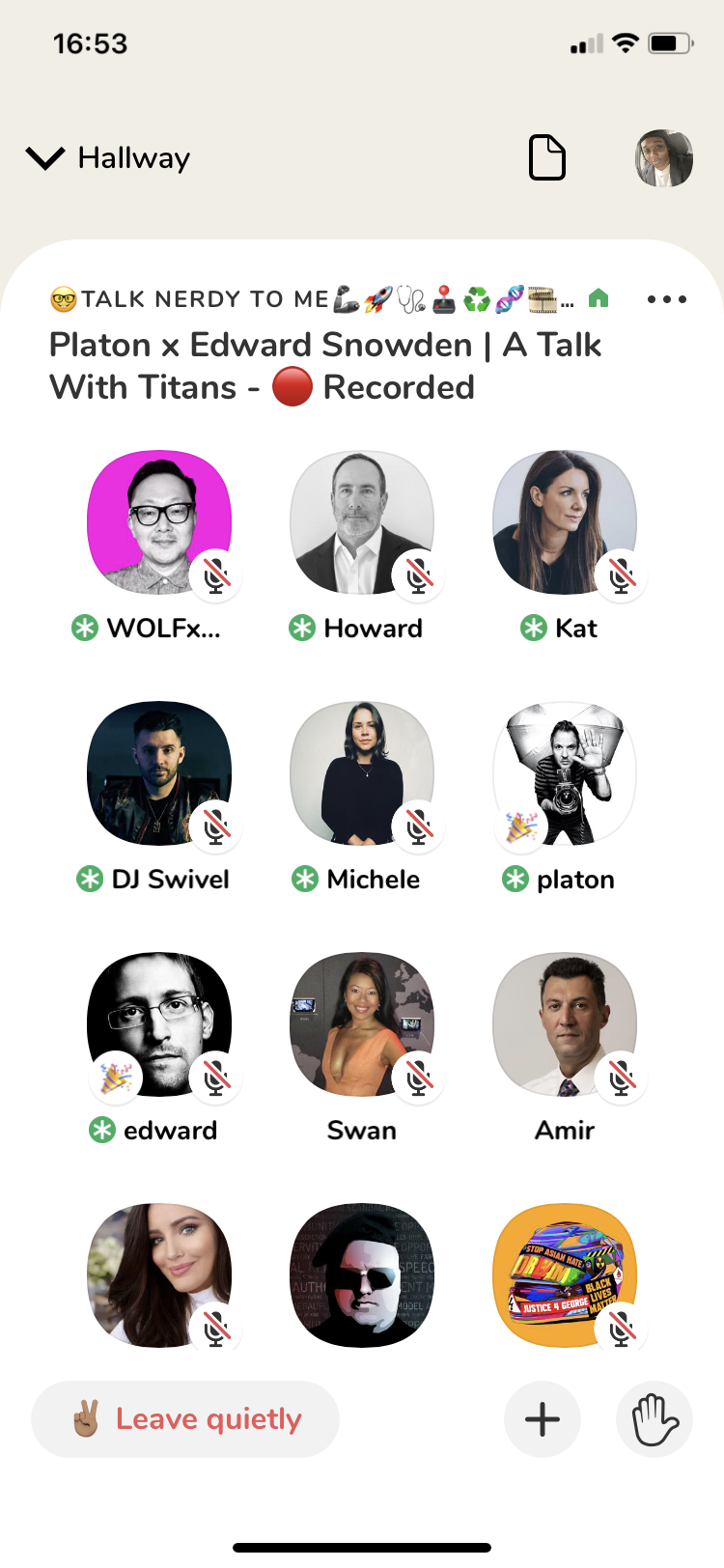 Clubhouse Rooms

Here is a look at a Clubhouse Room:
Entering a Room is just like attending a Zoom meeting but without video. When one enters a Room, they will start as a listener with their audio muted. If a person from the audience wants to add to the conversation occurring, they can tap the "Raise Hand" icon at the bottom corner of the Room Page.
Moderators
Room moderators are users who launched the Room or were assigned to a moderator role after the Room started. Moderators will be notified and can either proceed with the conversation or unmute the attendee to speak. Listeners and moderators can add other users to a Room by clicking the "+" button in the lower navigation. This will alert the follower with a push notification stating they have been invited to a Room and can join directly.
Starting a Room
At the bottom of the homepage, users can "Start a Room". Once launched, the user has to decide if they want the Room to be an "Open", "Social," or "Closed" chat. An "Open" Room will allow any and everyone to join the Room, a "Social" Room is open to all of a moderator's following, and a "Closed" chat will only allow specific people to be in the Room.
Ending a Room
Users can simply quietly leave a room and bounce to another. One keynote to be aware of that a moderator can only end a Room. If the moderator wants to go but wants to continue the room, they would have to assign another user to continue the event. That being said, Rooms could last for or even days when multiple moderators are appointed.
Should Companies Add Clubhouse to Their Marketing Strategies?
Clubhouse could facilitate brand and community building. Consumers are gravitating to companies with authentic and trustworthy values. Clubhouse can help build a following when a company creates an unscripted and authentic community. The app was just developed in 2020; therefore, it is constantly evolving. The auditory content on the platform has begun broadening, from therapy to financial literacy. There are no significant content-related expectations due to Clubhouse being so new. Meaning anyone from any industry can experiment and learn to engage the growing audience.
Reddit and Podcasts Worlds Into One Universe
Clubhouse's user audience revolves around individuals that create or promote helpful content—experts who play an active role in their industries' communities. Users are likely to join the app and hear the latest tips from these industry leaders. They want to listen to the latest tips and tricks, exclusive information, and fascinating discussions from industry experts. Clubhouse intertwines the Reddit and podcasts worlds into one universe. Early in the pandemic, more people have turned to virtual events to explore more about the industry they work in, different interests, and ultimately feel a sense of community while separated from others. Although virtual meetings have been a great alternative, many people are developing screen fatigue. Clubhouse has found a breakthrough for consumers hungry for live content while simultaneously creating an intimate space to create personal connections.
Challenges for Clubhouse
According to TechCrunch, Facebook, Twitter, and LinkedIn have betas in the works to create a similar auditory experience for users. Each platform has millions of Apple and Andriod users making the social media juggernauts become huge competition and blow Clubhouse out of the water. Companies need to keep their eyes open and determine if they need to pivot to a platform with a similar service as Clubhouse.
Another challenge individuals might face with Clubhouse is regarding the "unedited podcast" atmosphere when listening to a Room. There will be peaks and valets when launching Rooms; hence, it is vital to practice introductions, reduce awkward pauses or dead air, and prevent off-topic discussions to retain the audience's attention. Having a game plan can help moderators to stay organized and have quality conversations.
Vulnerability Issue
With the Rooms being a live unscripted event, brands can be put in vulnerable circumstances if not prepares. It is wise to think before speaking when in Rooms. For example, a member from the audience begins asking a controversial question to an individual or a company's spokesperson. It takes seconds for a company to be criticized, and it is wise for organizations to be well-trained and prepared for unplanned scenarios.
Clubhouse could build significant brand awareness and community benefits for a business, including deepening friendships, making new connections, and learning something new. As user-friendly as the app may be, it can develop several challenges for individuals and corporations that want to reach a grand audience and unprepared for when reacting to unintentional circumstances. If you are interested in the audio-only app, Clubhouse, put time aside to truly see what the app offers and start engaging content on this social media platform!
Prev
How to: Generate Valuable Website Traffic on Facebook
What is influencer marketing?