What Is Better? YouTube VS. TikTok
February 20, 2022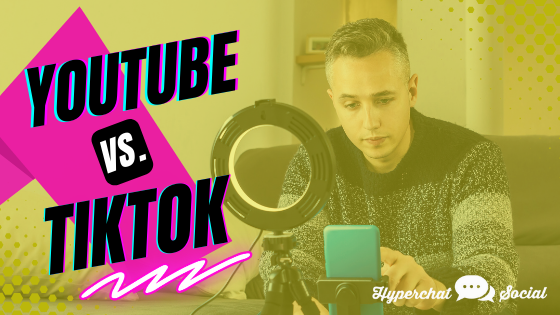 They say a picture is worth a thousand words. But did you know that in 2022, video content will make up more than 82% of all online traffic? This number is 15% higher than 2017's percentage!

If you haven't decided to prioritize a video strategy in your marketing plan for this year, what are you waiting for? Almost all social media platforms have altered their algorithms to shift towards a video-based viewing experience. But, two major media names still dominate the playing field when it comes to video: YouTube and TikTok.
As an entrepreneur, you may be asking yourself, "Where is the best place for my business to post video content?". Today, we're going to run you through the benefits of both of these platforms, as they are similar and strikingly different at the same time.
The Benefits of TikTok
#1: Shorter Videos

Let's face it, our attention spans are fleeting by the second these days. You can both thank TikTok for this and use the platform for this specific reason. TikTok's content is bite-sized and easy to digest, making it a favorite for those looking for videos that are entertaining while being straight-to-the-point. TikTok videos can only go as long as 3 minutes, which makes it an easier undertaking as a business owner to film.
#2: Better Opportunities for Trending Content
On TikTok, you can find what is trending easily and find a way to associate it with your brand. You can find sounds, challenges, dances and more to play off of to get your content seen by a much wider audience organically. Yes, it may be a learning curve to navigate the platform based off of your familiarity with it. But, it is much simpler to upload a video from your phone and edit footage within the app, as TikTok's native content is much less-produced than YouTube.
#3: Many Ways to Showcase Your Brand's Personality
While there is a huge base of educational content on TikTok, the platform's main goal is entertainment. That's why tons of big brand names are prioritizing brand awareness over a hard-sell of their product or services. On the daily, you may run into the Duolingo mascot dancing or a group of local dentists pointing at different text on your "For You Page". That's because people are drawn to the trends first and the business second. What's important is that there is still a strong funnel in the buyer's journey that leads to conversions. It's just more sneaky in the way that it happens!
#4: Ease of Use
TikTok is a younger and more adaptable platform, learning from mistakes that other video platforms like YouTube and Vine have made in the past. Upon opening the app, you are fully immersed in the world of TikTok, as videos begin to play immediately, filling up your entire phone screen. Just like a television experience, you just need to swipe down to change the channel.
#5: Ease of Engagement
Unlike other social media platforms, you don't need to exit out of a video to engage with the content. On TikTok, all of the engagement features, like comments and shares, are displayed on the video itself. There is a community aspect to this platform and the icons prompt you to become a part of the experience.
#6: Less Ads, More Views
On TikTok, ads aren't integrated into the platform as much as YouTube ads are. The advertisements are much shorter, and TikTok doesn't run ads in the actual videos like YouTube does. They also have less ads displayed…for now. This means that your content remains front and center for the majority of the time when compared to YouTube. There is still sponsored content, as TikTok has created its own user base of influencers. But, this can also be another great opportunity to grow your business, as you can have creators highlight your product or service!
Benefits of YouTube
#1: More Experienced as a Platform
YouTube was founded in 2005, which means it has been around the block a few times and continued to come out strong. As a platform, YouTube offers a large catalog of high-quality videos and nurtured a loyal user base. There's no wonder why they have such a strong stake in the video game. But with that being said, there is also a lot more competition, with decades worth of content being housed on the site. Make sure to do a search before posting your video to ensure your content has enough opportunity for visibility!
#2: Content is More Evergreen, Less Trend Based
While it's great to gain visibility through TikTok trends, trends can come and go in a blink of the eye. While TikTok is based on in-the-moment content that needs to be produced instantly to participate, YouTube is slower paced and more static. Yes, you want to post videos that are relevant to today's greatest topics. But, the main thing is that you want to solve a pain point for the end user, who should be someone in your target audience.
#3: Better Opportunities for In-Depth Content
As a YouTube creator, you can create though-out, long-form content that is still entertaining. If you want to share something that just isn't done justice through 3 minutes of quick iPhone shots, you don't have to. YouTube is the best place for content that is a little more formal and a little more produced. You'll want to make sure that your content's quality matches that of competitors on the platform, meaning it's not a bad idea to invest in some nicer filming equipment, too. Think everything through, from your camera, lighting, and intro. Fiverr has some great options to outsource a professional video intro!
#4: Organization of Video Content
While it is entertaining to swipe your thumb to view videos on TikTok, some of your best content can get buried on your profile as you continue to post videos, as they display your most recent videos to the top of the page. On YouTube, you choose what video viewers see first on your channel. You can also group videos into playlists that you get to determine, make it easier to navigate and find older footage.
#5: More Freedom in Types of Content
On YouTube, you aren't limited to time length restrictions or to the type of content that is trending. It's a great space to share information to because there is truly a space for everyone on the platform, no matter the niche.
#6: More Variety in Viewer Demographics
In addition to the above, YouTube and YouTubers have established a loyal fan base to the platform over decades of consumption. TikTok is growing in its user base, but remains predominantly popular with younger demographics. YouTube continues to lead as a video source for all generations and if you're ideal client is more established, YouTube may be the better alternative for you.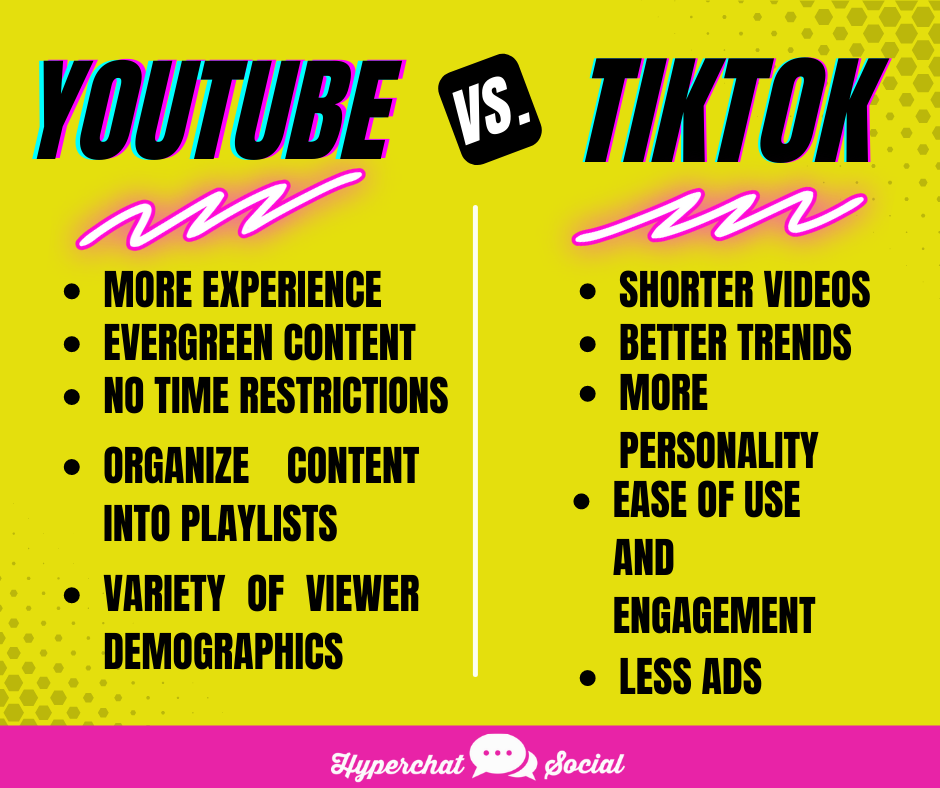 Do you want to begin filming and posting videos for your small business? We would be happy to help you get launched! Contact one of our social media experts today for a consultation to learn what we recommend for your business goals.
Prev
Different Types of Videos For Social Media
Conducting a Social Media Audit