Tracking Your Blogs Using Google Analytics
October 25, 2020
If you are already writing blogs for your business, you are doing the RIGHT thing! Now, do you want to take it one step further? Start tracking those blogs. See what is working and see what isn't. Check what links people are clicking and which ones they aren't. See which of your blogs are the most popular among your website's visitors and see which ones aren't. How do you do so? This cool (and FREE) tool called Google Analytics. Keep reading to learn more about tracking your blogs using Google Analytics!
Who Is Reading Your Blogs?
One of the most important pieces of analytical data that you absolutely should be tracking for your blogs is traffic. On Google Analytics, you can track a lot of things. However, you need to make sure you are tracking the traffic to each and every one of your blogs. Why? Well, this is how you see what all is working as you continue to write blogs and what all is not interesting to your particular audience.
With Google Analytics, you can see exactly where your visitors are coming from. For example, below you can see exactly where to find the data for where your users are coming from. On Google Analytics, you will want to go on the left-hand side to Acquisition, then All Traffic, then Source/Medium.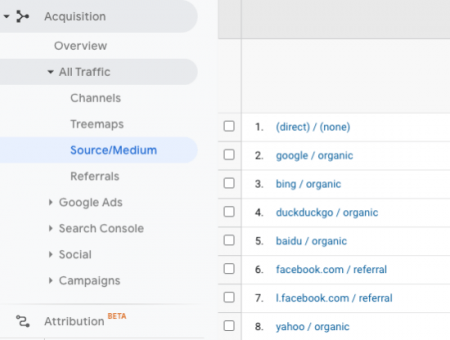 On the numbered list, the source for #2 is Google and the type of traffic is organic. This data will vary from company to company, so if you want to know exactly where YOUR visitors are coming from, you need to jump on the Google Analytics train.
Learn Your Blogs' Audience
As mentioned above, your audience is a crucial component of how your blogs will perform. If people are not interested in anything you are writing, they will not read it. However, if you can use a *free* tool (Google Analytics) to track exactly who your audience is and what their demographics are, about their interests, their locations, etc., why not take advantage of it? This way, you won't be wasting your time writing blogs that drive no traffic to your websites.
The Google Analytics tool for learning about your audience is called the Audience tab. Here, you can set a time range, and from there, you can see how many users are on your site, how many new users are on your site, how many sessions there have been, the bounce rate, and even statistics on the type of browser being used, the operating system of the visitor, and more. These are only a FEW of the types of statistics and data you can pull.
So, why is this important again?
Knowing where your visitors are coming from helps you create more content, such as blog writing, that encourages your current visitors to come back and better yet, share your content with others. This drives even more traffic to your website, increasing your overall brand awareness and the effectiveness of your hard work from writing those blogs!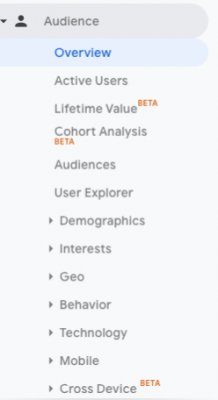 How Do I Know What's Working With My Blogs?
With Google Analytics, you are able to see a lot. We know it can be overwhelming, but the more you get familiar with the platform, the more successful your website and content will perform in terms of reaching the right people with the right types of content. You do not need to waste your time writing things that people simply will not read or things that people will instantly click away from.
In order to determine what is working and what isn't, you need to make sure you are aware of the quality of your content. Is your blog content boring? Or does it have a voice that makes people want to keep reading it? This is an essential ingredient to the perfect recipe for a blog on your website. Your voice. If people do not like the way something is written, they will not hesitate to click away from it. To decrease your bounce rate and increase the average time spent on your blogs, make sure your content starts out as attention-grabbing, enticing, and not click-baity.
Your blogs need to reflect your personality, but they also need to provide valuable information that makes people want to come back to your website as their resource rather than searching Google for what they are looking for. It is possible if you put the work in!
The trends you see on Google Analytics allow you to create content that your readers will actually want to read. You do not want website visitors coming to your website looking for something and then having to read boring paragraphs to find it. Keep your content true to your brand and you are set up for success. So how do you measure your blog and website's success? Using Google Analytics, of course!
Measuring Success with Your Blogs' Analytics
Now, if you have a web page or blog page that gets hundreds or even thousands of visits, you would assume that this data is great, right? Usually, we would too. However, it is important to know how those users interacted with your page. Maybe they didn't read the whole page. Did they click elsewhere? Did they completely close their browser? These are all questions you need to ask when writing your blogs, posting, and tracking the analytics for your blogs.
As you can see, here is an example of Hyperchat Social's blog statistics in the past. Here you can see the page views, unique page views, how much time was spent on each page on average, entrances (the number of times visitors have entered your site through a specified page), bounce rates, the percent of exits, and the page values.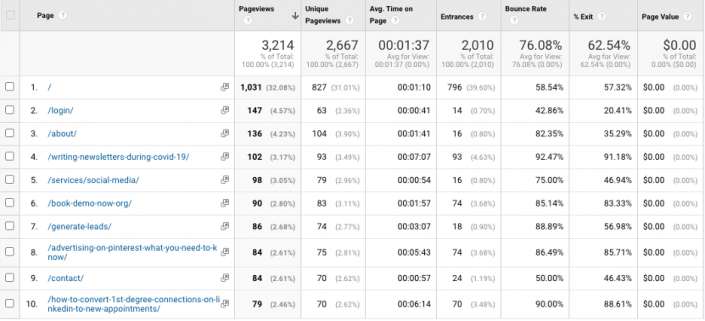 Why is it important to know how many times your blog posts are read by website visitors? This Google Analytics feature tells you which of your posts are most popular amongst your website visitors. This will help guide you when you are trying to figure out what your next topic will be for a blog. If you are ever facing writer's block, head over to your Google Analytics page, and check the stats of your blog posts! The ones with the highest performance are the ones that your audience is most interested in reading. The numbers say so!
­­Another important factor of this feature on Google Analytics is seeing how long people stay on your website and blog pages specifically. Are people actually reading your blogs? It is valuable information to have when you are continuously writing blogs and posting content from your website to your social media profiles (yes, you should be doing this, too!)
To learn more about the importance of posting your website content to social media, you will definitely want to read Hyperchat Social's blog about increasing your engagement on your blogs.
Take Note…
Did you know that "the average blog reader needs to come back 3.15 times before they turn into a customer?" Well, it's true. According to Neil Patel, you need people to keep coming back to your website in order to one day become one of your customers. Increasing your conversions starts with posting valuable content that people want to see. Heard this before? I think so! 😉
Take advantage of Google Analytics because it's one of the most important resources you can utilize to increase traffic to your website. Learn about your audience in a way that other analytical trackers just can't accomplish. As I mentioned above, knowing exactly what your website visitors want is key, and Google Analytics is the tool to use to accomplish this.
To learn more about blog writing and how you can improve your content, check out our previous blogs about blog writing!
If you are a business owner that doesn't enjoy writing, or better yet, doesn't have the time to write blogs for your company, we'd be happy to write your blogs FOR you. Visit www.tryhyperchat.com to schedule your FREE consultation with us! We can't wait to hear from you!
Prev
Instagram Advertising: Frequently Asked Questions
How To Make Your LinkedIn Profile Stand Out