Three Secrets To Boost SEO With Your LinkedIn Profile
July 31, 2017
Search engine optimization is a methodology of strategies, techniques and tactics used to increase the number of visitors to a website by obtaining a high-ranking placement in the search results page of a search engine (SERP) — including Google, Bing, Yahoo and other search engines. (source: webopedia.com).
When I often think about SEO, I consider the notion that long term what Google really wants to do is present the most authentic and best information to a user on the other end when they are searching for information on a particular subject. On the other end of the dial, what we do with our websites, our social media platforms, and our video campaigns all impact how easily consumers can find us without advertising.
Since LinkedIn has become such a big platform, Ted Talks Social wanted to give you three important SEO items you must take care of when you set up your LinkedIn Profile.
Claiming Your LinkedIn Custom URL:
At the bottom of your profile, you'll see that LinkedIn has given you a URL when you sign up for the platform. In essence, they basically give you a randomized URL which could be www.linkedin/in/345r85dwd. What this means is that when someone does a search for you on Google, your LinkedIn profile could show up but there will be no recognition over time of your name or any specialty that you may have to share with the public.
By clicking the wheel at the bottom of your profile next to your given URL number, you have the ability to customize your name. See the picture below. You have up to 30 total letters, numbers, etc. to basically customize who you want to become in the Google search engine. Notice that I picked TheCEOAdvisor as I specialize in handling the finances for CEO's across the country.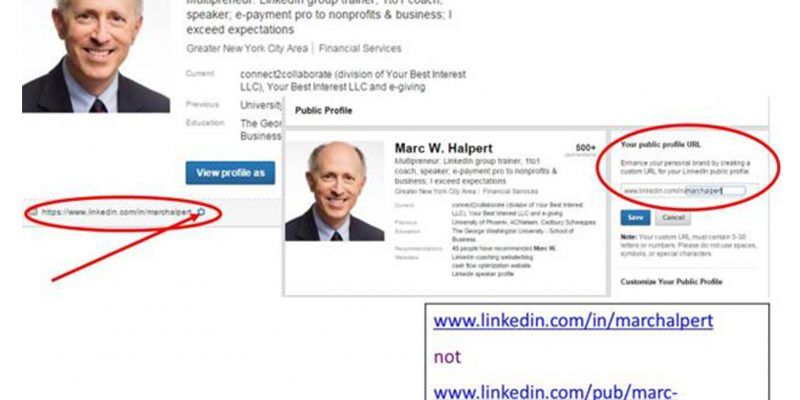 List Products And Services With Keywords: Social Media
Many people on LinkedIn set up their summary profile in the completely wrong way because they write out a diatribe of what they have done in their career as if it was almost a mini resume. It is important that if your company or business offers products and services that you do your best job to list these out in as much detail as possible.
Since we are in the financial services business, I could have written a paragraph or two about how much money we manage or how unique our process is to the public, but the important part to maximize the SEO process with Google is to list out our products and services. Thus, by listing anything from the term Roth IRA to 529 Plans to Retirement Planning I offer myself more opportunity to be searched and found organically through Google.
Write Original Content On LinkedIn Publishing Platform
Google is extremely active on crawling and reading the articles that are published on LinkedIn. LinkedIn has a domain authority of 100 and this means that Google relishes the content and profiles from this website. Moreover, what it really means is that when it comes to a particular search query, Google will frequently push the LinkedIn result to number ONE by using your original content. This gives you an even higher chance of being found for your businesses products and services.
(NOTE: make sure sharing plugins are at the bottom of each box, have a place for comments, and be certain we can get email signups, my bio, etc.)
Prev
One Secret Chrome Extension That Will Save You Time And Money
Why Quality Photography Is Essential To Branding