The Latest From LinkedIn
May 03, 2020
Did you know that Microsoft recently released its performance report for 2020? Microsoft has reported a significant increase in platform growth, reflecting growth in total members, as well as higher engagement rates. With the world gone digital, professionals and executives everywhere are looking for new ways to grow their network and connect with others. If you're not on LinkedIn right now, what are you waiting for? In today's blog post, we'll be walking you through the latest from LinkedIn and what you need to know.
What's New with LinkedIn?
It makes sense that LinkedIn looks a lot different in May 2020 than in January 2020. After all, a lot has changed! There's been an overall shift in the topics we're posting about. Even further, there has been a significant increase in the levels of activity from users. People are at home scrolling on their phones. They're worried about the future and have more pain points than usual. Those who may have been closed off to a conversation beforehand may be reaching out to you instead. Others are worried about their career, turning to LinkedIn to expand their network of connections to solidify their next job move.
Let's get specific. LinkedIn is now up to 690 million total members. This has spiked up, considering there were only 67.5 million back in January. While this doesn't mean all the members are active, we can look at this indicative growth that LinkedIn is continuing to gain traction as a social media platform and way to connect with others. But, people ARE being more active, too! In fact, Microsoft says that LinkedIn sessions are up 26% for the quarter.

That being said, LinkedIn is proactively releasing new ways to get connected online! Keep reading for all the LinkedIn updates Microsoft is rolling out, as well as our recommendations for gaining more business online.
LinkedIn Events Now Available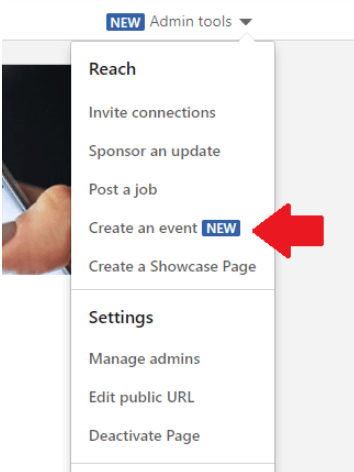 Thousands of events have been canceled and will continue to be canceled, due to COVID-19 lockdowns. LinkedIn launched its "Events" feature last year, but the tool was previously only available to select company pages.
Due to recent events, this feature will roll out sooner to help cater to those looking for another way to connect. With this, you can promote replacement meet-ups, live-streams, or webinars to your connections or followers. Now, you can access "Events" on any LinkedIn company page. To create an event of your own, just select the "Admin Tools" on your company page on a desktop to find the option in a drop-down menu. You can also find this on mobile in the main function menu. This is a great way to generate extra promotion and engagement for your digital gatherings. We'd recommend sending out LinkedIn messages to your current connections to spread the word, too. Try using a tool like DuxSoup or LinkedHelper to expedite this process!
Video Content
When we talk business, there's no better platform to post video content to than LinkedIn. 91% of executives say that LinkedIn is the best place to find quality content! Video was already big before COVID-19 and views have only increased from there. If you want to get yourself out there and spread the word while quarantining, try posting video content! Most likely, people will see your face and stop scrolling to see what you have to say. After all, they probably miss seeing you anyways. Technically speaking, there are 3 types of LinkedIn videos that you can post to your page:
LinkedIn Shared Video: This is when you copy and paste a link from another source, such as YouTube or Vimeo, into a LinkedIn post.
LinkedIn Native Video: These are the videos you upload directly to LinkedIn from your phone or computer. These are FIVE times more likely to start a conversation between you and your connections!
LinkedIn Video Ads: These are sponsored videos associated with businesses that appear on your feed. They show up based on targeting and performance testing options. You can share them if you like 'em!
Host a Webinar
LinkedIn is helping organizations attract, retain, and develop talent with their Talent Solutions, Talent Insights, Glint, and LinkedIn Learning. In March, professionals consumed nearly 4 million hours of content on LinkedIn Learning in March, which is nearly a fifty percent increase from month-to-month. If you're interested in hosting a webinar and promoting it within LinkedIn, know that people are open to learning more during this time of isolation. Have you hosted a LinkedIn Live session? With LinkedIn Live, users and businesses can broadcast video content to their networks in real-time. Streams are up 158 percent from February. If your business offers a solution to someone's current pain points, put yourself out there! You'll be surprised how many users are open to tuning in with their schedules freed up a bit.
Get More Engagement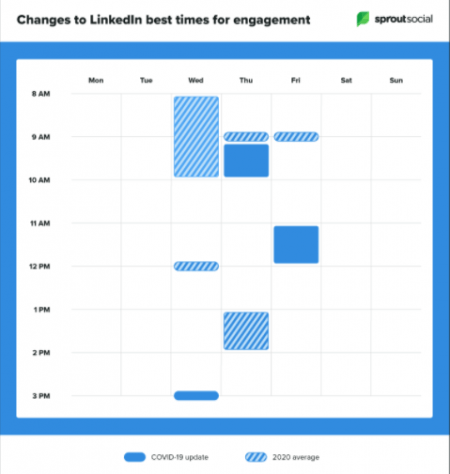 In its quarterly report, LinkedIn has reported record-breaking levels of engagement. With that being said, we still recommend knowing when the best time is to post on social media for your business is. During this time of social distancing, most likely your posting schedule should change. Your audience may be online much more frequently and in a more sporadic manner.
While there is no "one size fits all" measure for when to post to LinkedIn, Sprout Social has released some figures that may give you a good place to start when posting for you or your business. They recommend posting Wednesday at 3 p.m, Thursday at 9-10 a.m. and Friday from 11 a.m. - noon. There are still factors to consider, such as what you are posting and how you engage with others. But this data can help you form your initial COVID-19 posting strategy. Check out our blog post, "Content That Performs Best on LinkedIn" to learn more about taking your social skills to the next level!
Digital Recruitment
Video Introductions on LinkedIn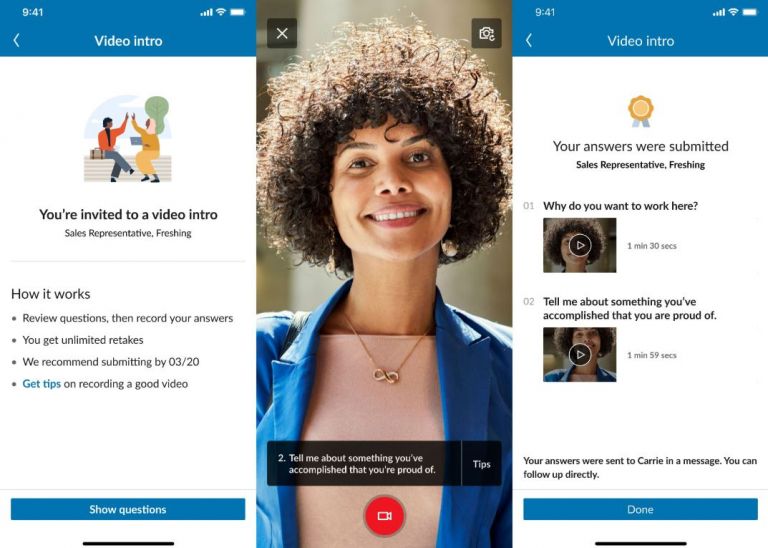 With rampant layoffs happening across the globe due to COVID-19, LinkedIn has added new ways to improve the digital recruitment process as a response. In this time of social distancing, LinkedIn has added a new way to help employers and candidates get introduced. The platform is launching a new, AI-enabled assessment tool that helps candidates better prepare themselves for the interview process.
Since more job interviews are being held from a distance, LinkedIn is expediting the launch of their new video introductions process. This gives recruiters the ability to ask candidates to submit videos to answer their prompts. This will give employers a better sense of their communication skills and personality. This feature is intended to be offered as a way to better narrow down the most qualified candidates to answer a set of qualifying criteria.
It's important to note that candidates can choose to submit their answers through a quick video recording or written response. As an employer, you can ask for a personal video response, but candidates aren't required to submit one. Many won't feel comfortable recording a video, but this will be an optional add-on to help you better assess candidates.
Automated Interview Feedback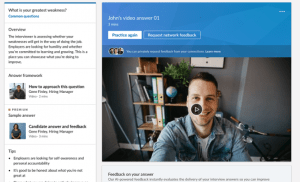 Did you know that LinkedIn has also added a new tool that offers automated interview feedback? Basically, users record themselves answering routine interview questions and the software rates users on their delivery. It analyzes "filler words" and phrases to avoid. These automated assessments take into measure how fast one speaks, the words you say, and provides tips on how to improve.

We understand the challenges owners of local businesses are currently facing during the COVID-19 pandemic. Building a digital presence can feel like a lot of work, especially when you don't have the capacity to learn new skills and take on the ever-changing landscape of social media, that's why we're here. Schedule a consultation with us to learn how we can help your business establish a digital presence and turn Social Into Sales!
Prev
Advertising Your Business' Reopening On Social Media
Social Media FAQs