The Latest and Greatest from LinkedIn
March 24, 2019
It's interesting to think that what makes social media so great is also what makes it tricky to navigate. It's amazing to have a network where you can continuously stay updated with current events, news and milestones. But, due to the nature of these platforms, they're always changing. How do you update your followers when you can't even stay updated yourself?
Have you noticed LinkedIn's latest updates? If you haven't, no worries. You don't want to miss out on these opportunities to grow your business' digital footprint.
Update #1: The Content Marketing Toolkit

According to LinkedIn, their Content Marketing Toolkit is "the next generation of LinkedIn Company Pages". LinkedIn said that, "Pages was rebuilt from the ground-up and given a whole new set of superpowers." Now, you can level-up your engagement with LinkedIn's professional community and declare your place on the world's professional network.
In a very short time, we've grown a lot in the way we market online. In fact, 28% of users are in a mature phase of their marketing strategy. 62% are more successful than they were a year ago. Despite these statistics denoting growth, 52% of LinkedIn users struggle to find enough time for content marketing. We get it. It can be quite time consuming to release quality posts. Additionally, 49% lack the time to alter the strategy or even measure their ROI. Knowing this, LinkedIn brainstormed a way to help users become more organized, more strategic, and ultimately, more successful.
Why Download It?
LinkedIn is on a self-declared mission to help marketers succeed by developing in-house tools and seeking out third-party solutions to help users get better results. The Content Marketing Toolkit comes with tools your team can use to improve your content marketing, marketing strategy, SEO and ROI. These updates are SO user friendly. They're even customizable enough to be used time and time again!
The Content Marketing Toolkit contains these FREE tools:
Content Calendar Template: This spreadsheet helps you plan your content strategy. It gives you step-by-step instructions on how to create a timeline, coordinate content creation, and keep track of your promotion and amplification tactics.
Social Media Distribution Plan: Aimlessly posting not working for you? This spreadsheet tracks what you're posting and how much your spending by recording organic and paid posts. This tool helps you remember the guidelines for each social media platform. This way, your updates stay optimized, no matter how they're viewed.
Content Audit Template: If you have a lot of marketing materials already, this tool will work great for you! This spreadsheet helps you assess the content assets you already have, categorizing them by type and purpose. It gives you a way to track performance and use that info to suggest how content might be repurposed.
Content Gap Analysis: This analysis goes hand-in-hand with the Content Audit Template. This tool finds the holes in your content strategy compared to your marketing objectives and tells you how much content needs to be created.
SEO Checklist: This tool helps your content stay effective and builds your SEO with two checklists. One checklist is devoted to on-page optimization, the other for meta-information. By checking this before posting, you can drastically improve your content's performance!
Content Marketing Strategy for FY17 Template: To find success, record your marketing strategy! This slide deck helps you develop a plan and present it to stakeholders.
Metrics and Analytics Dashboard: Another slide deck that's designed to help you present your content strategy and it's result to the C-suite. These slides are customizable and come with comprehensive instructions, making it an easy way to help show that your content is meeting the needs of your business.
Want to download The Content Marketing Toolkit? Click HERE!
Update #2: LinkedIn LIVE
Did you know that video content is the fastest growing content on LinkedIn? It only makes sense that LinkedIn would want to add a "live" feature to their platform, but they're continuing to follow their track record of being a late bloomer when it comes to adapting new features to their network. This addition will be great. The opportunity to broadcast directly to a growing professional audience of 610 million will host a lot of different opportunities.
As of current, LinkedIn has just launched their beta in the U.S. as an invite only feature. Those invited are users with a large following. LinkedIn will release a contact form for those who want to apply to be part of the first roll-out. There's no information at this stage on a broader rollout, but we expect that it won't be far behind.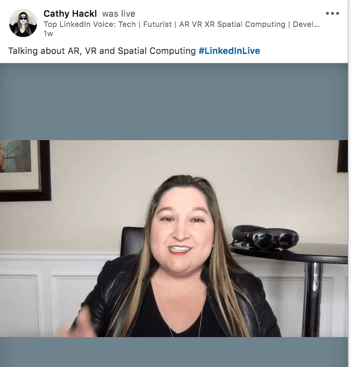 Update #3: New LinkedIn Group Practices
Are you a part of at least one LinkedIn group? If not, you should be! LinkedIn Groups give professionals a shared space to connect with and learn from others who share their goals. In the new version of Groups, it is now easier than ever to play a more active role in these communities. LinkedIn has released new ways to participate in vibrant group conversations, stay up-to-date with news, manage conversations on-the-go and jump in on the latest discussions.
If you answered "no" to being in a LinkedIn group earlier, know that there are PLENTY of groups you can get connected in today! Choose a group comprised of fellow alumni or likeminded industry professionals. Use this tool to talk to your peers about the latest trends and best practices, or learn more about the topics that you care about. Make sure to ask questions and gain fresh perspectives, share your own experience and ideas and network to invest in relationships that matter.
Not sure how to best participate in LinkedIn Groups? Here's the checklist you should follow!
Join The Right Group For You: Before joining, review the membership, description and rules before joining or accepting an invitation.
Introduce Yourself: Nothing is worth more than a great first impression! Share who you are, why you've joined, and what you're hoping to gain from the community.
Jump Into Conversations: Want to be an active member? Get up to speed on the latest conversations and help others by jumping in. Share your unique perspective and mention other users to add value to an ongoing discussion.
Kick Off a New Conversation: Don't be afraid to lead a little! Ask a question or provide context for any links, or share images and videos. Just make sure they're relevant to the purpose of the group!
Close the Loop: Started your own conversation? Remember to reply with a like or a comment to thank members who have shared their own insights and experiences.
Lead by Example: Understand the group rules and encourage others to do the same. Groups aren't meant to be used to promote a product or service, so use them for helpful conversations instead. If you're looking to generate leads or build brand awareness, click here to schedule a consultation with us today!
The New Updates
LinkedIn Groups now offer the feature to receive notifications for all new group posts. Additionally, you can now see new posts directly in your newsfeed. You can recommend important conversations within the group to other users and even require approval on new group posts if you decide to start one of your own. Lastly, to personalize your discussion one step further you can update a cover image to your group's forum. With these new updates, posting within LinkedIn Groups will give you an invaluable advantage when expanding your network on the platform.
Update #4: Content Suggestions
You've heard that you need to be posting what your audience is interested in. Now, LinkedIn has made it easier than ever to accomplish this with their new "Content Suggestions" feature. If you have a Company Page on LinkedIn, you can now find topics and articles that are trending within your target audience. Even if you're planning on creating your own content. you can use these insights to guide your marketing strategy! Bottom line, publish what your audience is interested in.

To filter your content suggestions, you can select different parameters that mimic the ones previous tools, like Sales Navigator, offer. Whether it's audience size, employees, page followers, industry, location, job function or seniority, LinkedIn will display the types of content you should be replicating. This is what followers interested in marketing and advertising in the Greater Atlanta Area are interested in: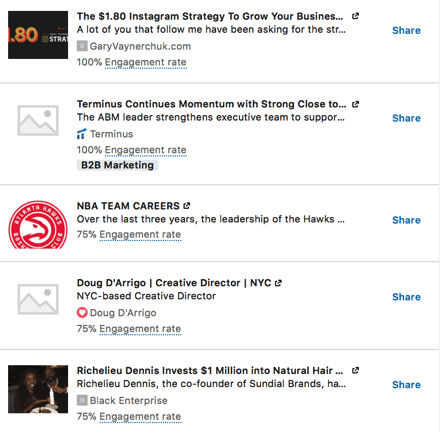 This tool is great! We're using it to match our target audience's direct interests through curated and custom posts.
Still finding LinkedIn to be a little overwhelming? Don't worry. We've got you covered! Go to tryhyperchat.com to schedule a consultation to discuss our lead generation and branding services where we'll Turn Social Into Sales for you!
Prev
Google Game Plan: How to Get Your Business on the First Page
Reduce, Reuse, Repurpose