Summer Blockbusters and Social Media Marketing
July 28, 2019
Summer is a great season for many reasons but it stands out as a great season for movies, too! As a prime way to beat the heat, summer blockbusters are an essential and this year is no different. SO many highly anticipated films have been released! Movies are meant to tell a story and captivate viewers and, though these films have nothing to do with social media directly, there's something we can all takeaway from them marketing-wise, and then some.
Get your popcorn ready as we take a deep dive into the social media marketing tips we learned at the movie theater this summer!
Yesterday: Repurpose Your Content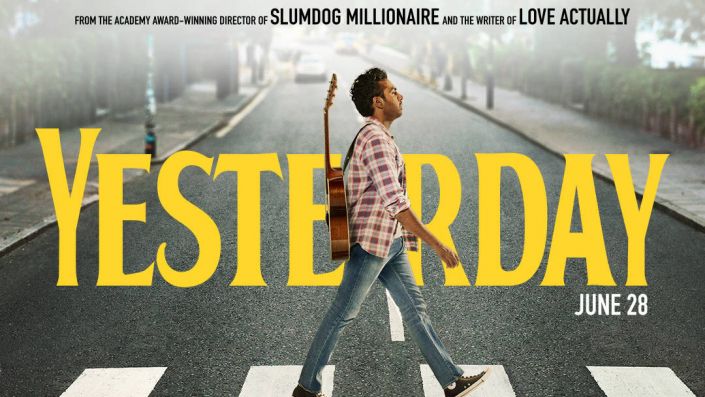 Have you ever been hit with a creative slump in your marketing strategy? Sometimes, coming up with what content you want to share is a much larger task than creating the content itself. Similarly, Jack Malick in Yesterday is a struggling musician who can't seem to find a break-through into the music industry until he is struck by a bus- only to discover that no one else in the world has heard of the Beatles upon waking. Suddenly, Jack becomes a star after passing off all of their songs as his own.
We don't recommend stealing someone else's work, but we do recommend reusing your own content! This movie proves that unique work is timeless. Despite a huge generational gap between The Beatles' success and the present music industry, "Jack's" music finds success. Knowing this, if your content was successful in the past, it will probably succeed in another format as well. Don't just repost the same blog over and over again. Instead, turn a past blog post into a media pitch or eBook. You can even turn traditional marketing materials into a podcast discussion or video for your website.
The point is, you spent a lot of time on your work and it paid off. So why let your efforts end there? Your followers aren't paying as much attention as you are to your social media. They've only seen a small percentage of your posts. So, take a different spin on an old concept and it is sure to perform highly and save you time in the process.
Rocketman: Tell Your Brand Story Through Social Media Marketing
Are your customers "raving fans" of yours? If so, they can't get enough of your business. So give the people what they want- give them YOUR story!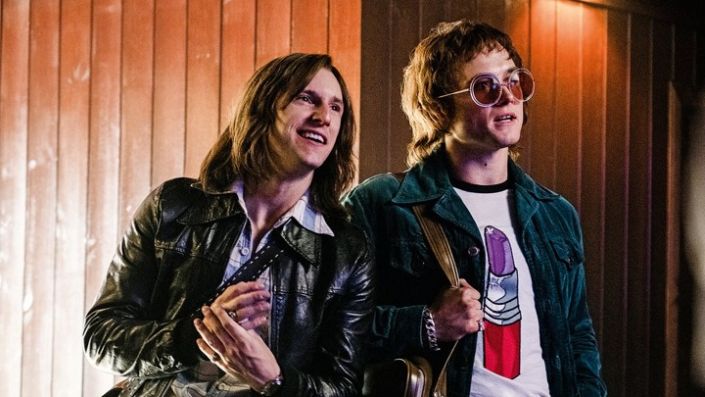 In this summer's Rocketman, moviegoers received an epic musical fantasy about the uncensored human story of Sir Elton John's breakthrough years. Elton John stole the hearts of many upon reaching stardom, but no one knows what launched him to being the "rocketman" that they know so well. Likewise, sharing your backstory can set you apart from competitors on social media. Your customers relate to other humans, to other stories. While it might seem irrelevant, people want to hear about the struggles, the nitty-gritty. This kind of content is inspirational and it forms a stronger bond between you and your audience.
But how do you utilize this approach? Try sharing a throwback photo of you and your staff when you first began your business endeavor. What about your first resume? As an added bonus, this kind of content receives a huge amount of engagement! Keyword stuff the "Our Story" feature on your Facebook page. Designate a place on your website where you can do a deep-dive into your company's origin. People are nosy, so give the people they want and you'll receive a major pay-off.
Not sure where the "Our Story" feature is on Facebook. Go to your Business Page and you should see it on the right-hand sign under your chosen call-to-action!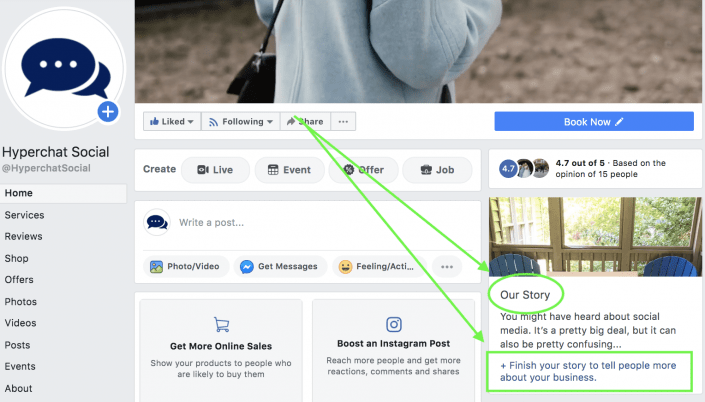 Avengers Endgame: Boost Your Reach Through Partnerships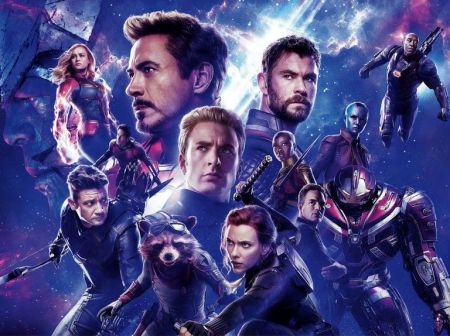 Are you a huge Marvel nerd? If so, there's a great chance that you sat through 21 films leading up to this final climactic three-hour masterpiece. But what has set apart the Marvel Cinematic Universe and made it such a success? It's the way the franchise has connected with its audience by intertwining all of their characters together to form one larger narrative. We're often better together and this case is no different.
In Avengers: Endgame, those Avengers who have survived Thanos' final attach in Avengers: Infinity War are joined by newcomer Captain Marvel to turn the tables against him. With one unified goal, the heroes place their different strengths in each other to take their efforts to the next level. Have you ever thought about doing the same within your social media strategy?
By combining forces with another company through social partnerships, you can really amplify your marketing strategy! The "social" in social media marketing isn't just about your relationship with consumers. It's also about viewing business relations in a new, more social light. Technology has created new opportunities for partner marketing and at the same time, lowered barriers to creating both small and large, formal and informal, partnerships.
Whether you're a Fortune 500 company or a small business, a partnership campaign on social media will increase your return on investment. You can get partners to donate prizes for a digital content, mention each other in blogs and newsletters, or simply get mentioned in a post! The key to this is finding a partner with a similar target audience to increase your reach without competing with your partner. For instance, a great partner for a smoothie shop would be a fitness center in the area. Who works best for your end goal- increasing your brand awareness and reach?
Toy Story 4: What Happens at Your Business When No One's Watching?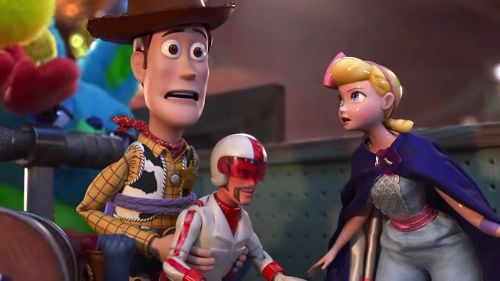 Social media is a great place to showcase your personality. Most traditional advertisements don't give you a behind-the-scenes look of a business in a way that comes off genuine. Social media debunks that.
From the very beginning, the Toy Story franchise has remained unique by offering a perspective that no one has or will see before. What happens to a child's toys when no one is around? To think that this summer, Toy Story 4 has been released leaves us knowing one thing for sure: people are entertained by what happens behind-the-scenes and a perspective that isn't their own.
To think of what kind of content to produce, remember that one man's trash is another man's treasure. In fact, "trash" is a major theme in Toy Story 4 (shoutout to Forky). What seems mundane to you may be intriguing to an onlooker. You walk the halls of your office each day, but going live with an office tour may be interesting to someone who has been debating scheduling a consultation for the first time. Your favorite college football team may not directly correlate with your industry but it can be a common ground to discuss when onboarding a new client. The point is, people want to know more about you than you think. It's what leads people to "shop small" instead of with larger corporations. It's relationships!
Check out THIS blog post to learn how to make your brand more personable with social media!
Midsommar: Create Attention-Grabbing Content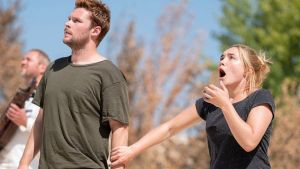 Social media marketing has become a new game. How do you get someone to stop scrolling past your content? How do you grab one's attention? Few things do this effectively, but one of the best tools right now is video. With this in mind, it makes sense that we can compare this to one of the summer's most anticipated horror movies, Midsommar.
Following last summer's Hereditary, Ari Aster directs Midsommar, a horror film about a young American couple traveling to a fabled Swedish midsummer festival. In the film, a seemingly pastoral paradise transforms into a sinister, dread-soaked nightmare as the locals reveal their terrifying agenda. One of the largest adjectives going around to describe this movie is "disturbing". We can't emphasize enough that you should NOT disturb your audience! But, while being disturbing, Midsommar has a unique skill of captivating audiences in a way where they can't take their eyes off the screen.
The key moments in the movie that make this film impactful are the scenes where the viewer is caught off guard, making them prey to the unexpected. Knowing this, how do you post something unique enough to make you stand out? We suggest getting extremely creative. You only have a few seconds to make an impression, so be memorable. For instance, everyone celebrates the big holidays, but we celebrate the small ones as well. Below, you can see where we filmed a quick short video with confetti celebrating Mark Zuckerberg's birthday. This worked well for us because it was a hashtag that wasn't overly saturated with competitors that made us look well-informed in the world of social media.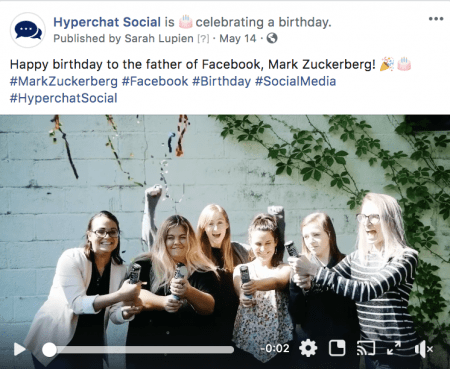 What has been your favorite movie this summer? With so many other great releases, we'd love to hear what is worth our time to watch! Leave us a comment on our social media by clicking HERE
We'd love to take your small business from "indie film" status to being an Oscar nomination! Contact us today to schedule a consultation with us and begin turning social media marketing into sales.
Prev
Instagram Captions As Interesting As Your Graphics
All About Algorithms