Stop Being A Robot On My Birthday
April 08, 2018
It's really unfortunate in today's social media world, but the computer has officially taken over your brain. I've written several articles about the lost art of a handwritten thank you note, so I thought it was time to write one about all you robots who are too lazy to do anything but simply click a button.
LinkedIn within its own notification systems will make LinkedIn users aware on a daily basis of three things. Who got a new job, who is celebrating a work anniversary, and who is having a birthday, so let's look at these three scenarios. With someone celebrating a birthday, you'll typically see something like this that comes up within your LinkedIn notifications feed.

Since we are so busy in our lives and want to ACT like we made a high-quality touch, what we do is simply click the button thinking we are having a meaningful social media touch with a prospect we might want to do business with down the road. Instead, here is what happens when you click the happy birthday button if you have never done this before.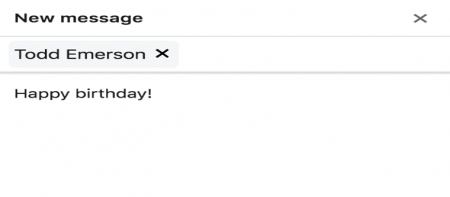 If you are Todd and you get this message are you thinking that someone genuinely wished you a happy birthday or is this going to be bled into the sea of sameness with all of the other Happy Birthdays? By the way, the same exact thing happens on Facebook when your 137 not so close friends wish you a happy birthday and then you write some boring soliloquy about how you are blessed that you have so many kind and special Facebook friends.
How I separate myself from the competition is by offering something of VALUE. VALUE is what people will remember when I ask for an appointment down the road or I choose to engage in some meaningful conversation because I make myself DIFFERENT from the competition. So, instead of just wishing someone happy birthday, I give them over 50 freebies to save money on their birthday because I am in the money business.
Here's the happy birthday message….
Happy Birthday- what would a money guy be without getting you Freebie Money Deals…
Argo Tea: Each LoyalTea club member can enjoy a free drink worth up to $5 on his birthday.
DavidsTea: Membership in the DavidsTea Frequent Steeper loyalty program gets you a free cup of tea on your special day.
….
Click here to buy the full birthday freebie list in PDF format.
The point behind this to all of you is don't let the internet lull you into the sea of sameness because they have a button front and center for you to click. Social media means being social. A simple happy birthday won't get you the results you want, so think about stopping being a robot and start acting like a real human being.
Prev
Spring Cleaning Your Social Media Accounts
How To Protect Yourself From Facebook