Posting to LinkedIn as a Financial Professional
November 29, 2020
Whether you've finally decided to sign-up for a LinkedIn account or you have 1,000 connections in your network, it is important to plan out a strategy behind what you post to LinkedIn. Here at Hyperchat Social, we know that posting to LinkedIn as a Financial Professional is one of the best practices we can recommend. We see real results from the practices I am going to walk you through today. We are going to review how you can nurture strangers to becoming ideal prospects and ultimately, raving fans. Let's get started!

Why LinkedIn?
For the first time in the history of media, you have a place to reach all the world's professionals. If you're looking to reach your niche for clients (whether that's pre-retirees, executives, or business owners), they are ALL on LinkedIn!
Do you need to create a LinkedIn account first? No worries. Click HERE to get your profile set-up! If you get lost along the way, we are more than happy to help you out with this. You can also check out one of our recent blog posts, "How To Make Your LinkedIn Profile Stand Out" for more tips you can use today.
Need Help Making a Post for LinkedIn?
If you want to set your sights on posting to LinkedIn, you should know that LinkedIn's preferred image size is 1200 x 628 pixels. This means that your images need to be this specific size, or else your social posts will be a little wonky. If you want to create your own text-based updates, we recommend using a tool like Canva, where you can use templates to help you create scroll-stopping images in this specific size.
If you want to post videos to LinkedIn, we recommend using a captioning tool such as Zubtitle to make sure that your viewers are able to take away what you are trying to get across, even if their sound is off on their phone.
Put Your Personality In Your Posts
A lot of people mistake LinkedIn for being a place to post content that is "too boring for Facebook". We could not disagree more. Yes, LinkedIn is a place to post primarily professional content. But it is also a place to get the attention of professionals who can be great referral partners or leads for your business. It is good practice to get comfortable in front of the camera, as it is important to include your personality in your posts. Make a lasting first impression and continue the momentum on this social platform with a regular posting schedule. Your network will become more accustomed to you, a stranger, and will feel more inclined to have a call or introductory consultation.
Check out the below two posts! We filmed a "Try Not to Laugh Challenge" for National Joke Day and shared our Halloween costumes on social to foster engagement. As a brand, we enjoy hopping on trends and sharing these fun pieces with our clients.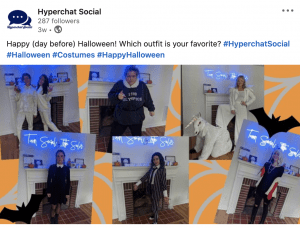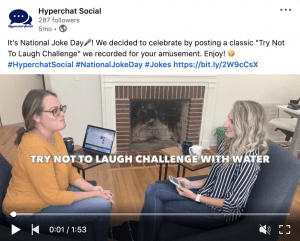 If you post to a business account on LinkedIn, know that it is harder to gain a following, but it can be done. Naturally, LinkedIn is a platform for other professionals to network with each other. Facebook has a better landscape when it comes to getting people to follow business pages. If you're posting to your business account, make sure that your team is sharing content to get more eyeballs on your posts. Slow but steady will win the race here!

Spotlight Your Employees on LinkedIn
As a professional platform, LinkedIn is a fantastic place to spotlight your employees! If you have employees who work at your company on LinkedIn, they will most likely share the posts you put out about them to their network. This will increase your reach and can result in an increase in followers, too.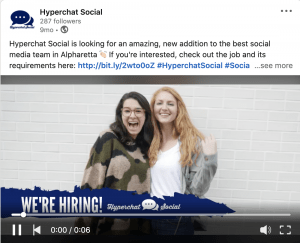 LinkedIn is also a great place to go when you are looking to expand your practice. Since the platform has made it so easy to offer and find jobs, it is likely that you may have acquired some employees from LinkedIn already. Another reason we like to add personality to our brand is to attract potential team members to our business. Odds are, you offer a great place to work. Let people know that they should do business with you or work for you by sharing what sets your team members apart!
Don't Be A Robot When Posting to LinkedIn
One of the most rewarding ways to garner attention on LinkedIn is to humanize your brand. For your posts to really resonate with prospects, you should be driving authentic interactions within your posts. It is important to get in the mindset of your dream client. What is going to make them click the follow button? Better yet, what is going to make them say yes to that initial consultation?
While posting is important on LinkedIn, you want to make sure that you are also playing a part in the community. Congratulate your connections when they hit big milestones like their work anniversary or if they started a new job. Have you ever thought about ordering a pizza for someone who is new to the neighborhood? You can also comment on their more general updates. Know that at the end of the day, they are connected with an expert in the financial space and that they are valued as a friend.
Share What You're Passionate About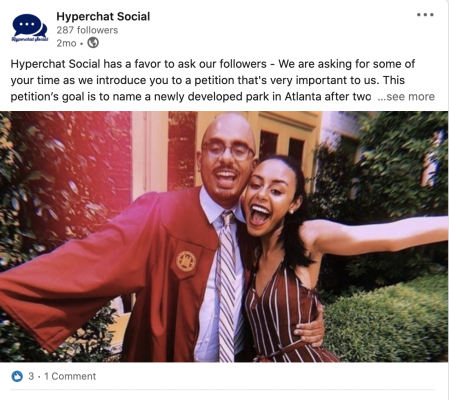 Social media is meant to be social. What are you passionate about? When posting to LinkedIn, you can really showcase your business' core values. This can look like many different things since you can be passionate about a variety of topics. Some of our clients love their alma mater or a hobby (Ex: fishing, football, etc.). The great thing about LinkedIn is that you can find like-minded individuals and add them to your network. From there, they will be able to see all of the posts your push out about these topics. By posting to LinkedIn about what you are passionate about, you will increase your chance of getting your prospects' attention and looking like someone they actually want to work with.
LinkedIn is also a great place for you to share causes that you are passionate about. Does your business have philanthropy? Do you volunteer? Upload videos or photos of you giving back. You can also share links to local petitions or community events. Giving back is a double win for you because it will help you share what you are passionate about and potentially gain new followers in the meantime. And who knows - new followers may become new clients for you.
Promote Your Service Offering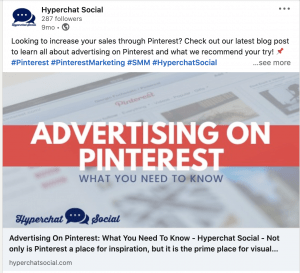 Today we have gone through a lot of different ways to promote thought leadership online. That does not mean you should never post about your services. In fact, it would be weird if you didn't. One of our biggest recommendations is to create a content calendar that is made up of a mixture of hard sells and posts that are interesting to your audience. If you are marketing to the right audience, you should have no trouble making both buckets interesting to your followers. Now, you know that there is a lot to tackle when it comes to LinkedIn. I hope you have found today's blog post helpful! LinkedIn is an amazing platform for building your brand online and getting in front of your ideal prospects.

Want to learn more about how Hyperchat Social can help you Turn Social Into Sales? Schedule a demo with one of our social media experts today by clicking HERE to learn how you can be utilizing LinkedIn to the fullest!

Prev
Tik Tok and Social Media Marketing
2020 Wrap Up – Social Media Trends & Updates