Linkedin Video 101 and How to Use Them Successfully
July 26, 2020
So you want to create a successful LinkedIn video strategy? LinkedIn is one of the best places to market your company and services. As the platform continues to grow and evolve, it is important to stay up to date on what marketing practices work the best. In this blog, we will go over how to create a successful LinkedIn video strategy and what options you have. We recently made a post on How To Use Video On Social but today I want to deep dive into the specifics of video marketing on LinkedIn.
Research shows that in order to build trust with your customers/clients you need to show complete expertise and competence in your industry. This is where video comes in! By getting in front of the camera and showing that there is a face behind the screen, people will begin to feel more bonded and connected to you and your company. Through video, you are able to discuss topics in greater detail and also bring in a visual component. If done correctly, creating a LinkedIn video strategy will humanize your brand and build a level of trust that will accelerate your sales cycle all while making your customers/clients excited about your company!
Step 1: Fill The Gap!
Making a successful LinkedIn video isn't as simple as point, shoot, post. You have to be strategic if you want your videos to generate leads or sales. A successful video will guide the viewers through to the next step of their buyer's journey. Your goal should be to figure out what type of content is missing from your sales funnel and use the videos to fill in that gap! A good rule of thumb is to explore what challenges your customers/clients are running into whenever they are looking for a solution like yours.
You will want to begin by reviewing any and all video content that you've already produced and see where it lines up with the different steps in your sales funnel. This may seem like an excessive step, but trust us, it will pay off in the long run!
You will want to begin by reviewing any and all video content that you've already produced and see where it lines up with the different steps in your sales funnel. This may seem like an excessive step, but trust us, it will pay off in the long run!
Here are the 3 main sections of your sales funnel that you will want to filter by:
Top-of-funnel: This is content that will help buyers identify a problem or help them to better understand what their problem is.
Middle-of-funnel: This content will showcase your product or service and let the viewers know why your product or service is the answer to all their specific issues.
And lastly, bottom-of-funnel: This video content is what will hopefully convert the viewer into a buyer. This is where you will smooth over any last-minute concerns a buyer might have and where you can really showcase just how valuable your product or service is. This is where content like video testimonials perform really well. By showing how an existing customer or client has benefited from your company, you are providing yet another reason why the viewer should trust your brand!
Now you'll want to do a little bit of competitor research. Go in and see what types of video content your competitors are creating. Can you figure out where each of their videos would integrate into the sales funnel? Go ahead and get very specific with your research. Consider making a spreadsheet to deep dive into a strategy that would work for you!
Take note of their LinkedIn video metrics such as:
How many likes does the video have?
How many comments and what types of comments does it have?
Are the viewers engaging with what was shown?
Did they mention any links or calls to action?
How about the number of shares the video got?
Now that you have finished your competitor analysis, you should have a better understanding of what types of LinkedIn videos they are posting, how they are relating their content back to their consumers, and how they are using their calls-to-action to entice the viewer to learn more about their product or service.
Once you get a hang of it you will quickly be able to see what kinds of LinkedIn video content is successful and what kinds aren't. You will be able to review a profile and instantly identify how that brand is positioning itself in the market, how they are listening to their consumers, and how they are filling the gap between the problem and the solution.
Step 2: Decide What Type of LinkedIn Video You Are Going To Produce
One of the fun things about LinkedIn is that they do not limit you to certain types of videos such as live streams or ads. You can get really creative with it by posting tutorials, Q and A's, or even video podcasts! Let's go over several different video types and how you can use each of them to promote your brand on LinkedIn.
Live Video
In the last few years, live video has grown rapidly in popularity. With the rise in Instagram and Facebook live features, this style of video has quickly become a go-to in many companies marketing strategies. The way we all spend so much time on our phones and multitasking, a live video is a sure way to gain more attention than a blog post or text-heavy status update. Live video is a good option for when you want to fully engage with your clients or customers. This gives you a chance to put a face to your brand and also to answer any questions someone in your sales funnels might have.
How-to Videos and/or Tutorials
Depending on what your product or service is, a video tutorial is one of the most searched for videos online. When it comes to LinkedIn, sharing helpful tutorials is a move you definitely want to make. LinkedIn members are on the hunt for knowledge and information, making it the perfect platform for this style of video content.
Behind-the-Scenes
It has become more and more important for businesses to portray themselves as human-ran and relatable. This is where developing videos that show your company culture is a huge market to tap into! To get on camera and demonstrate how your product or service is developed, planned, or prepared is a great way to enhance your perceived value!
Thought Leadership
Being able to stand out in a crowd is no easy feat. The crowded market makes it so your company needs to have a strong marketing plan in order to portray to customers why they should choose you over your competition. If you need help portraying this to your audience, Hyperchat can help! Schedule a call here to discuss a game-winning strategy! With that strategy in mind, leadership videos are a great way to show your LinkedIn audience what you are all about! Share some new research, answer questions your connections have, or even shed light on an interesting insight into your specific industry. There are tons of directions you could take this kind of video so get creative!
Interviews
Along the same lines of a behind-the-scenes video are interviews. A video interview shared on your LinkedIn feed will give the client or customer a chance to get a more in-depth look at your solution to their problems or even just to gain a broader perspective from industry experts. In these videos, you can position your brand however you'd like but we recommend taking the position of a thought leader, that way you can guide the viewers along your sales funnel journey.
LinkedIn Video Ads
When you hear of video content, your first thought is probably not a video ad. However, these types of ads are highly engaging on the LinkedIn platform! According to LinkedIn, members are spending almost 3 times as long viewing video ads than they are viewing static ads. If you are new to video ads we can help! Schedule a call here. Also, LinkedIn offers a suite of tools that can help you to capture leads, measure your ROI, and more. This makes it easier than ever to gauge whether or not your content is receptive to your specific audience. You will find a wide range of opinions on the topic but according to LinkedIn, 15-second ads perform the best.
Step 3: How to Optimize Your LinkedIn Video
Now that you have decided what kind of video(s) you want to create and post, it is time to optimize them! There are a few things you want to pay extra attention to when posting a video onto LinkedIn:
1. Make Your LinkedIn Video Native
While you might have multiple social platforms, it is always better to upload native LinkedIn videos. The smoother the experience, the more likely viewers are going to stay to watch! You don't want to send them to another platform just to see your video so make it easy and make it native!
2. Be Concise
People are always busy. According to Alexa, LinkedIn users are only spending on average around 10.5 minutes a day on the platform. This means that you want your video to be quick and to the point. By doing so, you will have a greater chance of capturing a viewer's attention for the full amount of time and give them a reason to keep returning for more!
3. Write Strong Copy With a Clear CTA
It is true that video is more engaging than plain copy, but according to a LinkedIn study, 54% of people are more likely to watch a video based on its headline and 52% are influenced by the accompanying caption. Along with strong copy, make sure you are providing a clear call-to-action. This can be inviting them to come to your website, to give you a call, or even just to follow you on another social platform! No matter what it is, make it easy.
4. Add Captions
Lastly, make sure you are adding captions! Around 80% of videos on the LinkedIn platform are viewed without sound. People are not always in a situation where they can play a video out loud so accommodate the masses and add in the captions!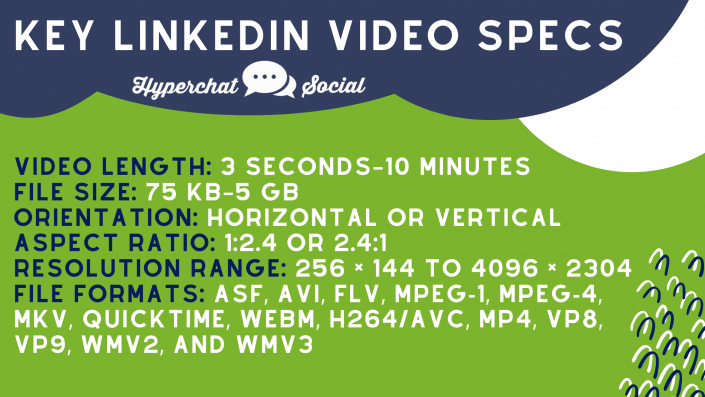 In conclusion, almost every brand can benefit from adding some type of video(s) to their marketing plan. If this is something that you want to try out, schedule a call with Hyperchat Social and let us know! A strong video presence on LinkedIn can boost your companies trustworthiness tenfold and add a down-to-earth relatability that consumers nowadays actively seek out. Make sure your video is relevant, packed FULL of value, and helps guide the viewers down your marketing funnel and you are sure to succeed!
Prev
Why Every Business Needs to Master Copywriting
Google Ads For Beginners