Instagram for Business: Marketing on Instagram
August 15, 2021
Are you a business owner looking to expand your digital footprint? If you don't have an Instagram account and your industry permits it - why haven't you started yet? With roughly one billion active users, this platform isn't just for younger generations. It's the #1 place to give people a true visual of the experience that is working with your business. You can showcase your services, products, and more on Instagram, and who doesn't love a behind-the-scenes look at what makes your business such a success.
Whether you're a business owner looking to take their marketing game to the next level or gearing up to start from scratch, you're in the right place! Keep reading to learn more about Instagram for business and marketing on Instagram:
How to Set Up a Small Business Account on Instagram
If you haven't taken the steps to convert your Instagram from a personal profile to a business account, this is a must. Business accounts on Instagram have access to a plethora of insights that the naked eye can't see. Don't miss out on these great marketing tools!
When you first sign up for an Instagram account, it defaults to a personal profile. So, if you're just starting out, that is most likely what you're looking at. Here are the steps that you'll want to follow to turn your Instagram account into a small business account:
1. Go to your profile and tap the menu in the upper right corner.
2. Tap Settings.
· For some accounts, the Switch to Professional Account option will be listed directly under Settings.
3. Tap Account.
4. Tap Switch to Professional Account.
5. Tap Continue.
6. Select a Category for your business and tap Done.
7. Tap OK to confirm.
8. Tap Business.
9. Tap Next.
10. Add Contact details and tap Next. Or tap Don't use my contact info to skip this step.
11. If you'd like, you can follow the steps to connect your business account to a Facebook Page associated with your business. This step is optional and will make it easier to use all of the features available for businesses across the Facebook family of apps. At this time, only one Facebook Page can be connected to your business account.
12. Tap X on the top right corner to return to your profile.
Marketing Your Small Business Brand on Instagram
Looks don't always matter, but they do on Instagram. Instagram marketing is highly visual, which gives you a great opportunity to allow your onlookers to imagine themselves doing business with you. Perception plays a huge role in how people view your business. When they work with you, do they experience a cutting-edge and modern business model? You will want to make sure that your feed reflects the aesthetic you associate with your business.
·

Step One: Make Sure You Have a Clear Profile Picture
Most often, we set our client's profile images as their logo. Make sure that your logo is easily legible and against a plain background to be easy to digest. You'll also want to make sure that your logo isn't being cut off and fully displayed in the circle template Instagram selects.
·

Step Two: Set Your Profile Highlights
Once you begin sharing to your Instagram story, you will likely have a lot of great in-the-moment content you'll want to keep on your account. Even though Instagram stories are only up for 24 hours, you can set highlights on your profile to keep these posts static on your feed. Just like your profile image, the set template for Instagram highlights is in the shape of a circle. We recommend a website like Canva that has a lot of highlight templates that you can use to set the default image with. Find an icon that makes the most sense for the topic and upload the image to your story to save it and use it for the cover image. Below is a screenshot of what our Instagram highlights look like!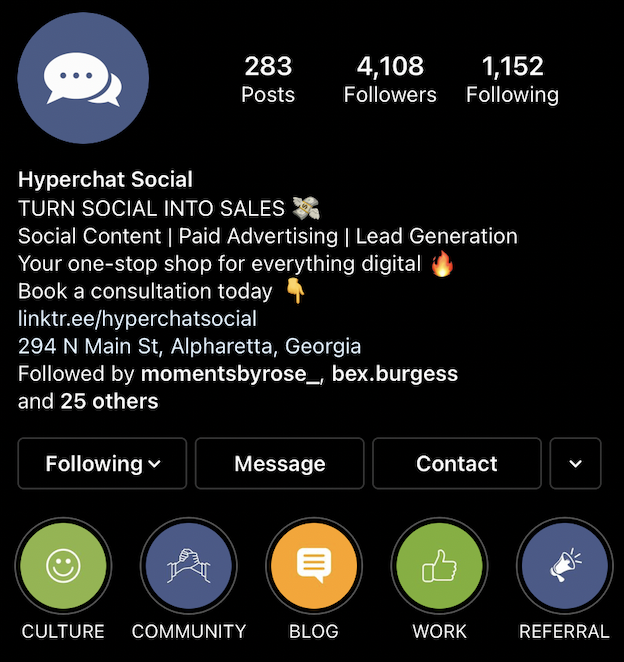 ·

Step Three: Make High-Quality Photography a Priority
When you're talking visuals, you want your business to be represented in a way that matches your brand and sets you apart from your competition. After all, prospects may choose to work with your competitor if they simply look better. They may not provide a better service or product, but perception is key when it comes to marketing. Instead, view Instagram as an advantage and take clear, high-quality images that are aesthetically pleasing to get people to stop scrolling when they see your content. The higher the quality of your content, the more likely people are to both follow and do business with you.
·

Step Four: Incorporate Video
Instagram has recently stated that they are prioritizing native video content, meaning videos on Instagram will receive higher results than just images on the platform. You can post videos to Instagram in both long and short-form content. You can upload a video as normal, but you can also post to IGTV (Their longer formatted video channel), or Reels (Instagram's version of TikTok). At Hyperchat, we have recently received a huge growth in impressions from incorporating trending sounds, dances, and information with Instagram Reels. Just check out the below screenshot to see some of our view numbers! Video may seem daunting, but it is definitely worth the effort in the long run. You don't have to dance to get insane views. Try posting an office tour, team member spotlight or an unboxing!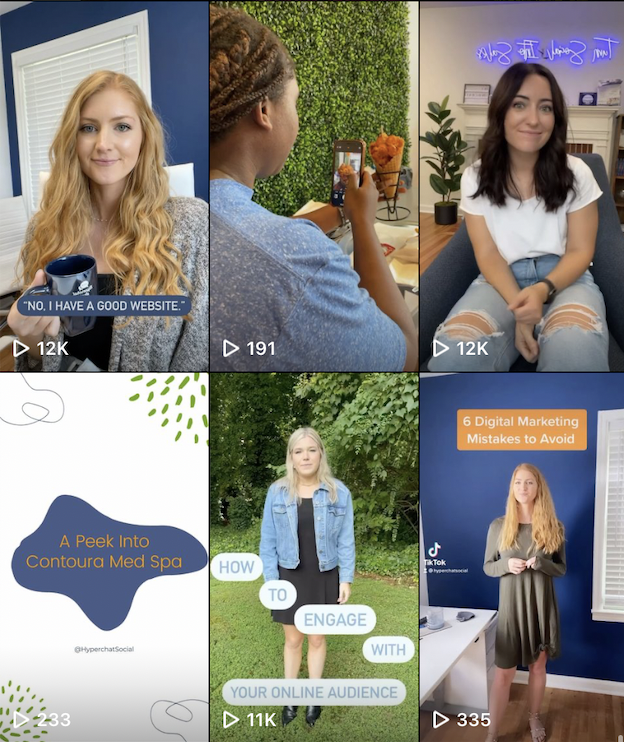 Paid Promotions on Instagram
You may be familiar with the boosting capabilities Facebook offers, but did you know that Instagram offers the same tool? Since Facebook owns Instagram, you can boost your posts both in Instagram feeds and Instagram stories. This is a great way to stay in front of your target audience, especially if your demographic isn't on Facebook often.

To promote your post on Instagram, here are your instructions to follow!

· Step #1: Select the "Promote" button under your post

· Step #2: Choose your goal. You'll be able to choose whether you want more profile visits, site traffic, or views.

· Step #3: Choose your audience. You'll be able to choose from the below types:

- Automatic: This tells Instagram to create a lookalike audience to your followers

- Local: This lets you target people in a certain area

- Manual: This is where you can choose from specific people groups, places, and interests

· Step #4: Set your budget and duration. Instagram will give you a preview of what type of results it estimates for clicks and reach.
Increasing Your Instagram Reach With Hashtags
On Instagram, hashtags are your friend. You can be producing great quality content, but without anyone looking at it, you'll never be satisfied with your efforts on the platform. A great way to grow your Instagram following is through hashtags.
In the past, marketers have keyword-stuffed their Instagram captions with hashtags on hashtags. But, times have changed and when it comes to captions - you don't want to clog up this space and come off spammy. Instead, we recommend you choose up to 30 hashtags that you comment under your post once it's posted. That way, you can optimize your reach without risking getting "shadowbanned". Being shadowbanned means that you've most likely abused hashtags, so Instagram is no longer showing your content to your followers because they believe your account to be a spam account. You can click HERE to read our blog on how to increase impressions on Instagram for more game-changing ideas!
Want to learn more about taking your small business' Instagram account to the next level? We would love to work with you and help you turn social into sales! You can click the button below to schedule a demo with one of our social media experts today.
Prev
Visual Marketing: How to Sell Easy Through Perfect Photography?
How Does Social Media Impact Your Business?