How Your Business Can Create a Winning Strategy on Instagram
August 11, 2019
Have you noticed the sponsored posts in your Instagram feed? Us, too. Instead of filling up our feed with posts from our closest friends, Instagram has implemented a new way of doing things. Now, our feeds host the occasional sponsored post from the brands that we follow. That's because these businesses have paid to get their content in front of their followers. Why are businesses spending money on Instagram? Well, we're going to tell you. Not only will this post explain why businesses are on Instagram, but it will also explain why your business needs to be on the platform, too!
If you've followed our blogs recently, then you should know a good bit about Instagram. We've recently written about how to craft the perfect caption on Instagram and provided a detailed explanation of the platform's algorithm. As we said, today's post is also about, you guessed it, Instagram! You could say we might be a little obsessed with the platform, and we won't deny it. Instagram is the fastest growing platform right now, so why not talk about it?
Here's a picture of just how much Instagram has grown since 2013: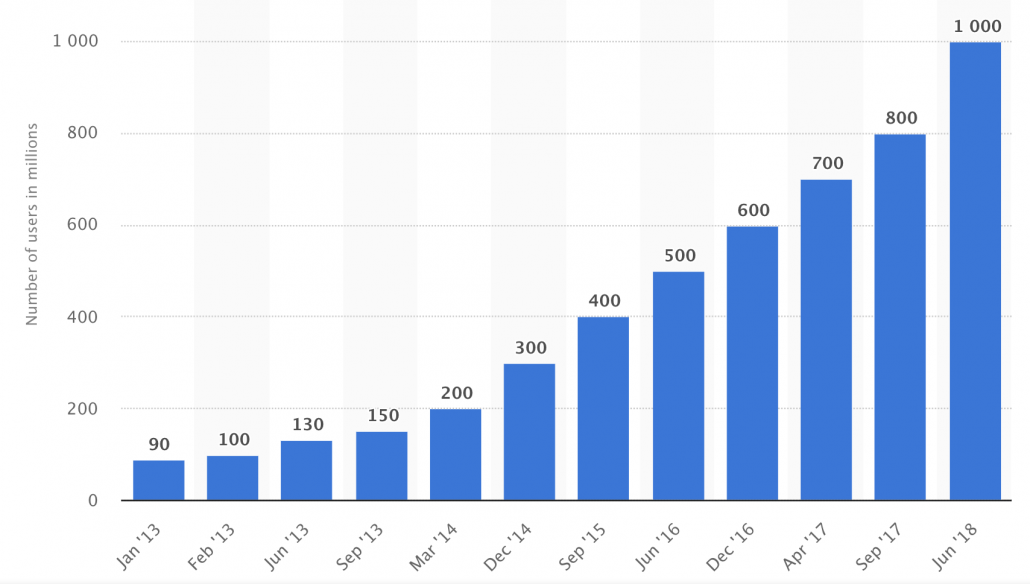 In just over 5 years, Instagram users have grown nearly 400%! And that's just up to June 2018. Now that we're over halfway through 2019, we know those numbers are even higher. While Instagram reports over 1 billion active users today, 500 million of those are active on the platform daily. That number places Instagram well ahead of other top platforms like Twitter (326 million daily users), and Snapchat (150 million daily users.)
Most of these daily users are Millennials. Believe it or not, wherever Millennials are, that's where your business needs to be, too. That's because Millennials make up nearly a fourth of the whole US population. That means there are a whole lot of buyers on Instagram. The Millennial annual buying power totals a staggering $200 billion dollars, making them the most lucrative market right now. One of the best ways to tap into the Millennial market is through social media, specifically Instagram.
If you have adult children, take a look at their Instagram. Who do they follow? Most likely, they are following some of their favorite brands. 22% of individuals aged 18-34 have made a large purchase after seeing an influencer recommendation online. Don't you want your business to be part of that 22%? Of course, you do!
The predicted stats for Instagram growth over the next several years continue to impress, but we won't risk boring you with an endless list of numbers. The bottom line is, these numbers prove that your business needs to be on Instagram. To tap into this growing platform, your business needs to figure out how to not only just get on the platform but how to totally rock the platform. To do that, you need a winning strategy - a strategy that is going to garner engagement and ultimately bring in leads. So, how does a business do that? Let's look at some of the businesses that are doing well on Instagram right now.
Top Performers on Instagram in 2019
Number of followers: 4.4M
We know what you're probably thinking. We just told you how Millennials are the people to market to right now, so how can Lego be a top-performing brand on Instagram if they sell kids toys? Well, if you think about it, Millennials are totally buying kids toys. That's because Millennials buy legos for their kids! Legos are best suited for kids aged 4-12, and most kids in that age range have Millennial parents. Of course, 4-year-olds can't buy their own Lego set, but their parents can. Therefore, Millennials are exactly who Lego markets to the most.
Lego markets to Millennials really well with their posts by crafting fun takes on pop culture references that Millennials recognize and appreciate. Every business can learn from this strategy!
If you're familiar with Lego's Instagram feed, you know that a lot of their posts revolve around announcing new Lego characters. One recently impressive new release was Lego's life-size LEGO model of Iron Man with the Gaunlet from The Avengers End Game. Recreating a scene from one of the most popular movies of this year was a brilliant move for Lego. Of course, the post did really well, with the video receiving over 1.2 million views and 1,384 comments.
Tip from Lego: Relate to your audience. By relating to its audience, Lego has been able to build a multi-million follower base and receive several thousand likes on every post they put out. Relatability can carry your brand a long, long way.
Number of Followers: 261.8k
Chances are, you have a Califia Farms product in your fridge right now. Everyone in the office here at Hyperchat agrees that their Cold Brew is absolutely delicious! But of course, you can't taste their amazing products on Instagram. However, the brand does an amazing job of posting aesthetically-pleasing photos that make you run to the store to get a taste! With its attractive packaging, it's easy for Califia to craft beautiful photos. The brand shows off its curvy bottle every chance it gets by including their products in every photo.
Califia does a great job of creating content that is fun and inviting for its followers. Califia does this with playful videos and GIFs, like this one pictured below:
This video has almost 50k views, making it one of Califia's best performing posts recently.
Tip from Califia Farms: Show off your product/brand with content that is fun and entertaining! You want your content to be interactive and put a smile on your followers' faces. Today's society gets bored easily. We can't count the number of pointless videos on social that are receiving great engagement simply because they are fun to watch. So, keep everyone engaged with content that is entertaining!
Number of Followers: 2.1M
What we find most impressive about this brand is their most recent post. Even though this photo was posted only 2 HOURS ago (from the time this post was written), the post already has over 9k likes and 60 comments. Wow! Here's the photo:
What's so special about this photo? Well, it's very inviting. This photo captures the scene of a bathroom that I'm sure a lot of us would love our bathroom to look like. Candles, slippers, plants… it's all very cozy. All of the photos Apartment Therapy posts provide inspiration for their followers. Their brand has a way of not only inspiring others but making them feel at home. As their bio says, "Helping everyone to live happy, healthy lives at home." That's a phrase that everyone can get behind.
Tip from Apartment Therapy: Inspire your followers with content and a message that they want to support with likes and comments.
Number of Followers: 198k
Did you know that over 90% of the US population wishes they were more adventurous? It's no surprise that a brand like Tentsile is finding great success on Instagram. The brand's stunning and sometimes exotic photos provide their followers with a way to live vicariously through the photo. The brand's followers almost feel more adventurous when they look at Tentsile's feed.
The brand sells "tree tents," which are the definition of adventure and fun. Here is Tentsile's best performing post to date:
The fact that this post is a video is a big reason why it's the best performing post on the brand's Instagram. Tentsile's posts usually get between 2k-4k likes, but their videos receive well over those numbers, with the one above receiving 35k views. Those numbers prove that video content automatically boosts the engagement on an Instagram post.
Tip from Tentsile: Incorporate video content into your feed to multiply your chance of engagement.
Number of Followers: 4.8k
We are pretty proud of our Instagram following, considering how much it has grown in just the last year alone. We have grown our following by providing content that is all of these tips combined - relatable, entertaining, inspiring, and engaging. Here's an example of one of our favorite videos, which has received 302 likes and 267 views to date:
Hyperchat Tip
We have two words for you: paid advertising. Here at Hyperchat we strongly believe that in order to bring in leads for your business, you need to invest in your social media strategy. Your Instagram strategy is no exception. If you are already paying for advertising on Facebook, make sure you get more bang for your buck by posting those ads on your Instagram profile as well! Since Facebook owns Instagram, the two platform's advertising works seamlessly together and their ads work in very similar ways.
We recommend creating a separate advertising budget solely for Instagram if Instagram is especially popular among your target audience (Millennials). The additional advertising dollars you spend will be well worth the price if your audience spends more time on Instagram than it does on Facebook. If you want to know more about running ads on your Instagram, schedule a demo with us!
Overview:
Make your brand/content relatable
Show off your brand/product with entertaining and fun content!
Spread a message that your followers want to support with their likes and comments.
Video always drives more engagement, so accentuate your content with videos!
Supplement your strategy with paid advertising.
So, what's the point of trying so hard just to get likes and comments on your content? You may be wondering how likes convert to leads, but they do. In today's high-tech society, a lot of people will look at a company's social media to determine if they want to buy from that business. If a potential buyer sees that your company has a big presence on social media with a substantial following, they are more likely to hop on board with the rest of your followers.
You may be thinking that your brand can never live up to the brands listed above because it's not pretty, nor is it adventurous in any way. But that's not true. There are ways! If you need some creative inspiration, schedule a demo with Hyperchat Social and let's see how we can get your business generating leads on social!
Prev
All About Boosting
Instagram Captions As Interesting As Your Graphics