How to Organically Generate Leads on Social Media
June 30, 2019
If you've found your way to our blog, there's a good chance that you did so in order to find a new way to generate leads for your small business or practice. But, with a plethora of social media platforms and various different strategies for finding prospects, it's hard to know what your next step should be. In fact, it's really hard! We feel you, but you're definitely not alone in this struggle.
At the end of 2018, 61% of marketers reported that generating leads was still their top challenge and top priority. Despite changes within social media, the end goal remains the same - everyone wants to find a better way to increase their business.
While digital advertising is a great method to garner attention from prospects, it is getting substantially more expensive each and every day. At Hyperchat, we can't deny that to find strong results on social media, one of the best things you can do is "pay to play". By that, we mean paying to advertise your product or service. This is how these "free" social media platforms make their money. Because these ads are so effective, juggernauts like Google and Facebook have honed in on their pricing to make paying to see results unavoidable.
We've seen in our experience that the best results come from those clients who are willing to pay, but who also put in the organic work necessary to really take their brand to the next level online. After all, the more ads that are originated, the more people are learning new ways to shut ads out, whether that be through deleting spam emails or installing AdBlockers.
If your marketing budget is restrained or you want to learn the best ways to utilize your social media to the fullest for free, keep reading to learn how to organically generate leads on social media!
Where Should I Start on Social Media?
In most of our blog posts, you'll hear us stress how important it is to find your target market online before putting time and effort into any campaign. As always, we recommend the same thinking in this situation. Even organically, you should be trying to get into the mindset of your ideal client. Before getting started, ask yourself this:
Who are the people who are searching for my product or service?
Who are the people that are unhappy with my competition?
These are personal questions, and with a more manual approach, you have the capability of being more personal with your messaging. Because you're taking the time to identify your potential clients for yourself, you can navigate the conversation around the pain points you assume this user may have. Are they switching jobs? Transitioning into retirement? We post a lot about ourselves online as a people group, making it that much easier to learn all the facts you need to know to turn a prospect into a happy client or customer.
Finding Those Searching for Your Product or Service
Buying decisions have always been influenced by friends and family. But now, over 81% of consumers turn to social media for recommendations on purchases both big and small. Due to this, social media platforms have made it increasingly easier to offer up your opinion online and express how you may need help. There are many ways you can organically find leads and initiate a conversation with them in order to solve their issue and increase your sales.
Hashtags & Social Media
Do you have industry specific hashtags? Better yet, what hashtags define your target audience? A great strategy for locating potential prospects online is to peruse the hashtag section on social. In fact, hashtags aren't just for Twitter! They're a tool used by almost all platforms, including Facebook, Instagram, and even LinkedIn.

There are a lot of different methods you can take when searching for leads through hashtags. For instance, as Hyperchat, we may look for "Business Owners" or "Small Business Owners" to see if anyone needs social media help. Additionally, we can engage with those who may be in our area. For instance, while we do social media for clients across the country, we could relate to people using an event hashtag. This could be at a conference we attend, as we would know that the attendees may fall into our target market.
Pro Tip- You can also find which influencers you should be liking and following using hashtags! Influencers are those on social media considered experts in topics related to your business, usually with a large following. By engaging with them, you can increase your exposure to a targeted audience!
Joining Facebook Groups
You probably belong to at least one Facebook group, right? But, have you considered using your Facebook group for your business? You should!
When creating a Facebook group for your business, don't just start inviting friends to join. Take a step back and remind yourself that the group isn't about you. Additionally, no one will willingly join a Facebook group to be spammed. You want to create a forum that provides value for your customers. This is a great tool to reward your customers and make them feel special. Send emails inviting prospects to join, have a shortcut on your website or manually invite those who you think will be interested!
Other great ways to offer value to prospects? Discuss current events, build a community, communicate with brand ambassadors, promote events, and diversify your point of view. The key to this is to find a way to give value to group members that will keep them active and participating in the conversation. The focus of your group should be to get others to respond to you.
Not sure where to begin? Click HERE to learn how to create a Facebook group!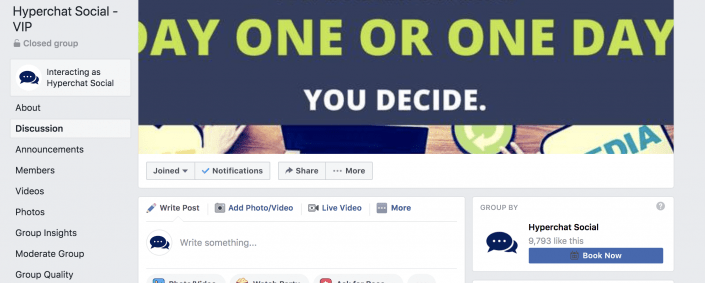 Are you part of our Hyperchat Social - VIP Facebook group? This is a great example of a place we like to share tips and company updates while fostering a community within a platform to share. Join HERE!
Turn to Competitors for Followers
Sometimes our competition can be our biggest inspiration. While your competitors may be in the lead on social media currently, they won't be for long. This gives you one key advantage: they'll show you what you should be doing online.
Assess what your competitors are doing on social media. What is received well? What can you fit in your business model, too?
Additionally, this is a great place to start to find leads! If users are following your competition, they would most likely be interested in following you, too. See who your competitors follow and who follows them. Comment on their posts or hit that follow button! You never know who's getting fed up with your competitor. They may be looking for a new direction to take their business!
What's #Trending?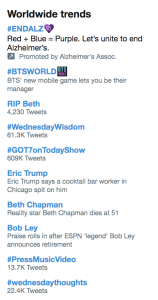 Social media has become most people's sole news source that they rely on today. Knowing this, a lot of people turn to their keyboards to voice their opinions. Similarly, users search through trending hashtags and topics to see what others are saying, too.
We believe that you can't be "Switzerland" on social. This means you should always have an opinion to share with your followers and potential customers. This doesn't mean you have to give a deep dive on the latest political debate, but you should take any opportunity there is online to further your brand. By pitching in on a trending topic, you can increase your exposure to your target audience, and even further, those outside of your target. This is really important if your main focus is to increase your follower count.
Create Engaging Content on Social Media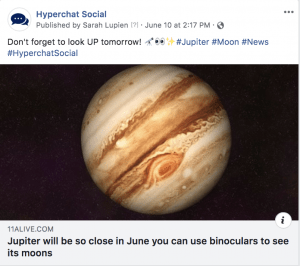 Do you need help spicing up your content? We can't stress how important it is to create strong content online that your target audience can find value in! Even if you aren't paying to boost posts, you can garner a lot of organic engagement from those who follow you. You can even get in front of the eyes of those who don't by getting shared! But how do you get shared and how do you turn a profit from your posts?
We suggest using the right calls to action. Hopefully your content pays off in the form of new fans and followers. And as you engage with users organically, it's important to use a strong call to action to move the process beyond social.
Need some inspiration for content? Check out THIS blog post for creative ways to make your brand stand out online!
The Main Takeaway
There is SO much to pulling off a successful social media campaign. But it can be done! And most importantly, there's many opportunities for you to increase your exposure, following, and business organically online.
What's your favorite tip for organically generating leads on social media? Comment below and don't forget to follow us on social media for more tips and tricks from our team!
Prev
The Importance of Fonts in Your Company's Branding
Hit A Bullseye With Facebook Ads Targeting