How To: Optimize Your Facebook Business Page
January 10, 2021
Did you know that optimizing your Facebook page should be a key step in the establishment of your presence? By now, you know the importance of maintaining a presence on social media, and more specifically, the importance of establishing your brand or company on Facebook. After all, Facebook is one of the most popular social media platforms around with over 2 billion active users.

Setting up your Facebook page is the first step to taking advantage of Facebook's bevy of features available to grow and promote your business. Although, it is not as simple as just creating a page. To get the most out of your Facebook experience, you need to be sure to optimize the different options the page has available.

As a business owner, or someone looking to grow their presence online, it is important to understand how to optimize your Facebook page to get the most opportunities and growth in the platform.

Page Ownership
Setting up your Facebook business page is completely free, so you might as well take advantage of it. You will need a personal Facebook profile to act as an admin or creator of the page. It is important to have the admin of your Facebook page as someone familiar with the platform and someone you can trust with ownership. You can also add multiple admins on a single page, but only one person can be the page owner.

There are lower levels of access that may make sense to assign out within your company and any marketing partners you would like to share aspects of your page with.

Page Roles
Admin Access: This is the highest level of access you can have to a Facebook page. This gives the user the ability to post as the page, respond to messages, create ads, and view analytics. Admins also have the ability to assign new page roles to other users, You should limit the number of people who have complete admin access to your business page for privacy reasons.
Editor Access: This role has all of the rights of an admin on the page without giving the ability to assign new page roles. Editors can post to the page, respond to messages, create ads, and view any insights Facebook provides.

Moderator Access: This is a lower access level than admin or editor access. This level cannot post to the page but can respond to comments left on posts. This role can also send messages, create ads, and see insights.

Advertiser Access: Advertiser access gives access only to creating Facebook or Instagram ads for the page, viewing insights, and checking on the page's quality rankings.

Analyst Access: This is the least accessible to all of the options. This role gives access to page insights and the page quality tab. This role cannot create ads or post as the page.

Take a look at these different page roles and assign out accordingly.

The Basics
Now that you understand the different levels of access and page roles available in Facebook, it is time to start creating your actual business page. To begin creating your Facebook page, you can click here.

From there, you will be prompted with a setup screen that looks like this: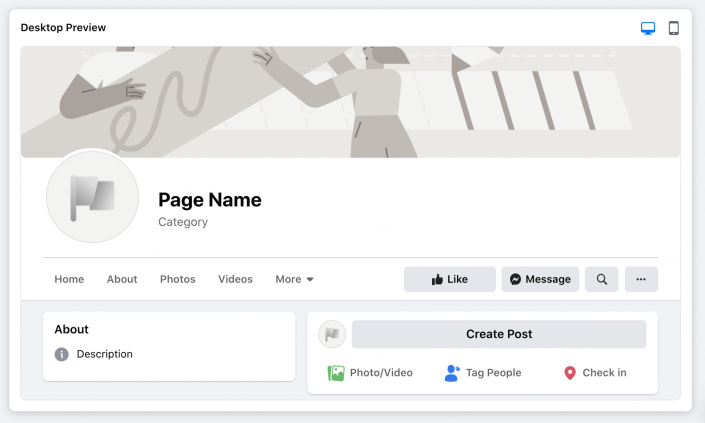 This is a preview of what your Facebook page will look like once published. Facebook will prompt you to choose a name for your page, select some categories for your page, and offer a short 250 character description. When picking the categories for your Facebook page, you can and should select up to 3 categories. Choose the most applicable category first, as that will be the featured category on the page. When writing your description for your page, make sure to mention your service buzz words and location for search engine optimization purposes.

Here's an example of how we would fill this section out: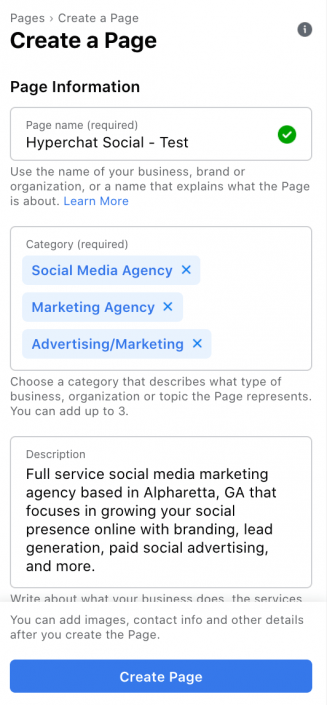 Once you save and create your page, the next steps will be to upload a profile picture and a cover photo for your profile. For the profile picture, most companies and brands use their logo. For the cover photo, you can easily hop into Canva, a free creation tool, and use one of their templates for an attractive cover photo. Both your profile picture and cover photo should use your brand colors and logo.

Pro-tip: You can even put a video as your cover on Facebook.

Once you establish your profile picture and cover photo/video, your page will look a little something like this: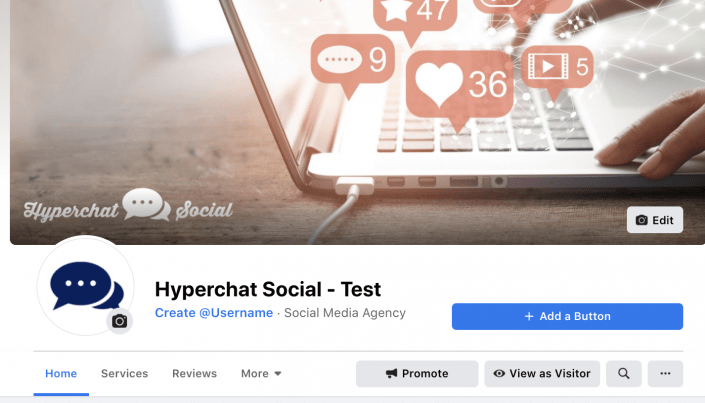 Setting Up Your Profile
We are well on our way to creating a Facebook page that will be a one-stop-shop for those wanting to know all about your business. There are a couple of sections that you need to pay close attention to get the most out of your Facebook profile and truly optimize it.

Create a Username

Facebook provides the ability to create a username for your page. This will be used in the URL of your actual Facebook page - much like a handle on Instagram or Twitter. This can be your company name or a shortened abbreviated version for longer company names.

Info and Preferences
The info and preferences section is an important one. This is where you will list important information regarding your business. This includes your website URL, location information, business hours, phone number, messaging preferences, and even adding a button to your page.

Adding a button to your page is a crucial step in increasing the accessibility of your business on Facebook. Think of this button as a call-to-action you would like your page visitors to complete.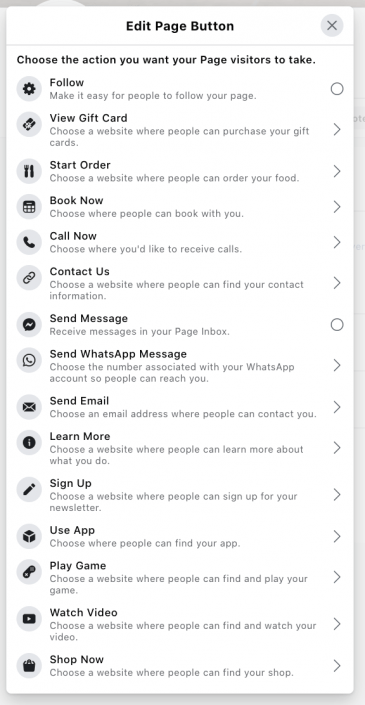 Look through these different call-to-actions and select the one you would like to use as your main focus of your Facebook page. From there, Facebook will guide you through the button set up.

Services Tab
The services tab is fairly new to Facebook but is something every service-based company needs to have on their Facebook profile. When set up correctly, this is where users can browse the services your company offers.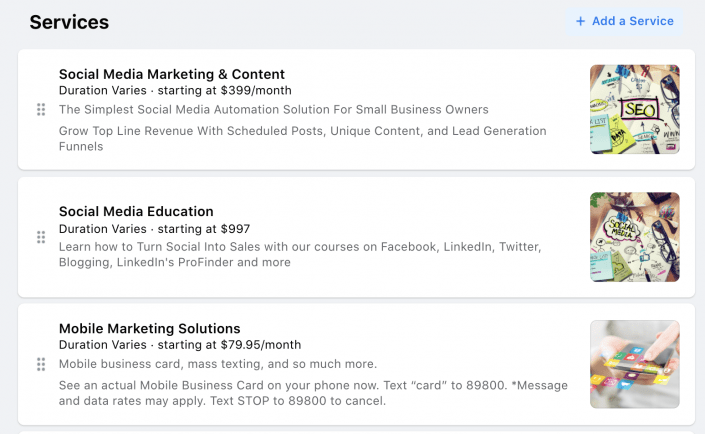 Businesses can add many services, give each service a custom name (40 characters) such as "Social Media Marketing & Content" a custom description (200 characters), and a custom photo to display with each service. This way users can find valuable information to see if they would be a good fit for your business.

Link Instagram Profile
If you are like most social users, you will also want to take advantage of Facebook's integration with Instagram. Hop into your business settings, and click the Instagram tab. From there, you will be prompted to connect your Instagram account to your Facebook page. This gives you the ability to link your advertising efforts to your Instagram account as well. To take advantage of this, you will need to upgrade your Instagram account to a business profile.

Facebook is an exciting platform that holds lots of options and opportunities to connect with your target audience. At Hyperchat Social, we are experts in all things Facebook - so if you would like us to create your business Facebook page for you, click here to schedule a consultation!

Prev
COVID's Impact on the Future of Social Media Marketing
CNBC Selects Ted Jenkin To Be On The CNBC Digital Advisor Council