How to Increase Engagement on Social Media
August 25, 2019
When it comes to running a successful social media marketing campaign, our team knows that getting engagement on your posts is crucial.
In the past, businesses ruled the advertising world by leading prospects in a one-way conversation. Whether ads were ran on television, radio or print, these mediums told viewers how they should feel about a product or service. Nowadays, you can still pay to get your message in front of customers, but the response has changed. In fact, social media has fundamentally changed the conversation between businesses and their customers, and there's no turning back.
Now, communication between a business and its' clients works on a two-way street. While there can be negatives to this, such as bad reviews and rants posted by unhappy customers, there are SO many benefits to being able to gain feedback from your customers online. You can gauge what products people are interested in, find out what people love about your brand and spread awareness about your company. In other words, this is a powerful, advantageous tool to have in your arsenal. But what is engagement and how do you get it? Keep reading to learn how you can take your business' social media to the next level!
What is Engagement on Social Media?
Engagement is the official measurement of your interactivity online as a company with your customers within your social stream. Additionally, engagement sizes how effective you are at responding to clients who reach out to you, measuring how active you are on your profile. With social media algorithms in mind, your posts that receive the most attention will be shown to more people in your audience. It's made up of likes, mentions, shares, views, comments, and subscriptions. This helps build the number of people who are forming a relationship with your account. With the average person on social media over 2 hours a day, engagement is so vital because it increases the attention your brand gets online.
Want to learn more about the algorithms that come into play when posting content to social media? Check out this blog post, "All About Algorithms".
How Does Engagement Help My Posts Perform Better?
Did you know that 30% of all time spent online is now allocated to social media interaction? Knowing this, it's incredibly important to use this to your advantage. Without even bringing algorithms into the mix, think about this. Which business would you rather work with: the business with a surplus of positive reviews, comments, and page likes on Facebook or a business, with 5 page likes, no reviews, and little to no interactions with customers. In this day and age, the first option is the obvious choice.
Knowing this, engagement first comes into play when considering how your brand is perceived online. To compete with your rivals, you need to be better online. One of the easiest ways you can make your business seem like an industry leader online is by garnering engagement and continuously maintaining a conversation with prospects and past customers.
Engagement Shapes Your Digital Footprint on Social Media
Unlike the amount of followers you have on Twitter or the amount of page likes you have on Facebook, engagement instills confidence in your prospects and makes you seem reliable. By seeing that other people were recently satisfied with your product or service, your leads can move forward in the sales process, being reassured that they are making the right decision. In fact, if someone visits your social media site and sees that you have a large fan base, you, in theory, gain a similar social proof to having a celebrity endorsement. At large, if people see that you have a lot of positive activity, they'll think, "If all of these people who are like me had a happy experience with this company, I'll probably be satisfied too!", increasing the chance that they'll purchase your product or service.
Increasing Engagement Increases Your Reach
Social media isn't just limited to your business' location. In fact, it's huge. It's global! This means that the audience who interacts with your post isn't limited to just your small city. You can garner the attention of potential customers wherever they can be found and if you do online sales, this can be a huge advantage. No matter what size your company is, with the right tools in place, your social media platforms can reach potential customers wherever they are, across the world. Even if you do only want to target your area, getting attention online is never a bad thing. It can increase your comments, follower count and traffic to your website.
Engagement is a Cost Effective Way to Increase Your Sales
Traditional marketing methods can get pricey. There's a huge price jump in running a print ad that reaches 10,000 readers versus 100,000 readers. With social media, it is much easier to generate a lot more publicity and views for your business, all for a one-time cost. The value that comes from one person sharing or re-tweeting a post from your company could be seen by thousands of people online for almost no cost. If you haven't put a social media strategy into place, you're missing a great opportunity to take your business to the next level. Click here to schedule a consultation with us today to learn how we can help!
How Do I Get More Social Media Engagement On My Posts?
Now that we've explained the importance of social media engagement, let's get to telling how to get it! At Hyperchat Social, we're experts in getting a response from your target audience and we're here to teach you a few of our tips and tricks
Tip #1: Offer an Incentive to Increase Shares
You shouldn't ask people to share all of your posts or interactions with your brand, as that comes off a little too "sales-y". Yet, if you do this sparingly, this is a super easy way to get some extra engagement. While getting shares is free publicity, asking people to post something doesn't mean you'll get the result your looking for.
A few things you can offer without losing too much of your profit is:
Offer a percentage off of your service if the customer follows and posts a picture of themselves, tagging your account. This would be great for a hair salon, restaurant, or activity based business.
Give a percentage off of a purchase when a customer gives their personal info to sign-up for your nurture campaign. Think newsletters, texting services, and targeting them when running ads on Facebook.
Run a contest with a voucher to cover your service or a basket of your best-selling products when people share your posts. The cost of losing the service or product fee is nothing compared to the brand awareness you'll drive towards your account.
Tip #2: Deliver Quality Content
It seems simple, but one of the best ways to receive likes and comments on your posts is to make sure your posts are intriguing and purpose driven. Think, what does your target customer or client find interesting? What can you post to get a reaction from your fans? These types of posts can range anywhere from providing an interesting statistic, a compelling conversation-starting article, or a fun video of your team goofing off in the office. No matter what it is, you want to make sure your content comes off professional, to enhance your brand's reputation. When you run ads or drive traffic back to your page, this will pay off big time.
Tip #3: Increase Your Comments by Asking Your Audience Questions
Kind of like asking your audience to share your posts, you can also ask them to comment on your posts. And the great thing about this? These questions can be about anything! You can create questions that are business or product related, industry related, about a random topic, or related to a holiday. You can give them options to choose from, a fill-in-the-blank style statement, or ask them to caption your photo! Below are some examples that you can throw out there:
Where do you plan on retiring? The beach or the lake?
Fill in the blank: I can't live without my (Your Company's Name)'s __________.
My favorite thing about live music is the _______.
What is your favorite thing to eat on Thanksgiving? Stuffing or turkey?
Here is another example of a question based post with a caption to share on social:
Where will you go during retirement? Comment below with the travel destination you plan on visiting first! #Travel #Retirement #RetirementPlanning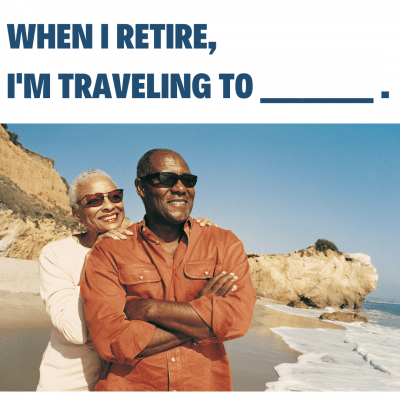 When you receive a lot of engagement on a post, it significantly helps your post's performance when boosted! Additionally, question based posts are great to boost, because they can be applicable to a large audience. Despite being a stranger to your company, viewers can still be interested in what others think about your question and want to share their thoughts as well. The below post would be great to boost or run as an ad campaign.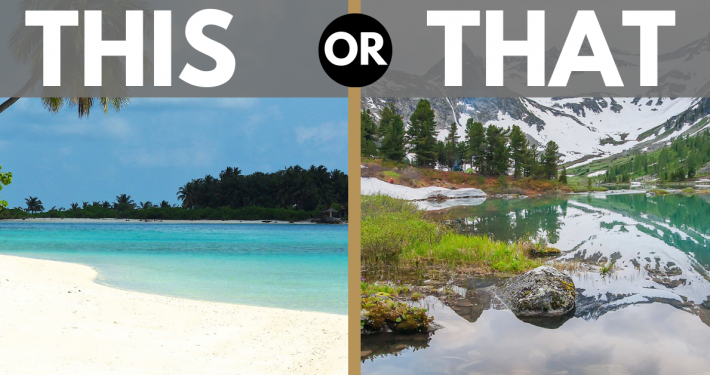 Want to see real results on your social media pages? You've come to the right place! Schedule a consultation with us today so we can help you start turning social into sales.
Prev
How To Get Your Business Back-To-School Ready
All About Boosting