How to Grow Your Social Following as a Business Owner
February 23, 2020
Do you want to increase your engagement, reach and followers online? As a small business owner, these items are crucial to a successful social media campaign and they have a huge impact on your overall sales. But how do you get people to follow? At the end of the day, it doesn't matter if you're creating amazing, thought-provoking content if no one is following you to see what you're posting. The great thing is that there is a lot you can be doing to increase your following organically. Keep reading to learn some of our office's best tips and tricks for getting more followers on Facebook, Instagram and Twitter!
Want our team to grow your following for you? No worries! We've got you covered. Click HERE to schedule a consultation with us today to see how we can help you grow your online audience.
Why Do I Need Followers?
We won't get too into the basics, but know that having a following online is so important. Did you know that 71% of social media participants say that they are more likely to purchase from a brand they follow online? Think about the businesses you follow and interact with on a daily basis. People subscribe to see posts from a business because they want to stay in the know. But first, you need to give them something to sink their teeth into.
Show and Share
To get followers, you need to give people something worth following. This can be anything from branding images, behind-the-scenes pics, products, services, or community outreach endeavors. You also want to share your support as well. No one wants to follow Switzerland (sorry Switzerland). Make a stand and stick to it! Show your support for causes, your customers and your community online. Plus, people want to stay updated with everything that goes on in your business. Who better than to share this info but you! Overall, people don't want to waste time on your profile unless there's something in it for them. So? Find out what they want and post, post, post!
Free Tools to Get More Followers
Canva
Do you know what Canva is? If not, I'm about to rock your world. Canva is a graphic design platform that allows you to create social media posts, presentations, graphics and more by providing beautiful templates for FREE! It doesn't matter if you don't have a creative bone in your body. With Canva, you can customize pre-sets with your fonts, logo and business colors to create announcements and optimize your social media profiles. It's available on web and mobile and integrates millions of images, fonts, templates, and illustrations. You've got to check it out!
Pexels and Unsplash
I'm always going to suggest either taking your photos or having a photographer take some go-to shots for you to promote your small business on social media. But, sometimes you have a vision and need a nice photo quick! You can always turn to iStock for stock photography, but we suggest browsing a free stock photography sharing site, such as Pexels or Unsplash beforehand. These websites get their images from freelance photographers, and they're of a really nice quality. As a pro tip, you should download your stock photos from one of these sources and throw it into Canva to make something really eye-catching!
Snip.ly
A picture says a thousand words. But, we still recommend hopping in on trending articles and sharing content that your target audience will find interesting! In fact, this is huge in building your following and getting more attention as a business. One of the biggest struggles with sharing articles is that you don't want to lose the end user's attention and direct them to someone else's website. Instead, try using Snip.ly to get a call-to-action in every link you share to drive conversions through content curation. This will pop up in the bottom left-hand corner of the screen every time someone clicks on the link.
You simply create an account for your business by uploading your logo, your tagline and a button that links back to where you want to drive traffic, such as the "Contact Us" portion of your website or a landing page. You'll simply copy and paste the link you want to share into the tool and then you're good to go! One of our favorite perks of Snip.ly is that it not only allows you to track conversions, but clicks overall. In return, you're able to pool together all data on which articles are resonating with your audience by seeing an easy order of what topics received the most clicks

How Often Should I Post to Get More People to Follow Me?
This is a question that we hear time and time again. And rightfully so! There are so many rumors out there about the best times to post on social media, as well as by each platform. But we'll break down that third wall for you right now. There is not a "one size fits all" approach for businesses on social media. Everyone lives in different time zones and works in different industries. But there is one common denominator with all companies who find success on social. They post consistently and frequently! For someone to follow you, you need to provide them something that they'll want to come back for. This will help tremendously with getting your content seen by more people too, as the algorithm will help you out the more you play their game.
Some of the things you can rely on when you run out of content ideas are:
Instagram Stories
Facebook Stories
Video Content (IGTV)
Twitter Trends
Giveaways
User-Generated Content (UGC)
Infographics
Testimonials
Staff Quotes
Blog Posts
How Can I Get My Content Seen By More People?
You guessed it! Hashtags. Want more people to follow you for content? It's important that you not only use hashtags, but that you have the right mix, too. You'll want to share a mix of both hashtags that are widely used, such as #marketing in our case, as well as more niche ones, like #alpharetta, where we're located.
Hashtag.ify
To get insights on what hashtags are trending in your industry, we suggest trying out the free version of Hashtag.ify! Hashtags help you find the right hashtags so you can drive up your engagement, reach and results. You simply look up different industries in Hashtag.ify and you'll be able to tell by how large the text is displayed on which hashtags are trending.
First Comment on Instagram
Pro tip! To really enhance your use of hashtags on Instagram, don't post any hashtags in your original post. Instead, utilize up to 30 hashtags by being the first automatic comment on your post. That way, Instagram will promote your post, since it recognizes your activity as an immediate engagement. With this in mind, it's important that you prioritize your hashtags with the most important ones at the front, as the first ones have the most weight. This keeps your hashtags out of your caption, which will help you get more followers overall.
Who Should You Follow To Get More Followers?
Share the love! Is there anyone you can follow who will follow you back. Think about finding the below people online:
Customers: Are people posting about your service or product online? Let people know you're grateful for their support with a follow!
Prospects: Do you know who is interested in your business? Even if people are just asking questions, give them a follow!
Community: Think local. Who is in your network that could be a customer or refer you to someone else?
Industry Leaders: This is a great way to get a shoutout on social media in front of your target audience. You'll get social media ideas from them, too!
Invite Your Friends to Like Your Facebook Page
Do your friends like your Facebook page? Facebook makes it easy to look through your personal connections and make recommendations on who to invite to like your Facebook page. Even if you have done this practice in the past, you're constantly expanding your network most likely, so it's good to consistently check in and see if there's anyone else you can do to expand your following.
Ask Your Staff and Friends to Share Your Page
So your staff and friends may already follow your Facebook page. But have they spread the news? Chances are, they are connected to different people than you are. So when they share your account, they're increasing your reach and giving you a testimonial at the same time.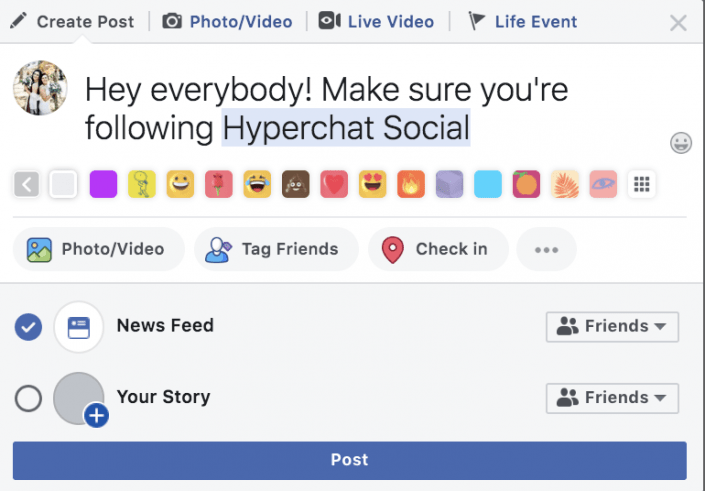 Boosting to Get Others to Follow
Are you boosting on Facebook to increase your reach? If not, you totally should be. Check out our blog "Facebook Boosting for Business Owners" to learn everything you need to know when you decide to pay-to-play.
If you are boosting, there are a few simple steps you can take to get more followers to your Facebook page. All you really need to do is click on the engagement buttons, such as likes or reactions, and scroll to see who engaged. Facebook will show you whether or not they have liked your page. All you have to do is click the "Invite" button to start the relationship and hopefully get their like.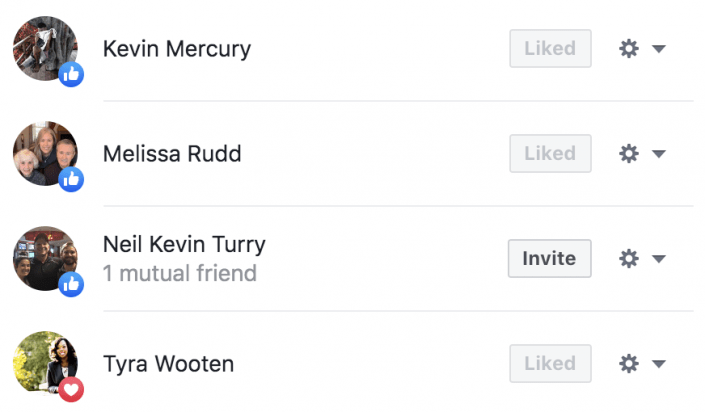 Want to get more followers on social media but don't have the time? No worries, we've got you covered. Schedule a time with one of our social media experts by clicking HERE!
Prev
All About Instagram Analytics
How to Measure the ROI of Your Company's Marketing Efforts