How to Construct a Winning Social Media Marketing Strategy
February 02, 2020
Now that it's 2020 and the beginning of a new decade, business owners should know by now the importance of being on social media (hopefully!). If your business is on social media, go ahead and give yourself a little pat on the back. That's great! But, do you have an effective social media marketing strategy in place?

It's one thing to be on social media, but it's another to be on it, know why you're on it, know how it works, know who's on it, and know what you want out of it. Many small business owners will get on social media, yet they fail to put together a solid plan. That's where they go wrong. Having a social media marketing strategy in place will help ensure you're on the right path to achieving your goals. It will tell you where your headed and your exact plan for how you're going to get there.

Here are 7 important steps you, as a business owner, need to take to construct a winning social media marketing strategy.

1. Set Your Goals
The first thing you're going to need to do is to set some goals and objectives that are specific to your business.
What exactly are you wanting to get out of social media?

Are you wanting to grow your following and build brand awareness? Or maybe your goal is to generate more leads and/or increase sales? Whatever your goals are for your business, just be sure to have a plan together on how it is you're going to achieve those goals.
Make S.M.A.R.T goals!

Specific
Measurable

Attainable

Relevant

Timely

Without goals, there is no way to measure your success on social media. You may get a few likes, clicks, and maybe even comments, but what is that going to tell you about your progress? Short answer - not much.
Sticking to S.M.A.R.T goals will allow you to keep track of your overall progress and help you stay proactive.

2. Define Who Your Target Market Is
As a business owner, you probably have a general idea of who your target market is, but when it comes to social media marketing you need to know exactly who's attention you're wanting to grab. Think about key demographics: age, gender, occupation, location, etc.

Your content will not be able to resonate with every single person on social media. It just won't.
Once you have a clear understanding of who your audience is, you'll need to do a little research which leads us to step 3.

3. Figure Out Which Social Media Platforms are Best for Your Business
After determining who your audience is, the next step is to figure out which social media platforms are right for your unique business. Business owners do not have to be on every social media platform known to man to succeed. Surprising or not? This is one mistake most business owners make quite often when they are introduced to social media. But, we're here to inform you this is not the way to go.

For instance, if your business is targeting Generation X, it would be in your best interest to have a business page on Facebook and LinkedIn. Currently, Facebook has over 2.4 billion active users with the majority of them being Gen X and Baby Boomers. Having a business profile on Linkedin opens the door to networking and building brand awareness. Whereas, Instagram and Tik Tok would not benefit your business as much. These two platforms predominantly consist of Generation Y and Z - the younger crowd.

Twitter would also be a great resource to consider as it is well-known as a place for customer service. This is where you can see a lot of sentiment (the attitude - positive, negative, or neutral - toward your product or service from others) and be able to really interact with your target market and build relationships.

4. Scope Out Your Competitors
In this next step, you'll want to do a little digging to see what your competitors are doing on social media. Yes, do a little creeping. See what they're posting about, how often they're posting, and what's getting a lot of attention and engagement. This will help you gain an understanding of what's been working for them on social media as well as give you some insight into how, when, what, and where you should be posting.

Just to set the record straight, I'm not telling you to copy their every move. Don't be a copycat. Analyzing what's working for your competitor is going to help you get some ideas on developing your own creative social media marketing strategy.

5. Create Valuable Content
Now that you know your target market, which platforms to be on, and have analyzed your competitors, you can begin brainstorming what kind of content you want to be posting. This is where creativity comes in to play.

The idea here is to think about the overall theme you're wanting to carry through on your platforms. You need to create visual and engagement-worthy content that will catch the eye of your audience. Take a second and think - If I were a person in my target market, what would grab my attention?
Let's take a look at a couple of brands that carry on a solid theme that works for them.

On Instagram, Taco Bell is a great example. Yes, as you can see, they carry on a multitude of themes - which is okay to do - but they are very consistent with each theme which is key.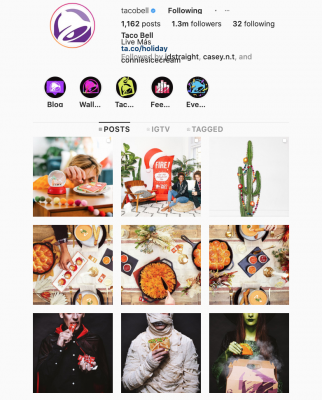 Taking a look at Facebook, Wag, a dog walking service, uses user-generated content that tends to be quite humorous in their posts to appeal to their target market - dog lovers and owners.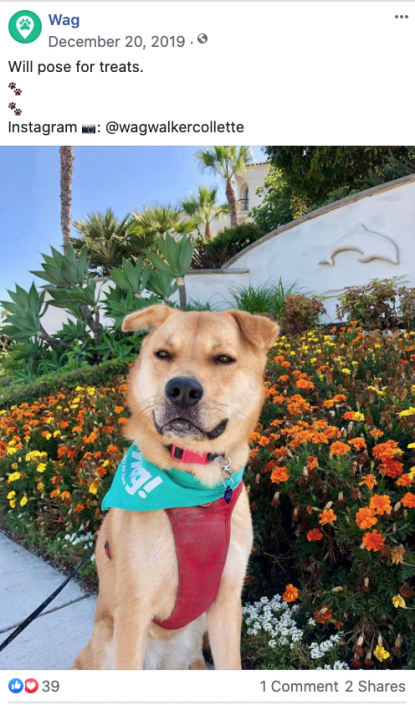 The key takeaway is to develop a unique theme or themes you'd like to carry out on your social media that will appeal to your target market. You can even do some A/B testing if you want and test out different themes to see which one sparks more engagement. Another thing to note is to keep it consistent. A good tip would be to create a content calendar, so you can plan out the days and times you will post.

6. Track & Measure
After creating and posting content, an important part of a social media marketing strategy is to track and measure the analytics. How else will you know if you're improving?

The most common metrics business owners analyze are the conversion rate, lead generation, engagement rate, the number of impressions and reach. Of course, there are other metrics you can look at, but these are deemed most important. Depending on the goals you set back in step number one, some of these metrics you'll pay closer attention to because they relate back to your goal.

For each platform your business has a presence on, you may have different goals. Therefore, you'll have a different strategy for each platform as well as track and measure different metrics. Keep that in mind.

7. Make Adjustments Where Necessary
Your social media marketing strategy for your business needs to be constantly looked at and monitored. It's going to be vital for your business's success in the online community. If your strategy doesn't play out how you want it to the first time (most business owners don't get that lucky) then adjust some things. Your strategy can change! It's actually encouraged to re-evaluate your strategy after analyzing how your social media marketing has been doing.

The Bottom Line: Have a social media marketing strategy unique to your business, so you can get the most out of your social media marketing efforts and work toward achieving your goals. It takes quite a bit of time and effort to develop an effective social media marketing strategy, so that's why we're here to take on the work for busy business owners like yourself. Schedule a consultation with us!

Prev
Facebook Boosting For Business Owners
Small Business Marketing on Pinterest