Hit A Bullseye With Facebook Ads Targeting
June 23, 2019
In the social media world, almost every platform has adopted a pay-to-play model, meaning that to use the network effectively, you are going to have to put some marketing dollars in to make sure your content gets seen. One of the pioneers of this switch is Facebook.
Did you know only 2% of your audience sees your content organically? And did you know that it's even harder to get consumers to remember what they scrolled past online one time? The Facebook advertising service serve to fix that problem, helping you make the most out of your social efforts.
If you are new to Facebook advertising, you may be at a loss with how to get the right people seeing the right content at the right time! Well, you are not alone.
We have created a what you need to know guide to all the targeting Facebook has to offer.
What is targeting?
Almost everyone has a Facebook account! In fact, there are over 1 Billion daily active Facebook users. Odd are, not every single one of the billion people on Facebook are going to need or want your product or service. This is where targeting comes in! Without targeting, you will be spending advertising dollars on people who will never need your product.
Who should I be targeting?
Who you should be targeting varies based on the product, service, event or whatever you are trying to promote. A helpful way to think about this would be to think about the ideal person for the product or service. What attributes or demographics do they possess? Where do they live? How old are they?
Once you create your ideal client profile, you can move forward knowing exactly who you are trying to get after!
Targeting Categories
There are really five main categories that Facebook allows advertisers to target based off of: Location, Demographics, Interests, Behaviors and a Custom Audience.
Location-based targeting
Facebook allows you to target based off of people's specific location. This includes country, state, county, city, zip code and even the radius around a specific address. Facebook also allows you to get even more specific by picking which interaction you want the user to have with the location.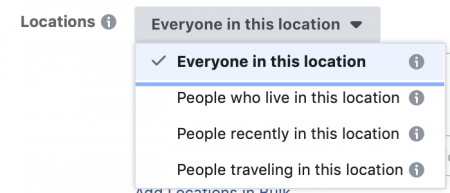 The default option is 'Everyone in this location' but you can easily changing it to a different option improves your results. Select 'people who live in this location' and Facebook bases the location of a user on the user's Facebook profile and it is confirmed by their IP address. You can also change it to 'people recently in this location' which is tracked using mobile usage in the area you selected. You can even target 'people traveling to this location' which targets users who had this geographic are as a recent location that is at lease 100 miles from their actual home!
Location-based targeting allows you to ensure your ads are being served to the people in the right place.
Demographics-based targeting
The next targeting effort Facebook allows you to make is based on the user's demographics. This includes education, financial, life events, family status, relationship status and work categories!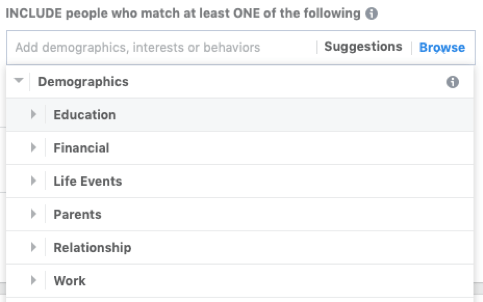 When targeting based on financial factors, Facebook actually does not allow you to target based on income because of their ad policies but does allow you to target based on the top percentages of household income.
Play around with these categories in ads manager and see which categories make sense to select for your specific product.
For example, if you were offering a free seminar on the best way to plan for college, you would want to target people that actually have kids. This can be found under the 'Parents' category and you can even select the age range of the kids they have.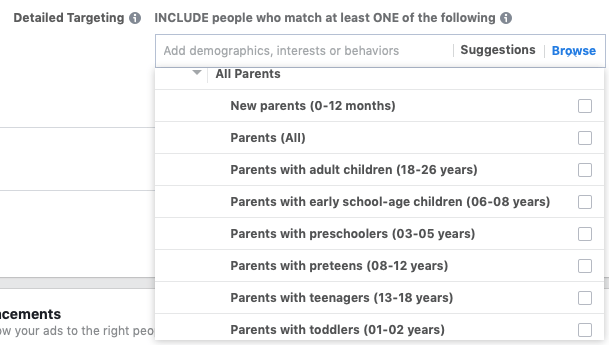 Interest-based targeting
Interests are one of the best—and easiest—way to ensure you are targeting individuals who are actually interested in a subject related to your product or service. You can target based on a user's likes and interests, apps they use, pages they have 'liked' on Facebook, hobbies, almost anything.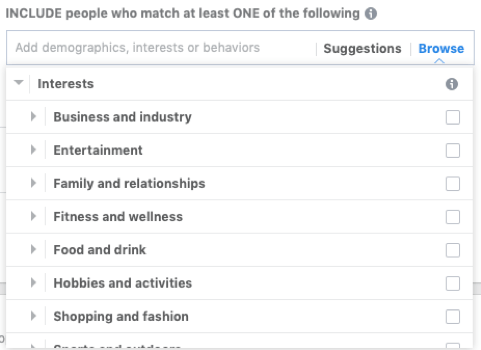 Pro-tip: Search words related to your product or service and click all that apply. Once you are done, you can click 'suggestions' and find even more!
Behavior-based targeting
Rather than precise interest targeting, behavior targeting allows you to target based on purchase behavior, events they have attended, what kind of phone they access Facebook on, political affiliation, travel habits, and many more.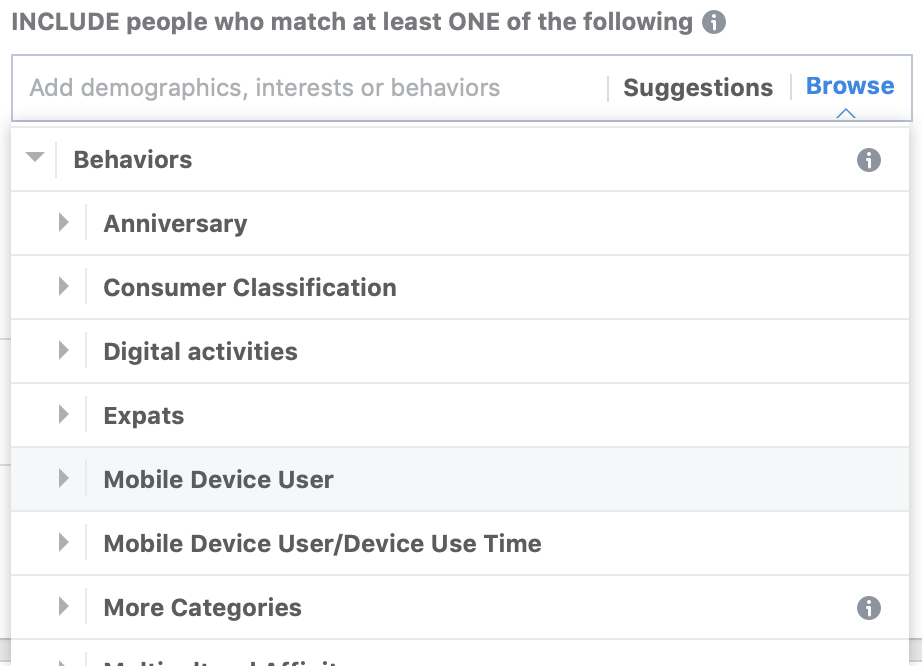 Behavior targeting can really help you get into the nitty gritty of the people that will be most likely to take action on your ad.
Pro-tip: Explore the options Facebook has laid out for you. See which selections make sense for the ideal client profile you have created.
Custom Audiences
Facebook custom audiences are probably your best bet to getting in front of the right people on Facebook. Facebook allows you can base the audience around people already expressed interest in your brand, product, content, or even app!
Select 'Create a custom audience' and Facebook gives you eight choices of where you would like the data to come from.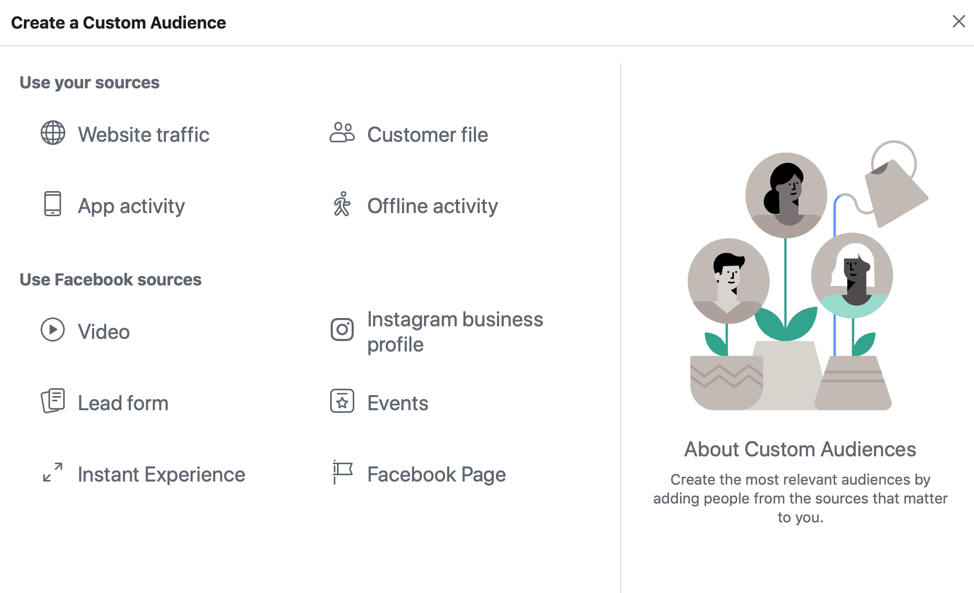 External Sources
Customer file: This can be great for a business that has a CRM system or an email list. Take this option and plug in a CSV file of email addresses. Facebook then matches those emails to personal user accounts that match. Facebook will then serve the ad to those people!
Website traffic: Using website traffic allows you to target people who visited your website in the past. Facebook takes that information and serves your ad to those individuals! You can even pick the time frame of the original visit.
App Activity: Facebook will serve the ad to people who have interacted in some way with your business' app (if applicable).
Offline activity: Facebook allows you to track when transactions occur in your physical business location and other offline channels after people see or engage with your Facebook ads. You can do this via an API or partner integration setup, and many other data sources. Check out this article on Facebook's ads help center to help you tackle targeting offline activity.
Facebook sources
Facebook ad service also allows you to target bases on interactions the user has had with your brand. This includes an interaction with a video post, a lead form, your Instagram account, a past event you have held, an instant experience or even people who have just followed or liked your Facebook business page.
Lookalike Audiences
Another useful targeting tool that Facebook has is called a Lookalike Audience. Lookalike audience creates a web of people likely interested in your business. These people maintain similar interactions to your existing customers. You create this audience from a custom audience like the above mentioned. Facebook also gives you a scale of percentages ranging from 1% (most similar to your custom audience, very specific) and 10% (similar, but broader audience). We suggest picking a percentage in the middle of the scale to ensure your ad will reach enough people, but also are similar to your existing consumers.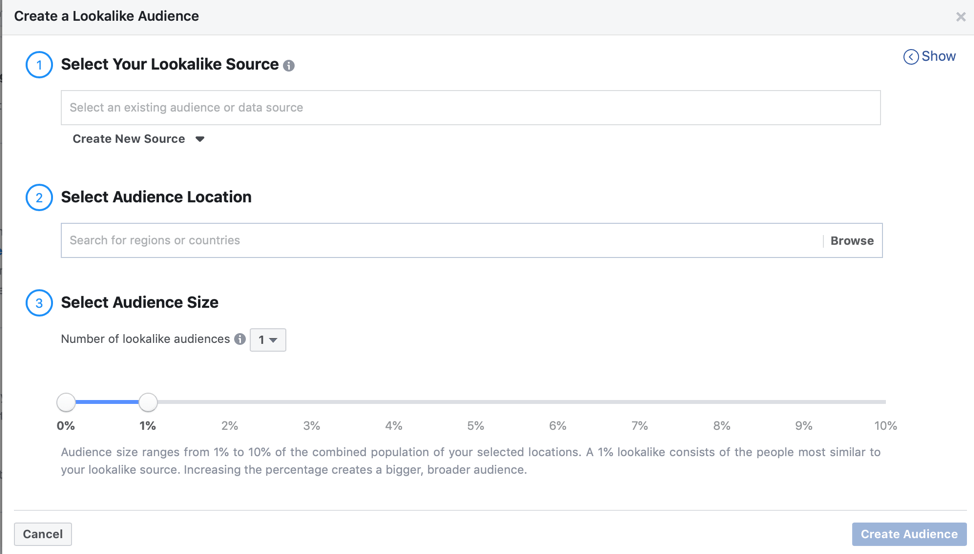 Takeaways
Facebook offers a variety of different targeting techniques that marketers can use to their advantage. From everything as broad as a location to specific as a Lookalike audience, creativity allows you to hit a bullseye with your targeting. Play around with these targeting features and you will sure to get your message to the right people.
Want to learn more? Check out this blog on what you need to know about Facebook ads.
Feeling overwhelmed? Let us handle it! Go to tryhyperchat.com to schedule a demo and learn more about our Facebook ads service.
Prev
How to Organically Generate Leads on Social Media
Keeping Your Leads Warm with Email Marketing