Google Game Plan: How to Get Your Business on the First Page
March 31, 2019
Whether you're a sports fan or not, you probably recognize right now as an important time for most sports fans. College basketball is halfway through its March Madness tournament. The Masters 2019 will be underway in just a few short days. Additionally, professional baseball is kicking off its 2019 season tomorrow! (Go Braves!) We're sure the Braves have put themselves through rigorous training in preparation for this next season in order to defend their national title and keep their team recognized as the National League East Champions.
Is your business in the game? Meaning, how hard is your business working to develop a recognizable brand? In honor of the 2019 professional baseball season and the Atlanta Braves having their very first game tomorrow, we thought it fitting to make a game plan for your business. If you want to boost sales for your business, then we strongly encourage making a game plan for getting your business on the first page of Google.
When you run a google search for the services your business offers, do you find your company name on the first page of the search results? A staggering 91% of people don't click past the first page of Google search results! You're probably nodding your head right now, thinking "Yup, that's me!" And even if you do happen to get curious about what's on the second page and click the "2" at the bottom of the page, do you end up choosing a company on the second page? Probably not!
This is huge.
If your company isn't on the first page of Google search results, then it is missing out on 91% of sales opportunities! As much as we love social media and the difference it can make for a growing company, there's no amount of social media posts that can make up for this kind of loss.
Hyperchat Social has steadily climbed its way up to the top of Google search results. When you search "social media marketing agency in Alpharetta, GA," BAM, we're the very first result. We don't say this to brag (okay, maybe a little). But we didn't get to the top by chance - not at all! We worked hard to get our name out there and produce a brand that is recognized as a skilled competitor in our market. We say all this to back up the fact we know how to help you. If you want to get your business on the first page, then keep reading!
How to Get Your Business on The First Page of Google
First, you want to make sure that your website is showing up in a Google search at all. Before you start scrolling through page after page searching for your name, simply search for your business name instead. You can easily make sure your website is accounted for by simply searching for your business name specifically. If your name pops up, then you can confirm that people can find your website. If it doesn't show up, then you will need to make some SEO-related changes on your website.
Search Engine Optimization (SEO)
The way search engines (Google, Yahoo, etc.) work is by crawling the internet and taking stock of the millions of pages that exist out there and storing these pages in their personal index (think about the index of a book). These search engines are looking for the easiest pages to read. In order for Google to easily read your site and index it, your site needs to be structured with search engines in mind. The key to getting your website in Google's index is making sure your website takes every opportunity to boost its SEO. By boosting your website's SEO, you will also increase the organic traffic to your site, which is always a good thing.
Let us take a moment to provide you with some definitions. I know we've thrown out a couple terms that may have flown right over your head.
SEO: Abbreviation for Search Engine Optimization. The practice of increasing the quantity and quality of traffic to your website through organic search engine results.
Organic Traffic: The opposite of paid traffic. Visitors who are considered organic find your website after using a search engine like Google or Bing, so they are not "referred" by any other website.
So, SEO is all about increasing traffic to your website organically. How can you do this? That brings us to our first action item.
Game Plan Step 1: Keywords
When you're scanning an article, naturally specific words will pop out to you. For example, if you're researching a topic such as social media, you may scan the article for that exact phrase: "social media." You may even go so far as to use the feature CTRL F to search the article for this phrase. An article that is going to be successful will have the phrase "social media" strategically placed in their article so as to grab the attention of its readers.
This same idea applies to your website. In order for Google to pick up your website and put it in the index category that you want your site to go into, your site needs to have the keywords that Google is looking to find for that specific index.
Ask yourself: "What words do I want Google to pick up on?"
If your company provides social media services in Alpharetta, GA, then the pages of your website need to include keywords relating to social media and your specific area. These include "social media," "marketing," "digital," "Alpharetta," etc. To avoid competition between the pages of your website, it's best to determine a specific keyword for each page. For example, your home page can target the keyword "social media," while your contact page can target the keyword "Alpharetta."
Your keywords also need to focus on the phrases that you think people will use when searching for your business. For a social media agency, these phrases may include "social media near me," "social media services," "social media help," "how to improve my social media."
Game Plan Step 2: Placing Keywords Strategically
Now that you've decided which keywords you want to use for each page of your website, it's time to put them in the right places. You want your keywords in four places: the title, the meta description, the URL, and the alt tags. Here's a picture that clearly identifies these strategic locations: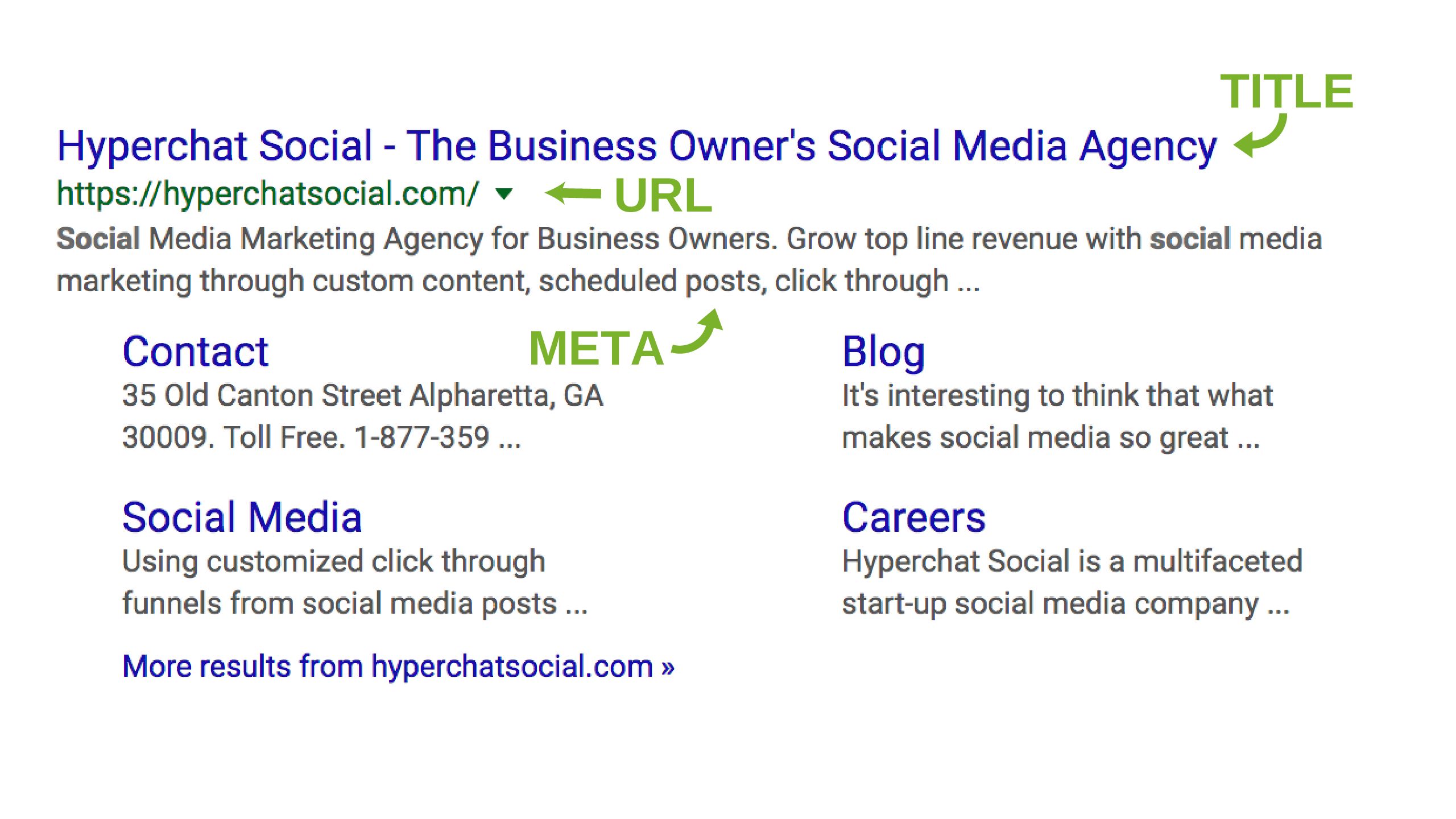 Title: Think about all the possible titles included throughout your website. Each page of your website has a title, each blog post on your website has a title, even the pictures on your website have a title a.k.a. alt tag, which we will get to later. These titles need to reflect the keywords of your website because each of these titles counts towards your website's chance of being picked up by Google. When you title your blog posts and menu pages include the keywords you want that specific blog or page to communicate.
For Hyperchat Social's search title, you can see that we purposefully included, obviously, our company name, but also our keywords "social media" and "business owner" because we specialize in providing social media services for business owners.
URL: Directly below the title of your Google search entry is your website URL. Your URL, or link, includes the domain name of your website (hyperchatsocial.com), followed by a forward slash and text that is unique to the page the link references. A company's website doesn't reference a specific page, so there isn't any text following the forward slash for a company's website. However, Google search results will pick up your contact page or team page so the forward slash will need to include keywords that directly relate to these pages (i.e. hyperchatsocial.com/contact). Easy enough, right?
Meta Description:
As you can see in the picture above, this is the one or two-line blurb that appears directly below the URL. The meta description briefly describes what your Google search result is all about. Think of your meta description as a tweet - it needs to be concise and every word counts. This blurb has an immense impact on whether or not someone will click on your search result. You can use an SEO tool to create your meta description or type it up yourself!
Game Plan Step 3: Get Mobile Friendly
Google likes mobile friendly. Your potential customers and clients spend more time on their mobile and tablet devices than their desktop computers, so it only makes sense that Google favors the websites that respond well to any kind of device. Google isn't going to put a website that can't function with a mobile device on their front page, because that makes them look bad. Below you'll find a very brief list of the steps to follow to make your website more mobile-friendly.
Refrain from using a lot of pictures and plugins
Choose an appropriate size for your text
Include a "Click to Call" button and your contact info on the Homepage
Use YouTube for your videos
Use a responsive theme.
For more detailed instructions follow this link.
Game Plan Step 4: Google Ads Campaign
Getting a consistent flow of organic traffic to your site doesn't happen overnight, unfortunately. This kind of interaction with your site takes time. However, you can speed up the process with a Google Ads campaign if you're willing to invest a little money. This kind of campaign allows you to pay Google to put your search result towards the top of all search results. While your chance of getting on the first page is definitely increased, your site's performance still depends heavily on your ad budget and the keywords you have chosen for your site. This is a great strategy for getting your name on Google, but we don't recommend it as a long-term strategy.
Achieving the front page on Google is a huge task to conquer, but with these tips, we believe you can do it! If you need help executing these tips, we would love to help you out! Schedule a demo with us today!
Prev
How To Garner Organic Engagement
The Latest and Greatest from LinkedIn