Getting Your Business on Social: Top Tips for LinkedIn and Facebook
October 06, 2019
Thinking about finally getting started on social media? Congrats! This calls for a celebration! Getting your business on social media is one of the best decisions you can make for the future success of your company. Why? Well, for starters, there are 3.48 billion users on social media today. That's a 9% growth rate since last year! Projected numbers are expected to only go up. By getting your business on social media, you're essentially opening your doors to 3.48 billion more people.
Of those 3.48 billion users, 71% of them are likely to recommend a business on social media after a positive experience. The majority of customers on social media actually expect companies to offer customer service on their social media platforms. With the recent growth in business activity on social media, 90% of social media users have already used their social media accounts as a way to communicate with their favorite brands and businesses. Do you want to disappoint 90% of social media users? We didn't think so.
The bottom line is, you need to be involved in these high statistics. Your business is missing out on some serious sales opportunities if it hasn't branched out into the world of social media. So now that we've convinced you of the importance of getting on social media, we're going to show you how to do it. We understand that not every business owner is tech-savvy, much less a social media guru. That's okay - that's why you have us. If you want to build your brand on social, reach out to us!
To get your business started on social, we recommend LinkedIn and Facebook as the best places to begin.
Hyperchat Social's Top Tips for LinkedIn and Facebook
LinkedIn for Business
When it comes to social media, LinkedIn is the leader in providing the perfect place to network with other business professionals. From 2009-2016 the number of business professionals on LinkedIn jumped from 37 million to 467 million. Let us do the math for you real quick: that's an increase of 430 million people! That's more than the population of the entire United States. Now that it's almost 2020, we're sure those numbers have grown at similar rates over the last three years.
LinkedIn isn't just a platform for finding jobs, it also serves as a great foundation to find new clients for your business. With the platform's numerous options for profile optimization, lead generation tools, and content suggestion features, LinkedIn is the place to be for businesses. Here's how you can get started:
Business Profile Optimization
Of course, the first step is setting up your one-of-a-kind profile! Creating your company profile on LinkedIn can sound daunting, especially if you're starting from scratch. However, there are a select few areas that we want you to focus on for the optimal profile.
Aesthetics: Each LinkedIn profile defaults to the same cover photo, but you want to make sure yours stands out! Your profile photo should make it clear what it is that you do. A lot of LinkedIn business profiles have their logo or a branding piece for their cover photo; both are great options! The best size for your cover photo is 1584 x 396 pixels.
Where to click to edit your LinkedIn cover photo:

If your business is a one-man-show, you can choose a professional-looking headshot of yourself for your profile photo. Otherwise, making your company logo your profile photo is best. You want to make sure your logo is the right size for the profile photo and not cut off in any way. The correct size for LinkedIn profile photos is 400 x 400 pixels. A social media profile is all about first impressions - make yours a good one!
Where to click to edit your LinkedIn profile photo. You can also edit your summary from this same section:

Summary: You want your summary to be well-written, to the point, and refined. Once your summary sounds good and effectively expresses the mission of your company, it is then that you optimize it. No matter how eloquent your summary is, it doesn't do much good for your profile unless it contains strategically-placed keywords. Just like keywords on your website are good for SEO, they are also beneficial for the information on your LinkedIn profile. Decide what keywords you want your business to show up for when prospects are searching LinkedIn. For example, if you are a photographer offering wedding and engagement services, you will want your summary to include words and phrases like "photography" and "wedding vendor." Once you've chosen a small handful of keywords, weave them into your summary.
From the edit tool, go to Overview to edit your summary/description: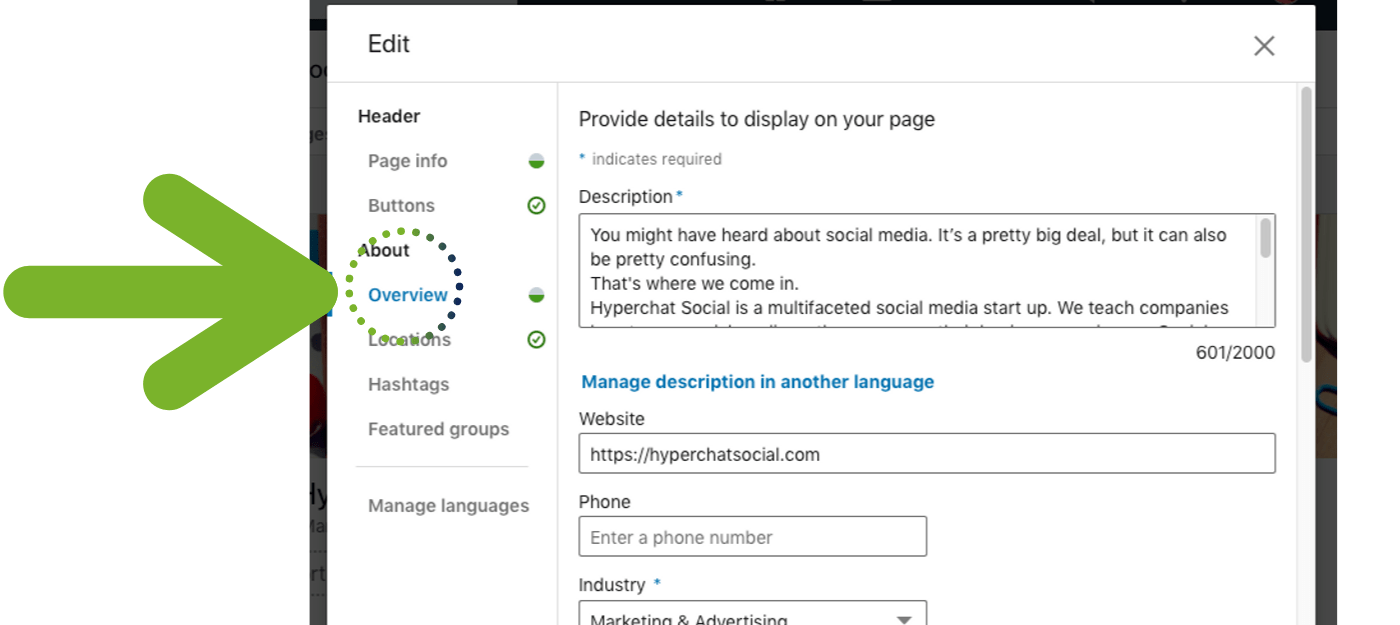 Skills & Endorsements: Since LinkedIn is the business-centered social platform, prospects will use your company's profile as a credibility gauge. You want your profile to express the skills that your company possesses. For those of you who already have a profile, make sure the skills section is up-to-date. Considering modern business success is heavily dependent on consumer validation these days, you want your profile to display a well-rounded endorsement section. To do this, you should proactively endorse others. Focus on endorsing individuals whom you have a relationship with, as they are most likely to return the favor. Your list of skills and endorsement work together because the better updated your skills are, the more accurate your endorsements will be.
When viewing someone's profile, scroll down to their Skills & Endorsements section and click on the plus sign to leave your own endorsement: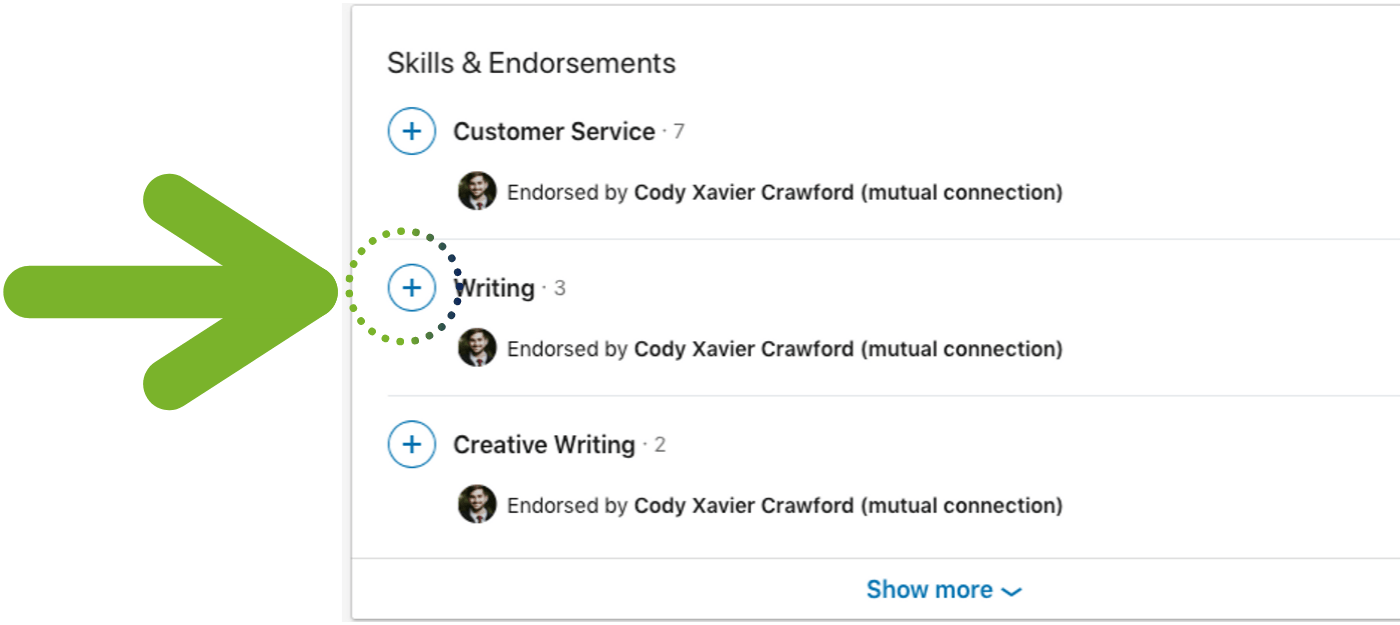 Often times LinkedIn will prompt you to leave an endorsement for a connection if you both share similar skills. If that happens, it will look like this when you visit their profile: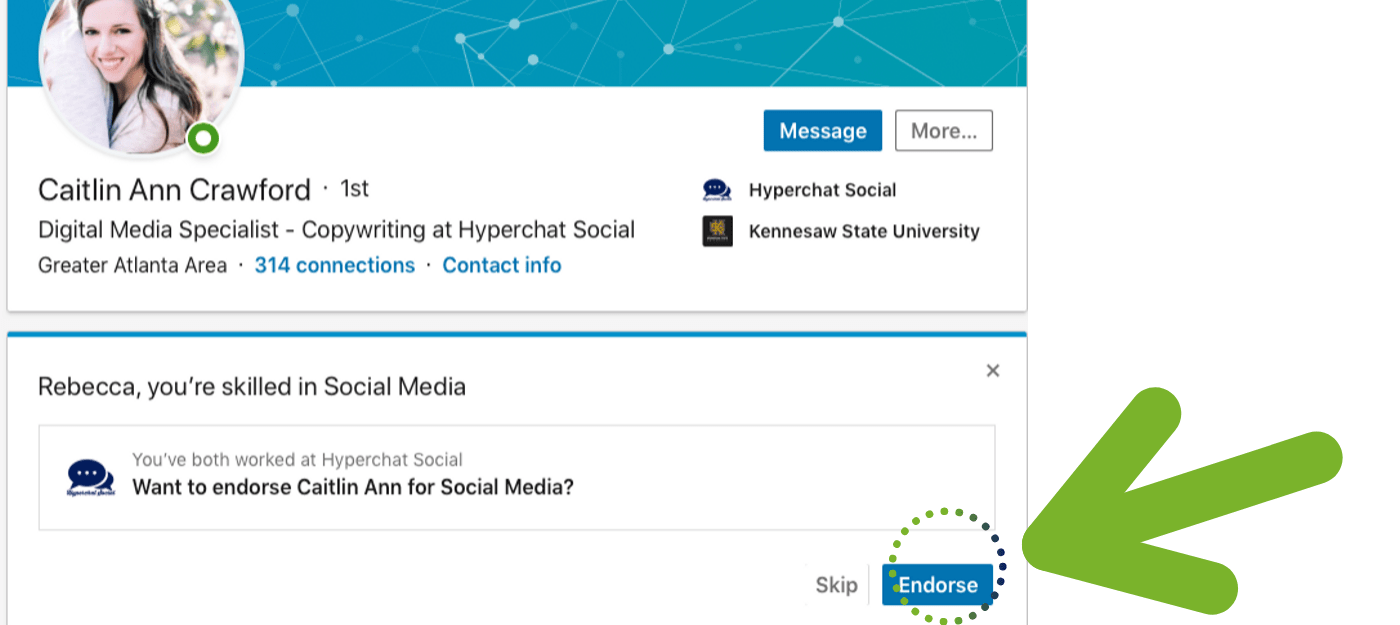 Making Business Connections
Now that your profile is optimized, your company needs to make connections! Each LinkedIn user has a program called Sales Navigator available to them, and we highly recommend purchasing this program for your business profile. Sales Navigator allows users to search through all LinkedIn users with specific, targeted filters. If your business is looking for a very specific customer to market to on LinkedIn, say your niche is young professionals in Atlanta, then Sales Navigator is what you need to get! Navigator will find the specific individuals you want to connect with in just a few clicks of a button. Don't have the time to make these searches? Contact us to find out more about our LinkedIn Lead Generation services!
Click here to sign up for a Sales Navigator plan.
Content Suggestions
One of the keys to finding success for your brand on LinkedIn is posting content that relates to your audience. Now that you have made some connections, the next step is posting content that they will engage with! With LinkedIn's "Content Suggestions" feature, posting the right content has never been easier. This feature allows LinkedIn users to find trending topics and articles based on the specific connections that your company has made. Much like with Sales Navigator, Content Suggestions allows users to filter their search parameters by audience size, employees, page followers, industry, and more!
You can access the Content Suggestions feature from your profile by clicking here:

If you want more tips for optimizing your company's strategy on LinkedIn, set up a call with us today!
Facebook
While LinkedIn is more business-focused, Facebook is a platform that provides a little more freedom for your brand. We like to call it the ultimate brand-building platform. Facebook gives your business a place to express its brand and make sales. Much like LinkedIn, your Facebook profile and the content you share on Facebook provide credibility for your business. Not only do you want your profile to be accurate and complete, but you also want to share content that accurately displays the mission of your business.
Business Profile Optimization
Optimizing your Facebook profile is very similar to the steps you would take to optimize your LinkedIn profile. The aesthetics of your facebook profile mirror those of your LinkedIn, but some of the profile information is different.
Aesthetics: Like your LinkedIn profile, you also want to leave a good first impression with your Facebook profile. To keep your brand consistent across all your social platforms, we recommend using the same profile image across the board. For an optimized profile photo, you want your logo image to be 170 x 170 pixels. Your Facebook cover photo needs to be 828 x 465 pixels. If you want to really spice up your Facebook profile, try uploading a video for your cover photo.
To edit your cover photo, click "change cover":

To edit or change your profile photo, click the plus sign:

About Section: The worst thing you can do with your Facebook profile is to leave it incomplete. There are quite a few areas to fill out on a Facebook profile, and you want to make sure each section is complete and accurate. This includes your business' location, description, contact information, products, and more. Much like your LinkedIn summary, you want to make sure the description on your Facebook page is concise, well-written, and includes your keywords!
From your profile, you can access the About section from the menu below your profile photo:

Reviews: A unique aspect of Facebook profiles is their review section. Because the majority of your customers these days are going to look at your social media profiles to determine the credibility of your business, it's important to ensure your review section reflects well on your business! You can build up your review section by visiting other business' pages and leaving a review for them. You can also spread the word with friends and family asking them to go review and like your page. Building up likes on your Facebook page will also enhance your credibility. Facebook Ads can provide a lot of value for businesses who need a strategy for promoting their Business page. If you want to see how Facebook ads can make a difference for your Facebook business page, just ask us!
We hope these tips are very helpful for your new journey into social media and we couldn't be more excited for you! We understand that being a business owner is a journey, and we want to help you succeed in any way that we can. Schedule a consultation with Hyperchat Social today!
Prev
Creating Facebook Lead Generation Ads That Convert
Prepare Your Social Media For A Season Change