Generating Leads With Sales Navigator
June 02, 2019
Is your marketing strategy utilizing LinkedIn to its fullest? LinkedIn is a great social media platform to build strong, strategic partnerships, both as a personal or business account, with more than 450 MILLION professionals across the world. But, what may be news to you is that it is actually a fantastic place to generate leads for your business as well.
If you're already immersed in the world of LinkedIn, you may have received some ads suggesting that you sign up for Sales Navigator to improve your LinkedIn outcomes. But, is it the right tool to help you grow your client base?
We are OBSESSED with Sales Navigator at Hyperchat Social! In fact, we don't think there is much of an argument of why you wouldn't want to sign-up for this feature. If you're ready to start generating leads that are targeted, making them your ideal client, you'll begin building direct relationships with your target audience in no time. Keep reading this post to find out how!
What Is Sales Navigator?
LinkedIn offers Sales Navigator, an advanced sales tool that aims to help businesses, organizations and individuals build and nurture customer relationships on their platform. Designed for sales professionals, LinkedIn Sales Navigator helps you focus on the right people and companies, stay up-to-date on what's happening with your accounts, and build trust with your prospects and customers. This tool seeks to give users a performance advantage through increased sales and boosting profits. Although LinkedIn memberships are free, access to Sales Navigator is not. At Hyperchat Social, we've seen how impactful this tool really is and others have as well.
For instance, according to data from LinkedIn, social selling leaders utilize this tool to gain results such as:
Being 51% more likely to achieve quota
Creating 45% more business opportunities
Being 80% more productive
How Does Sales Navigator Work?
Sales Navigator gives users the ability to reach the right audience of users by utilizing their search and filter features. The standard, free version of LinkedIn allows for minimal search parameters when looking for prospects to connect with. With Sales Navigator, you gain access to many more filters that help you narrow down the ideal lead for your company.
Here are just some of the key filters you can use within Sales Navigator to further refine your search:
Geography: (With the free version, you're limited by broader locations like the "Greater Atlanta Area". You can target specific cities and counties with Sales Navigator, like "Roswell" or "Alpharetta")
Industry
Seniority level: (Looking for someone with more experience? This is your filter!)
Years at current company
Company (Headcount, type, and past company)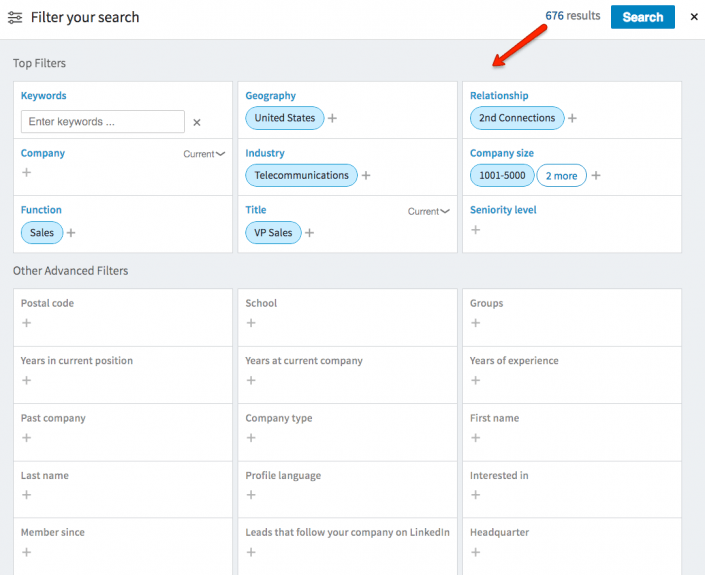 The Best Features Sales Navigator Offers
It Saves You Time
The lead generation process is expedited when working within Sales Navigator. Instead of sifting through connections that may not even be interested in your services, you'll be able to find your target audience quicker, and more effectively. While the search isn't always perfect, it's a great place to start when looking for leads on the platform and helps you greatly by sifting through the online audience.
Additionally, there are even little things that help you speed up your search. For instance, you can hover over a company for a brief summary instead of clicking on their name to view their profile. This may seem like a little feature, but it's these little bonuses that make working with Sales Navigator such a treat!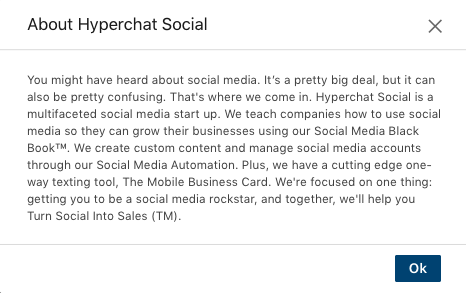 You Can Save Your Search Parameters
There are so many more filters when searching within Sales Navigator. It is easy to get overwhelmed or forget what parameters you've been using to search with. In Sales Navigator, you can save a set of filters to your account so that you only have to click on that search's name to access them again. For instance, you could save the location, job title, and years of experience as it's own filter so that you can monitor those in your area that fall into your ICP, or your ideal client profile.

Another great way to use this tool is to see if anyone new has joined LinkedIn or has joined your ICP's community recently. When in Sales Navigator, you can see how many new users have been added to your saved search and message those select people who you haven't come in to contact with yet.

Unlimited People Browsing
Is hitting the commercial use limit for the month an issue for you on LinkedIn? Unfortunately, LinkedIn wants you to pay to play, and sets a limit of how many profiles you can view per month. Additionally, they don't tell you the number of profiles it takes to hit that limit, when this restriction will set in and how long it will be until the search limit resets again. After upgrading to Sales Navigator, this issue won't happen again. So, you'll have the ability to find stronger leads and as many leads as you'd like.

The Hidden Perks
LinkedIn wants you to upgrade your account by advertising that top social selling professionals are 3X more likely to exceed quota. But, there are a few hidden perks that a Sales Navigator account comes with that may go unseen to the untrained eye.
For instance, you receive 20 InMail messages with you make the upgrade. InMail messages are private messages that allow you to contact anyone on LinkedIn without an introduction or contact information. An InMail can be sent directly from a member's profile page or from search results in Sales Navigator.
In addition, much like LinkedIn Premium, you can see who's viewed your profile within Sales Navigator. You can also see who has been interested enough to click on your profile. It just has to take place within 90 days.
Get Sales Insights
Don't want to miss any opportunities to reach out to prospective clients? With Sales Navigator, you'll get insights on your accounts and leads, like job changes, company growth and much more!
There's a Mobile App
Everyone is always away from their desks these days. With the Sales Navigator app (available for iOS and Android), you'll be delivered real-time updates about saved accounts and leads, so users can quickly reach out after a prospect has written a new post, showed up in the press, or shared company news. You can also view your daily account and lead recommendations.
You can even save leads and accounts through the mobile app! This way, you can easily save the connections you've made from a face-to-face meeting or a call rather than waiting until you're in front of a computer.
Another way to contact prospects on the go is by sending messages and InMail. With the app handy, you'll be able to quickly send a follow-up to keep your lead warm. Time can be the difference between winning and losing a client, which makes the Sales Navigator app such a huge part of this feature.
How Do I Get Sales Navigator?
Another great reason to download Sales Navigator? Your first 30 days are FREE! Additionally, you're under no commitment and cancel at any time.
If you're ready to find leads and accounts in your target market, get real insights for warm outreach and build trusted relationships with customers and prospects, click HERE to get started!
You aren't eligible for this promotion if you've used the free trial within the past year. Additionally, if you want multiple seats of Sales Navigator, select "Click here to buy for multiple users when signing up, as you will not be eligible for a free trial. Alternatively, you can start a free trial then add more seats when you're ready.
Pro Tip - Know that your membership WILL automatically renew at the end of your free month. You can cancel at any time prior to the renewal at www.linkedin.com/sales/settings.
How Much Does Sales Navigator Cost?
As stated above, your first month of Sales Navigator is no commitment for 1 month and you can cancel anytime. After your free trial, you pay $64.99 when billed annually versus $79.99 per month.
If you want to purchase for multiple users, you can unlock Sales Navigator Team, except there is no free trials available for multi-seat purchases. This package goes for $99.99 per month per seat when billed annually.
LinkedIn does not offer refunds except in certain situations and jurisdictions. For more info, check out their refund policy HERE!
Yet, many employers find LinkedIn Sales Navigator so valuable that they'll pay for their employees' memberships as well. At the end of your purchase, you'll receive the receipt in your email that you can use to file an expense report.
Our Conclusion
If you're looking to build a lead list for your business or firm, LinkedIn's Sales Navigator is a great tool to have in your arsenal to help you identify relevant prospects and gain valuable insights about them.
Have you tried Sales Navigator? We'd love to hear what you think about it and if you've been able to find leads for your business! Share in the comments below if you've found success or reach out to us over social!
Social Media doesn't come easy to everyone, but it is FOR everyone. If you need help gaining leads for your business but don't have the time to do it on your own, set up a free initial consultation with us today at tryhyperchat.com!
Want to learn more? Click HERE to find out the habits that highly effective LinkedIn users practice.
Prev
Make Your Brand More Personable With Social Media
Converting Connections To Clients On LinkedIn