Facebook Boosting For Business Owners
February 09, 2020
As a business owner in the digital age, you know the importance of being on Facebook by now. Right?

In case you have not heard, Facebook is the place to be for businesses and brands alike. There are over 1.49 BILLION daily active users on Facebook. In fact, the average Facebook user is accessing Facebook eight times a day for 35 minutes per day.

During that 35-minute time frame, the user is exposed to all different types of content. Pictures from their best friend's cousin's birthday party, their grandpa getting too political in his status, and even their old high school teacher posting about her cat. You can find it all on Facebook. But within the user's timeline, there will also be posts from pages that the user does not follow.

How are you able to see this content without following the page? These pages have taken advantage of Facebook's boosting feature.

What is boosting?
Facebook has not turned a blind eye to brands using its platform to increase their reach and sales for free. In an effort to keep the platform as organic as possible, Facebook started hiding brand's posts in their followers' feeds. In fact, less than 2% of your audience see your posts organically. Isn't that crazy?

To combat the ever-decreasing organic engagement rates, Facebook provides a boosting option that allows brand to pay to get their content seen by more people in their target demographic. The boosting option is run under Facebook's advertising platform and is available to all businesses that have a Facebook page.

The boosting feature mocks the layout of running a full Facebook ad campaign but is much more budget and user friendly. The user is able to choose an objective, the placements the post will be seen, the audience and the timeline for the mini Facebook ad to run.

Goals for Boosting
Now that you know about boosting, you probably are going to want to take advantage of the feature. Your first instinct may be to go in and boost every post you have ever posted on Facebook. As with any marketing effort, if you do into boosting without a goal and strategy to reach that goal, you could wind up wasting valuable marketing dollars.

When boosting, there are three main goals you want to keep in mind: awareness, engagement, and acquisition.

Awareness
One of the goals that boosting can help your brand accomplish is awareness. This basically means growing the numbers of consumers that see your product or service as an option when going through the buying process. After all, how is the consumer going to give you their money if they do not know your company exists?

Boosting posts that contain general information about your brand or product helps keep your company top of mind for your target audience. According to the marketing rule of 7, the average consumer needs to hear a message seven times before taking action. By boosting posts that explain the value behind your business and present your business as a viable option, you are increasing the likelihood of selling from social.

Engagement
You have definitely heard the term 'social media engagement' but what does it mean? Engagement refers to the number of likes, shares, comments, thru-plays, or any interaction a post receives on social.

So, why is engagement so important on social? Social media has truly changed the game when it comes to the way brands and consumers are able to interact by establishing a relationship between the brand and its followers. Use Facebook as a public forum where you are able to spark conversations with your audience. Once you start sparking these conversations, people will start flocking to join.

Facebook already rewards content that garners a community and is sparking conversation, an engagement centric post will naturally rank higher in Facebook's algorithm. Since these posts already have a leg up, adding the boosting budget will only further the post's success.

Acquisition
New customers. That is the goal for any marketing effort. Right?

The posts aimed for the goal of acquisition are your 'hard sell' posts. These are the posts about a mega-sale your target demographic needs to know about. These are the posts are relevant and have a clear call-to-action for the viewer to take. You cannot afford for only 2% of your potential audience to see these posts.

One of the main advantages of posting on social is the ability to get your message directly to the consumer in a way that is convenient for them. So get in front of their eyes with Facebook boosting!

When it boils down to it, there are a couple of questions you can ask yourself when considering which posts to boost.

Does the post have a purpose?
Does the post have a clear call-to-action?

Is the post engaging?

How To Boost
Once you inventoried the content on your Facebook business page and selected the posts you would like to boost, you probably have seen the 'Boost' button located on your posts. It looks something like this: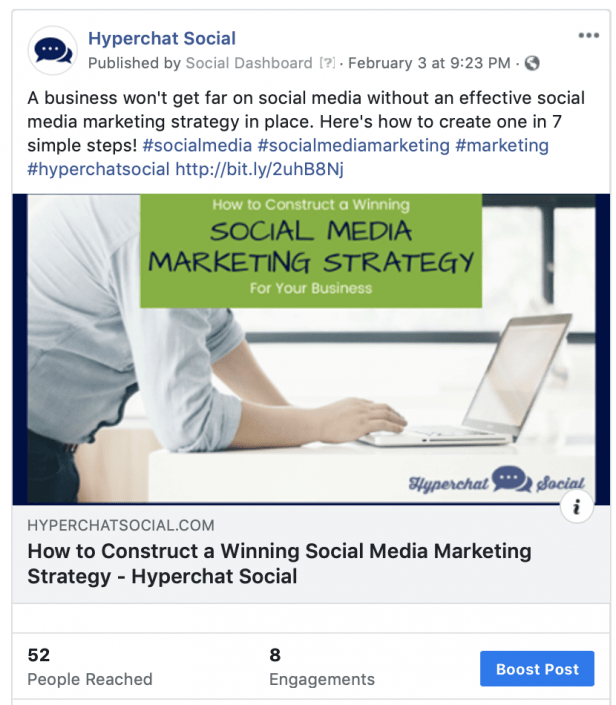 Once you click that boosting option, it will pull up the screen where you will select different options for your boosted post.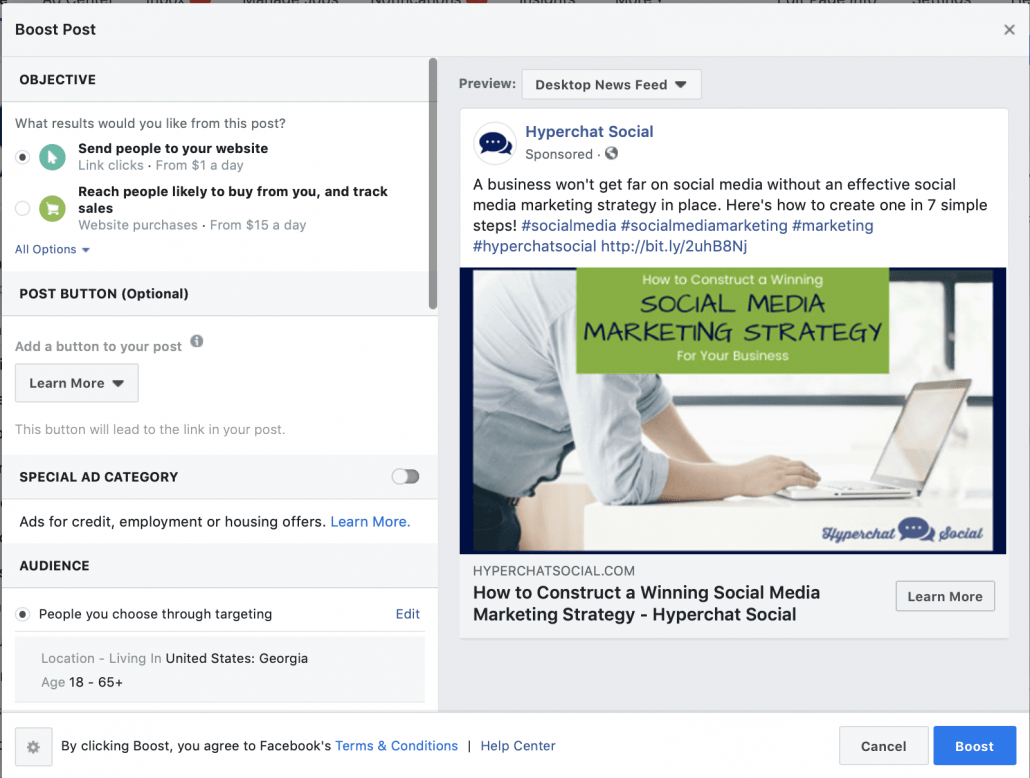 There are a couple of different options you have to pick from.

Objective: This is where you can pick the results you would like from the boosted post. You can choose between these four options:
Pro-tip: Match this objective to the objective you set earlier. Whether it be awareness, engagement, or acquisition.
Post Button: This is an optional setting, but you definitely want to take advantage of it. You are able to choose from seven different options.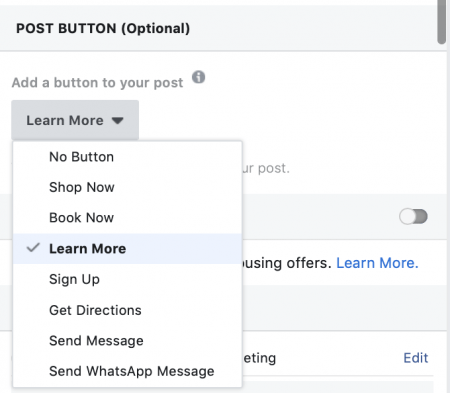 Special Ad Category: Due to Facebook's advertising policy, boosted posts surrounding the topics of credit, employment, or housing offers fall into a special ad category. If this category is selected, your boosted post will still run normally but you will be unable to use most targeting features to combat discrimination.
Targeting: This allows you to get into the nitty-gritty of who you would like to target. You can narrow your audience by age or gender, location, relationship status, and even work and education history. While you cannot target by net worth, you are able to target by percentile of household income. Take a look at your ideal client profile, get creative, and get to targeting.


You will also be able to use this saved custom audience in future posts you would like to boost which saves you time!

Placements: This is where Facebook gives you the option to maximize your budget and show the boosted post in multiple places, such as Facebook, Instagram and Messenger. Select the placements that make the most sense. Check out this helpful article from Facebook for more information.
Duration and Budget: This is where you will able to set how much budget you want to allocate towards your boosted post and how long you want the post to run. We recommend spending $10-15 per post for no longer than 5 days. There are, of course, exceptions to this rule. Play around with your budget and schedule and watch your estimated reach increase and decrease here: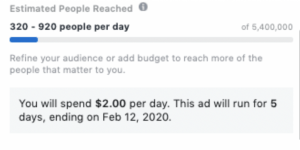 Payment: Select which ad account you would like to use with this boosted post along with a credit card.
Follow these guidelines and you are sure to see success when boosting! If you want to take control of your social presence, click here to schedule a consultation and start Turning Social Into Sales!

Prev
How to Measure the ROI of Your Company's Marketing Efforts
How to Construct a Winning Social Media Marketing Strategy