Facebook Advertising: Lead Generation Vs. Traffic
May 31, 2020
Jumping into the world of Facebook advertising, it can be difficult to know where to start. Facebook's advertising platform offers a bevy of different objectives for the page owner to choose from: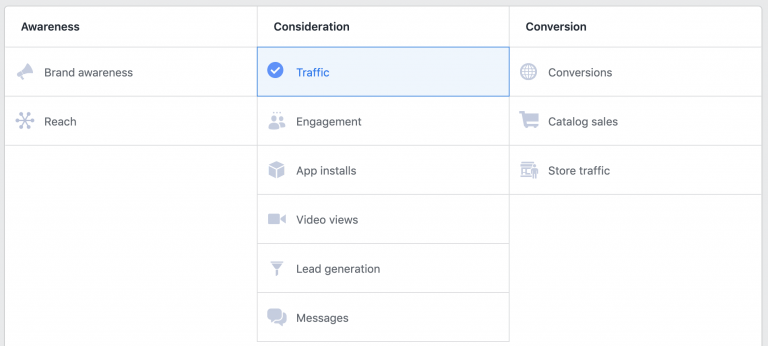 For a lot of our clients, many of their goals tend to include new business for their practice, an increase in sales, or just more traffic to the website. While there are plenty of ways to accomplish these goals with the extensive options Facebook provides, we often find ourselves gravitating towards our personal favorite objectives of lead generation and traffic. Through our testing, we have found that the two objectives of lead generation and traffic provide the most effective solution to our client's social media woes.
While both objectives are great, it can be hard to know which one makes the most sense for your business's current goals. In this blog, we are going to walk through the different objectives and talk through some pros and cons of both. We will also go through some basics to help you get started with Facebook advertising!
The Traffic Objective
What is it?
Your website is only as good as the traffic coming to it. That's where the traffic objective comes in.
The traffic objective is a useful objective whose main goal is to drive website traffic to a specific page. Whether you want to point eyes at your newest product launch, an event registration page or even just increase the traffic coming to your own site for SEO purposes, traffic ads are a simple way to accomplish the goal.
How does it work?
In order to create an ad on Facebook, simply select the traffic objective and set up your targeting and budget and schedule. The estimated results will be in terms of estimated link clicks. From there, set up your creative and plug in the URL you would like to drive traffic to. The ad should look a little something like this: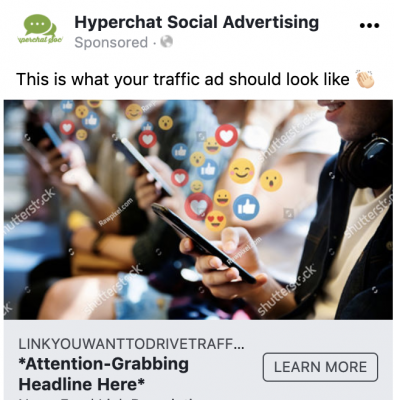 What goals does the objective accomplish?
Traffic ads thrive in campaigns that aim to get more eyeballs on a webpage. This can be anything from your boutique's spring line to your Amazon listing to the blog tab on your website. The one thing that is super important to consider when it comes to picking the destination of your ad is the action you would like the user to take once on your site. If the action is not clear, you will experience a higher bounce rate reflected in your Google analytics.
We see this all the time with some of our clients. They drive traffic to a website that does not have a clear journey for the user to follow. So if you are trying to push traffic to your webinar registration page, for example, you may not get as many registrations as you do clicks. In this case, it is important to be capturing their information.

This is where the traffic objective fails. You drive traffic to a landing page and no one is filling it out. You have the data that your Facebook Pixel installed on your website captured, but you have no email address or phone number.
The reason for this is usually the landing page itself. People do not like to take the time to fill out their information unless the form is super user (and mobile) friendly.
Facebook provides its own easy-to-use form fill in the lead generation advertising objective.
The Lead Generation Objective
What is it?
Lead generation advertising is nothing new to Facebook. The basic premise is that the advertisement offers something of value in exchange for the user's information. The ad does not look much different from the social user than the traffic ad does. Here's how it appears on the page:
How does it work?
The difference with this objective lies within the journey the lead goes through once clicking the call-to-action (CTA). When the Facebook user clicks the CTA, a form fill will pop up requesting the user to answer the questions before moving forward. This is a form that is customizable to the Facebook advertiser.
The ability to select which information you would like to know about the user taps your call-to-action is one that should not be taken lightly. Getting strategic with these questions is one way to increase the overall quality of information you end up getting out of your ad dollars. Facebook allows you to ask questions in the form of two types of questions.

Form fills with demographic information from the user's profile: This includes name, contact information, and address. This category is super easy for the user to fill out because the questions populate with answers taken from the user's profile.
Custom Questions: Custom questions are available for the marketer to create in the form of short answer, multiple-choice, conditional, appointment scheduler, and more. The marketer can get creative with the information they feel would be most useful to have about someone interested in their brand.
Once they have filled out the form, the Facebook user turned lead will then see a privacy screen pull up. This is where the advertiser can list any disclosures or privacy policies.
Then, the Thank You confirmation page will pop up. The advertiser can customize this page to have whatever message they would like to convey. The beauty of the Thank You page is that you are able to set a destination link for the confirmation button. This way you are still able to drive traffic to a landing page hosting an eBook or even just your company's website.
Creating a form
Creating a lead generation objective ad is much similar to creating a traffic ad in terms of targeting, creative, and copy. The estimated results, however, will be in terms of expected leads rather than link clicks. Where the real difference comes in at the end of the creation process with the lead form creation. This is where you get to customize the information you would like to receive from your prospect.
How many questions should be on a lead form?
Producing a high performing lead form is a balancing act and the number of questions you should have on a lead form genuinely depends on your goal. This all depends on the level of buy-in the consumer has. If your goal is to collect user information from someone who is interested in your brand so you can include them in an email campaign, collecting an email address can suffice. In that case, your goal is likely quantity, rather than quality.
Let's say you are hosting an event and want to use a lead form to collect information. You are going to want the feeling that the people that are filling out your ad are actually going to come to your event. Asking more questions will make the social media user have a higher buy-in and will more likely follow through with the interest they expressed. By asking more questions, it will always produce a lower amount of leads, but in turn, can result in a higher quality of lead!

The next time you are setting up your Facebook advertising campaign, consider which objective makes the most sense for your end goal. If you are looking to get more eyes on a page, go with a traffic objective. Are you wanting contact information from people but don't have a solid landing page? Go with the lead generation objective. If you would like to take a hands-off approach to Facebook advertising, click here to schedule a demo with us, and let's Turn Social Into Sales!
Prev
You Have a Social Media Lead! Now What?
5 Reasons To Use Canva to Spice Up Your Content