Email Marketing Important Things to Know
May 17, 2020
As we continue to navigate these rough waters, we will continue to advocate for sending out newsletters! Like we have told you before, NOW is the time to jump on the email marketing train! Your prospects and clients are searching the internet for information. Why not be their ultimate resource and deliver the information before they even think of searching for it? Through sending out newsletters, you can do this. In this blog, we are going to go over what content you need to send, when you need to send it, and places you can send it through. Keep reading!
Be Their Search Engine
Being able to deliver information before people have even thought to look it up on Google is one of the main perks of taking part in email marketing. Why? Well, you become a resource of information to people. These people can be potential clients, current clients, or past clients! When you send an email with valuable information out, you will start to be seen as an industry leader. As you continue to email out campaigns, you become more and more of a credible source of information, and people will come to you with questions and concerns.
It Is Not Just About What You Send
These days, email marketing is important, yes, but it is not just about what you are sending in your campaigns; it is about when you send your campaign, too. The data says it all. According to data from Sleeknote, the time of week and day that you choose to send out your campaigns is extremely important when planning out your newsletters.
So, when should you send a newsletter out? Well, We recommend sending at least one newsletter or campaign a month. So, you might ask, when during the month? We know that this probably is not what you want to hear, but it depends! Typically, Tuesdays, Thursdays, and Fridays are the best days of the week to send out a newsletter. However, this will vary depending on your business' industry.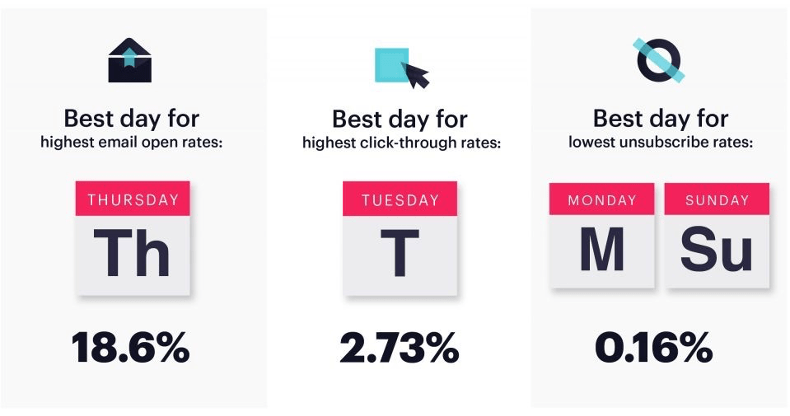 Source: Campaign Monitor
As you can see in the above graphic, the best day for a high open-rate is shown to be a Thursday, whereas if you are looking for more click-through-rates, Tuesday is the best day to send out a campaign. Now, this might be a tad confusing, and that is okay! For now, just focus on sending out a newsletter on either Tuesday or Thursday. This way, you are bound to have some readers and engagement!
What Time Do I Send Out A Newsletter?
This is another one of those questions in which the answer depends almost fully on the industry you are in. Before deciding on a time of day to send out a newsletter, you need to take your audience into account. Ask yourself these questions:
What is their job?
Are they business owners? Parents? Teachers?
What are their main problems?
How can they solve these problems?
Once you sit down and determine the answers to these questions, you will know more about what all you need to include in your newsletter. You will also be able to infer when exactly people of your audience will be more likely to read your newsletter. You do not want to end up sending out newsletters that no one reads, so doing some research on your industry and email marketing will help you big time in the long run.
According to Sleeknote, "Emails sent at 8 AM, 1 PM, and 5 PM perform the best. Use these time slots as a departure point," (Keskin, 2020).
We recommend following this data and sending out newsletters on Tuesdays, Thursdays, or Fridays either at 8 AM, 1 PM, or 5 PM. After all, you want to send your emails at times where people are going to open them and not turn away, right?
How Do I Start Sending Out Newsletters?
There are multiple places that you can use for sending out newsletters. Depending on your business, we recommend either using Constant Contact or MailChimp. We love using both! Read why in this blog post!
Now, after you have chosen a platform to start sending out newsletters from, you will want to begin building your campaign. What is great about both of these platforms is that they have pre-made templates that you can use.
So, what kinds of content should I include in my newsletter? This is a pretty common question we get. Here is our recommendation:
Opening introduction paragraph
Write about company updates, new team members, birthdays, etc. Keep this personal and engaging. This is one of the first things people see when they open your newsletter, so you do not want them to turn away!
You can also include if you had a change in hours, how you are handling the consequences of COVID-19, reopening (if your business is going to do so soon), how your services have been impacted, what you are doing to help your community and places you have donated where others can donate as well.
Use this space to include more of the personal side of your newsletter, then get into the more informative and factual information as you move down the template that you have chosen on either MailChimp or Constant Contact..
Your services and a call-to-action
You need to have calls-to-action all over your newsletter. But do not overdo it!
Trending Articles
What is going on in your industry?
What is going on in the world? Make these interesting, not depressing! People want to read things that provide information, not things that down their mood!
Employee spotlight
Take pride in those who work with you! Make sure you give your team members the recognition and appreciation they deserve each month. You all are working hard, especially during this time!
Recipe or Puzzle
The end of your newsletter should have something fun to end it on a light note. Try including a recipe or a puzzle! There are several free websites where you can obtain both of these, just make sure you cite the source and give credit where it is due!
Why Should I Be Sending Out Newsletters?
When it comes down to the facts, sending out newsletters is one of the BEST ways to check in with your clients and prospects and stay in front of their eyes. Rather than writing newsletters for the sake of everyone else doing it, you should be sending out newsletters because you want your readers to take the information you are providing and learn from it.
Sending out newsletters also is not expensive. With MailChimp and Constant Contact, you can upgrade your plan. But these platforms are where you need to start, as we mentioned before!
Writing and sending out newsletters is a prime way to maintain your reputation and even become an industry leader. If you write your newsletter in a way that draws attention, provides value, and shows that you care, you are bound to get clicks back to your website and even organic leads!
Overall, sending out newsletters is one of the best things you can do for your business in 2020. Whether you are a business owner, financial advisor, personal injury attorney, or even a restaurant owner, we highly recommend sending out newsletters (if you can't tell)!
As COVID-19 has affected each and everybody in different ways, we want you to know that we would be happy to take over your email marketing for you! If you have not yet started email marketing, we would also love to kickstart a campaign for you and help your small business out during this time. From one small business to another, let's Turn Social Into Sales!
Want to send out a monthly newsletter but don't want to make your own! No worries, we've got you covered. Schedule a time with a newsletter expert by clicking HERE!
Keskin, Seray. "What's the Best Time to Send Email? Here's What the Data Says (2020)."
Sleeknote, 28 Apr. 2020, sleeknote.com/blog/best-time-to-send-email.
Resources
Sign up for an account with Constant Contact here. Use the promotion code "PARTNER30" to receive a 30% discount for your first three months! Discount may be available for a limited time.
Prev
5 Reasons To Use Canva to Spice Up Your Content
Advertising Your Business' Reopening On Social Media