Does Social Media Affect Search Engine Ranking?
September 12, 2021
Does Social Media Affect Search Engine Ranking?
SEO is vital for your business if you want to increase your search visibility and rank on Google. However, if you are not creating content regularly, your efforts would be in vain, and your odds of showing up #1 in a Google search engine result are relatively slim. This blog will discuss how to improve your SEO through social media!
Does Social Media Impact SEO?
The easy answer is no, but the links you share across all social media platforms can boost your company's exposure.
Social doesn't specifically contribute to Google ranking, yet it can help in:
Increasing brand recognition

Enhance company's reputation

Improve organic traffic

Boost local SEO
Audience reposting and shares do not contribute to SEO ranking, but it is a great way to lead your followers to your website and improve the specific KPIs, including website traffic.
After analyzing 23 million shares on the platform, CognitiveSEO discovered a positive correlation between social share and SEO. Engagement (shares, likes, comments, etc.) on posts received is vital to rank the website.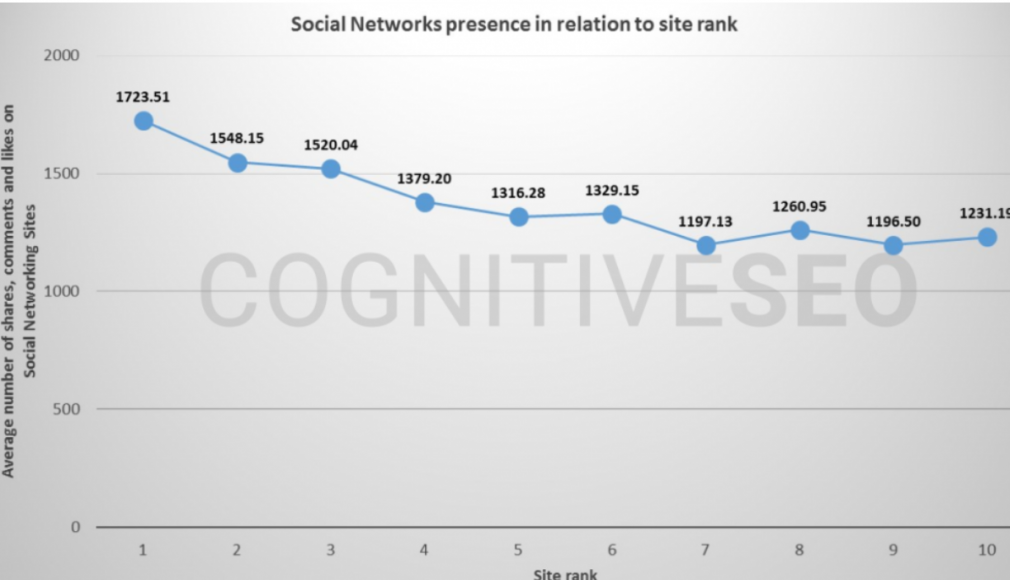 The diagram states that the best-ranking traffic is the one with the most social shares. As social media doesn't influence SEO, it indirectly has a positive effect on search ranking!






Social Media Can Drive Site Traffic
Since social media has a positive effect and can impact search ranking indirectly, it can also have the potential to drive website visitors. When you begin adding value to your target audience, your blog will be read and shared with more people. And with word of mouth, the cycle will continue. Creating content for your website is a great way to attract more eyes to the website. Some examples could be:
Blog Posts

Videos

Infographics

Podcasts
Offering informational and exciting content will keep people coming back to the page and potentially lead to more customers. Learning are to distribute the content properly on social media is critical. Sharing your content begins an amplification of visibility, improves traffic, and generating backlinks. These signals will notify Google that your site is credible and reliable, indirectly enhancing your search ranking.
SEO social media strategy to consider:
Post valuable and reliable content on socials

Creating material and content will help gain website traction, increase content reach and generate backlinks

Better info helps profiles rank in search results

Quality content helps build your brand/company

Enhance brand/company reputation

Links from social can help Google value your blogs

With Google's valuation, it can lead to more search engine traffic and improved rankings
As previously stated, social media is not a factor of SEO ranking, but an influence on SEO ranking. Google values quality links, and that can be a ranking factor for SEO.
Best Social Media Practices for SEO

Now that we talked about the positive effect of social and what social media strategies to consider, let's dive into the best social media practices for improving your SEO marketing.
Posting High-Quality Content on Socials
Google bots have been developed to understand content relevance and quality. In other words, keyword stuffing is a thing of the past, and quality is king! Creating helpful and timely content is always be a priority to Google.
Making Sharing Your Content Easy for Users
Companies mainly use social media to reach more consumers with their brand message. Many companies' goals are to reach more people and help grow and generate leads. Creating great quality content is fantastic, but how can one get their message out if it isn't easily shareable? Make sure to utilize a social share button, including a call to action for readers to share your content!
Helping others share relevance and valuable content helps your brand's message reaches a broader audience and boosts brand publicity. Make sure your target audience sees:

Compelling captions and blog titles

Appealing custom graphics and infographics

Ensure content is useful to your audience
Optimize Your Social Media
Many potential followers or clients will check your profile page or Google before connecting. So put yourself in your customers' shoes, ask yourself:
Does my profile have quality content?

Does it have the key to attract the right people?

When people search my company, will my profiles appear?
One negative effect of SEO is the lack of profile optimization. This can prevent your business from appearing on searches throughout the web. A well-optimized social profile ensures your target audience can find and reach you online. Make sure you maintain consistency across channels to help your audience quickly find you through your social media platforms.
Build Relationships

Building relationships is a great way to increase engagement. Customers focus on trust and credibility from a company or brand. These connections can help you learn more about your target audience, such as their needs and problems they need to be solved.

Once they sense that you are interested in their concerns, it becomes easier to engage with you. And the best place for these interactions is social media!

Don't wait for your audience to come. Take action and develop a conversation with your audience. Here are some examples to engage with your audience:
Ask relevant questions regarding your brand

Ask if they have read your latest blog posts

Ask if they have heard about your new product or service

Respond to user's comments

Create a poll to understand their questions and concerns
These are just a few ways to start a conversation that creates a positive result and builds a long-term bond with your customers. As a result, you could increase your engagement and followers and improve Google's social media signals to rank your site.
Social media and SEO is essential for small businesses. If you have not taken advantage of social media and the difference it can make in your business, it is never too late to start! Take a look through our blogs as there are tons of helpful articles to get you started! Click here to schedule a free consultation to start Turning Social Into Sales!

Prev
Why Small Businesses Should Use Social Media
10 Alternatives for Search Engines That Aren't Google