Content That Performs Best on LinkedIn
September 22, 2020
Marketers love LinkedIn. Did you know that 80% of B2B marketing leads from social media come through content on LinkedIn? In fact, 92% of B2B marketers choose LinkedIn over all other platforms. Users have reported seeing a 28% lower cost per lead with LinkedIn Sponsored Content than Google Adwords.
There are SO many reasons to love LinkedIn. Here are just a few of them:
A One-of-a-kind Audience: You can reach business decision-makers and the audience that matters most to your business throughout their purchasing bath with their unique targeting capabilities.
Quality leads: On LinkedIn, you can convert your ideal professional audiences in a social environment that is clutter-free and content friendly.
Data-Driven Insights: You can use their first-party data to measure, inform and optimize your performance.
Ready to use LinkedIn better so that you can prove ROI for your business? Keep reading to learn more about the different types of content that perform best on LinkedIn!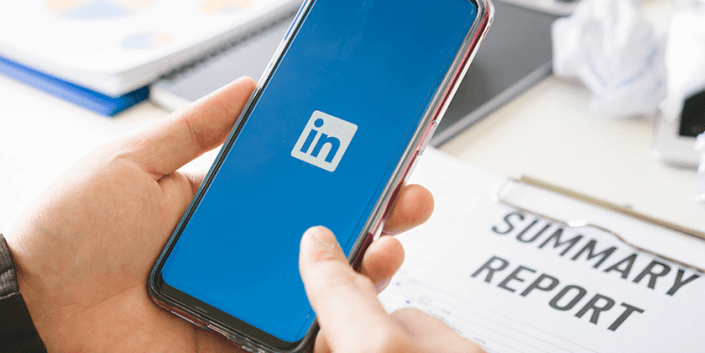 The 10 Most Followed Pages on LinkedIn
1. TED Conferences, Followers: 12.5M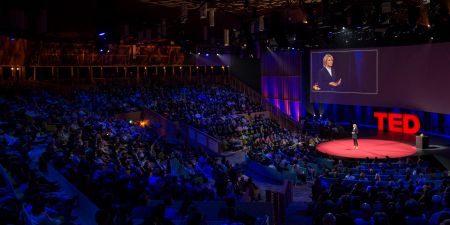 Inspirational thought leadership performs great on social media, but this content style was practically made for LinkedIn. On a platform that is primarily professional, these inspirational videos of business leaders is a prime attraction for LinkedIn's user base. Besides the general allure of this content, this Page thrives with a solid mix of video, organic articles, and customized images. Their content feels genuine and authentic. Add that to being topically relevant to the modern professional, and there's no debate on how TED took the top spot.
2. Google, Followers: 12.1M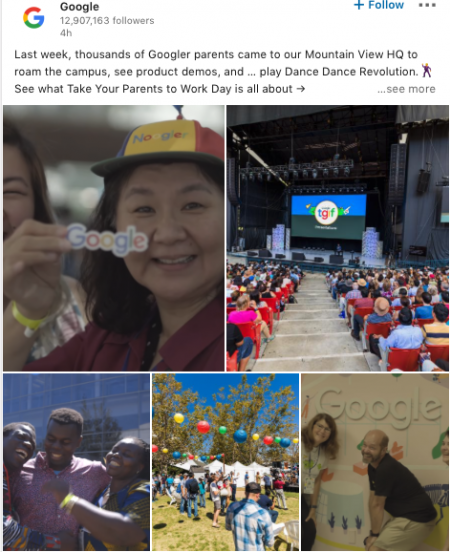 Google's name carries a lot of brand power online, but especially on LinkedIn. The tech giant keeps followers engaged with a steady flow of new, relevant content that highlights corporate social responsibility initiatives, as well as their new innovations, company culture, and more. Despite being focused on technology, Google chooses to focus on their faces first, which seems to resonate well with users.
3. Amazon, Followers: 8.6M
Like Google, Amazon makes its employees the main focus when creating their content. Their posts frequently feature staff stories, company events, job interview tips, and more. They even share insights about their customers, the "Amazonians"!
4. LinkedIn, Followers: 8.2M
LinkedIn, ever heard of it? How funny is it that LinkedIn comes in fourth on their own platform? All jokes aside, 8.2 million followers is something to envy. They try to practice what they preach on their page by offering a stream of useful content, and it pays off. Their content targets employees, employers, and job-hunters. They commonly ask open-ended questions to spark conversations and engagement, while drawing users in through relevant hashtags.

5. Microsoft, Followers: 7.8M
Did you know that LinkedIn's parent company is Microsoft? This computer software leader keeps things fresh on their page by posting a diverse stream of content. This includes highlighting users, company news and analysis. Notably, while they still create their own content, they aren't afraid to curate either. Microsoft shares plenty of third-party articles, especially those written by their own employees and executives.
6. IBM, Followers: 6.4M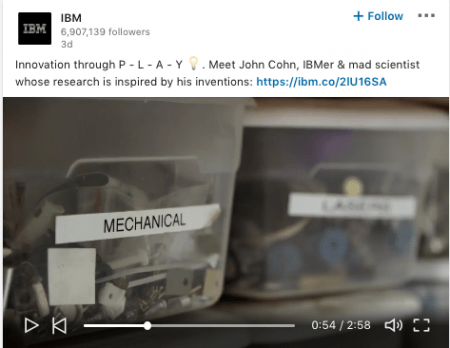 Just like their business model, IBM focuses on AI, cloud, blockchain and IoT. Yet, IBM is fantastic at connecting with its followers through human-focused content. They emphasize diversity and inclusion. During "Pride Week" this year, they received substantial engagement. It also doesn't hurt to know that their customers and fans have a passion for technology, and IBM uses this to their advantage by showcasing the innovation happening in their teams.
7. Unilever, Followers: 6.2M
Have you ever scrolled through Unilever's feed? If so, you'll find that a majority is quick-hit videos that deliver a concise message. Videos are impressionable in themselves, but they stand out because they don't need audio to be understood. They focus on talent branding and being socially responsible. Their content takes a stance on refugees, environmental issues, bullying and more. Unilever is also fantastic at branding, as they maintain visual appeal by using colorful images that compliment their logo.
8. Nestle, Followers: 6.0M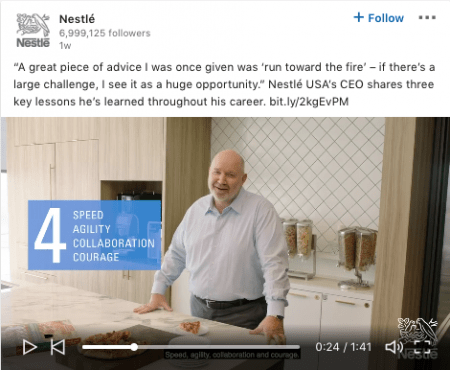 Nestle's main use for their page? Recruiting and hiring! The famous food and beverage company promotes its culture and career opportunities. They love posting about the future of food and feature innovations in space, diversity and inclusion initiatives.
9. Accenture, Followers: 4.4M
Want to see a great example of a blend of multimedia content? Check out Accenture! Like Nestle, they're great at posting short-form video content along with creative ways to promote links to their latest podcasts. Accenture uses a recognizable purple hue across their page, which aids in emphasizing their reputation as a company.
Need help deciding on your branding? Click HERE to learn more about choosing aesthetics for your social media profile!
10. Facebook, Followers: 4.4M
Facebook on LinkedIn? What?!
Facebook actually does have a huge following on LinkedIn! You may think this is contradictory, but this actually makes a lot of sense. Why wouldn't this social media juggernaut be on this other large platform? Facebook uses LinkedIn just as it is intended to be, focusing on career development and professional opportunities. Additionally, they focus on their values foremost, and their engagement and growth shows that their audience is responding.
Content That Performs Best on LinkedIn
Sometimes the best way to learn about a subject is to pay close attention to what your peers are saying and doing. To help you apply what the most popular LinkedIn Pages are doing to exceed their marketing goals, keep reading for the 5 types of content that performs best on LinkedIn!
#1 Create Your Own Video Content
The common denominator between the top 10 pages on LinkedIn? They have all incorporated video into their content strategies! There's no denying the power of video in this day and age and LinkedIn is no exception.
#2 Stay "Woke"
Even though LinkedIn is primarily a professional platform, you don't want to forget what lies in the heart of LinkedIn and that's humanity. As a business, you're most likely striving to ease the pain points of your prospects, but users feel connected to companies who are chasing after the same cause as them. People don't want to connect with a cold brand that only cares about profits. Yes, it's okay that you want to increase your ROI. But you need to emphasize that you care about the bigger picture, too.
Showcasing social responsibility is important as a company on LinkedIn. These are real people with emotional investments. Find a cause you can connect with and run with it. Does your business strive to be sustainable? Do you have a local philanthropy or charity you support? Do you invest in the next generation through school seminars? Whatever it is you do, use your page to spread awareness to further your purpose. You'll gain more followers and customers in the long run!
#3 Showcase Diversity and Inclusion
Just like #2, people want to follow and support brands that carry the same values as them. In 2019, equality is a huge topic you can connect with online. In fact, all the top-performing brands make sure to reinforce concepts of diversity and inclusion. Nobody wants to follow Switzerland on social media. Instead, take your stance and spread the word. People who identify with your beliefs will find a strong pull towards your business, and they'll follow you instantly.
#4 Put a Face to Your Brand With Your Employees
Who wants to willingly subject themselves to cold call ads? Literally no one.
People go to LinkedIn to connect with others! That's why all top brands on LinkedIn recognize the power or the people behind their business. Don't be a robot. Instead, focus on what makes your business genuine and unique by showcasing the people who make the day-to-day happen.
Think back on what captures your attention on social media. We're captivated by other humans by nature and it doesn't matter if we don't know them personally.
#5 Focus on Creating Something Unique or Innovating
What makes you unique as a business? Why yes, we want to take tips from the cream of the crop on LinkedIn. But, you may not be AI focused like IBM or have the staff size of Google. Instead find what makes you different on social media, as that makes all the difference. Businesses are finding the power that LinkedIn has to offer those who use their social media pages as a tool. So how do you differentiate yourself from your competition?
Are you doing something that hasn't been done before? This may just mean that you're doing something unique to your area. That is still a feat in itself! A lot of LinkedIn members follow specific industries on the platform. This is where we recommend showcasing how you're fostering innovation to change the game in your sphere of work. The pages that do this best are creative and compelling, finding ways that are entertaining to share their progress and plans as a business.
Are you ready to start turning Social into Sales on LinkedIn? We would love to help you take your business to the next level! We have a team of expert LinkedIn users on our team. Whether you want someone else to take care of posting for you or need help generating leads, we're here to help. Click HERE to schedule a consultation with our team today!
Prev
Prepare Your Social Media For A Season Change
DuxSoup vs. LinkedIn Helper: What You Need To Know