Boosting on Facebook: What You Need To Know
November 28, 2021
What You Need to Know
Boosting on Facebook
So, you're putting out GREAT content on social media, but not seeing much of an ROI. You've tried new strategies and a variety of post styles, but nothing seems to be working in terms of engagement, reach, and overall conversions. What do you do?
Unfortunately, great posts don't always cut it on social media. You need the attention of those in your target demographic to get started. Most people get it wrong when they hear that this is the main issue in their campaigns. They think that they need to focus all of their efforts on getting new followers, and they'll do anything it takes to get there. Trust me when I say - followers aren't everything and when you're putting out great content, followers come organically and they stick. A lot of people want to take the easy route and buy followers. Not only will this flag you as spam to Facebook and Instagram and get you "shadowbanned", or your content suppressed, but it won't do you well in the long run, as the people seeing your posts aren't viable contacts for your business.
Slow and steady wins the race and if you build it, they will come. The best way to get your posts in front of more of the right people is by running a promotion - especially on Facebook and Instagram! By putting just a little budget behind your posts and targeting your audience based on the detail targeting these platforms provide, you'll be able to find the right users. Plus, if they see your content and love what you're sharing, they are bound to click that follow button!
Organic Vs. Paid Traffic - Money Matters
When it comes down to it, a boosted post is truly just a simplified Facebook ad campaign. There are a few key differences, but the concept remains the same - increase your budget for more coverage. When you post, it's important to have an end goal in mind. Boosting helps you meet those goals by allowing you to choose your ad objective. Below is a list of the objectives the platform offers:
· Messages
· Engagement
· Video views
· Website visitors
· Leads
· Calls
Organically, your posts will only be seen in the newsfeeds of your followers. Facebook and Instagram want you to pay-to-play, so they will suppress your content and only display it to less than 6% of your followers. That's 1 out of every 19 people who follow you! By putting just $5 behind your post, you'll be able to triple that number.
Creating the Perfect Boosting Audience
When it comes to Facebook Boosting, it isn't really "the more, the merrier". Increasing reach may be a large goal for your campaign, but there's more strategy involved to reaching your end result than just blasting a post. Your post can spend as little as $1 a day and increase your results. And the more you spend, the more reach and results you'll garner.
Facebook offers a visual tool that shows you how refined your audience is. You want a happy medium when it comes to audience size. If it's too broad, you'll be wasting money displaying your post to anyone and everyone. If it's too niche, you won't have enough candidates to distribute your budget properly. When this scale points down the middle, you'll know you have the perfect amount of specific and broad targeting points applied.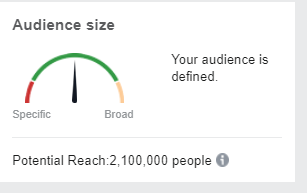 Use Detail Targeting - Target By Interest and Behavior
Boosting on Facebook is actually, pretty fun. You can get incredibly specific with what you are targeting to help you find the perfect people for every post you promote! You can target by interests, age, gender, location, demographic, and behaviors. Facebook Ad campaigns offer more specific targeting capabilities, but if boosting a Facebook post accomplishes your ad objective, then we highly recommend it, as it's a quick and simple way to spread the word. No need to reinvent the wheel.
Measuring Results
Your post can include photos, videos, text, links, and a call-to-action button. Facebook is great at proving analytics for their promotions, separating them by paid and organic performance. You simply click 'View Results' on any boosted post to analyze performance. If you are accomplishing the objective you determined for the post, then your boost is a success! (Ex: More website link clicks, more form fills, etc.)
The best posts to boost are ones that gain engagement on their own. If a post doesn't need a budget to get likes and comments, it doesn't mean you shouldn't put any budget behind it. In fact, posts that perform well on their own typically mean that they would resonate well with a broader audience. By checking the 'Insights' tab on your Facebook page, you can view which posts are performing best and choose from there what to promote. This is a great place to start when beginning boosting for the first time!
Are you ready to take your social media campaign to the next level? Boosting plays a huge role in overall performance and we'd love to help you use this tool to turn social into sales! Book a consultation with one of our social media experts to learn more today!
Prev
How to Create a Video Social Media Strategy?
How to Build Your Social Media Strategy for Facebook