A Trick, A Click, and Leads From Your Facebook Profile Photo
July 09, 2018
Business owners and salespeople are always asking me how you can get more leads from your personal Facebook page. While there are lots of strategies we can share with you at Hyperchat Social, we have a really cool and simple idea that you can fix up in less than 10 minutes which can help you generate more leads.
We all know that the stalkers out there are looking at our Facebook profiles, but unlike LinkedIn, we don't get a report on who was checking out our profile. We also know that voyeurs like to click on pictures so they can see more about that person and what they may be up to in life and business.
One KEY move on Facebook is to use your profile photo as a place to generate leads. Yes, your profile photo! How? Well, the simple fact is that probably once every year or two you'll be changing your profile photo and/or your background picture. When you click on your profile photo, it brings up a box for you to put a description in the photo as you would with any other photo. I did a brand new one as I drafted this article, so you could see what I am referencing.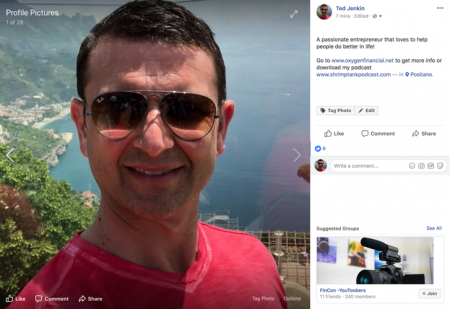 Since this picture is likely going to be one of the MOST clicked photos on your entire Facebook page, it gives you an opportunity to write a short description and put in URL's to a funnel page, your website, or another marketing route that you want to take the prospect. In this case, I gave people the opportunity to check out my company or check out my podcast.
Remember that lead generation is a 24/7 process, so this is your opportunity to use every inch of space on your personal Facebook page and have your marketing machine running even faster than today.
That's just one of the tips we use to help our business owners do better with their social media. We can help you by going to www.tryhyperchat.com to set up a demo today.
Prev
Instagram TV – Is It Time For You To Start?
Nine Reasons To Do A Facebook Live Video For Your Business