A Tour Through LinkedIn Sales Navigator
November 15, 2020
At Hyperchat Social, one of our most popular services is our LinkedIn Lead Generation service. This is where we hop into your LinkedIn account and send out personalized, engaging connection requests to those in your target market on LinkedIn. This provides our clients a warm lead that lives in their LinkedIn inbox.

How are we able to find high quality leads on LinkedIn for our clients? We do it with a little help from our friend, Sales Navigator. Sales Navigator is a premium feature on LinkedIn that provides additional filtering and additional support to its users that makes lead generation just a little bit more turnkey.

We are big proponents of Sales Navigator here at Hyperchat Social. There are plenty of features that are worth highlighting. We want to make sure you are getting the most out of your Sales Navigator subscription, so we have compiled some of the features that you need to be taking advantage of.

Search Features
Perhaps one of the best features on LinkedIn Sales Navigator are the advanced search filters it provides. There are several filter categories you are able to narrow your search using. They are top filters (including geography, industry, school, language, etc.), role and tenure filters, company filters, and even other filters including groups, content key words, and more.

Let's dive into these categories a little further and learn how to best use them to find your ideal client on LinkedIn.

Top Filters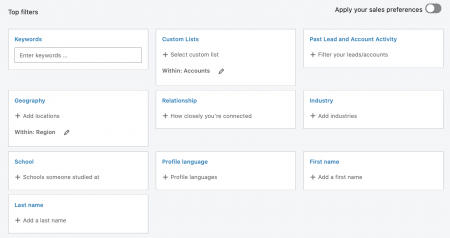 Top filters are the most basic filters on LinkedIn Sales Navigator. This is where you can set your geographic location and the relationship, or how closely you are connected with the prospect, you are searching for. This is also where you can include or exclude certain industries, search for alums at specific schools and filter using your account activity. The selections you make in your top filters will be key for converting new business using LinkedIn.

Role & Tenure Filters

In the roles and tenure filter section, you can select the seniority level of those you would like to target. As with any marketing targeting effort, it is important to picture your ideal client. Are they just beginning their career or are they headed for retirement? From there, you can select which seniority level makes the most sense. This ranges from unpaid, entry level to the CXO, owner, or partner level of the company.

This is also where you can select how much experience your ideal lead should have and the number of years they have banked at their current company. This is extremely useful when looking for those that have gone through a recent job change. You can simply target those that have 10+ years of experience but less than one year at their current company.

Finally, you are able to filter using job titles and job function. If these filters are used properly, you can get really into the nitty gritty of who you are going after on LinkedIn whether it be business owners, account managers, or anything in between.
The great part about these filters is that you can also use them to exclude rather than just include. This is great for excluding those that are in your industry or those that just would not be in your target demographic that the search may be pulling in. The user can simply hover their mouse over the selection and click exclude.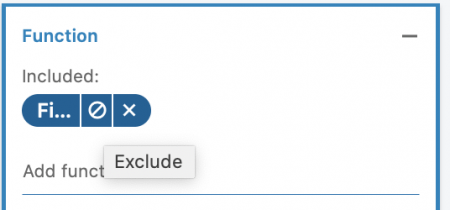 Company Filters

Company filters allow you to target employees at a certain company - as long as it is listed correctly on their LinkedIn profile. This is also where you are able to distinguish how many employees your ideal lead should have. Are you looking for a sole propieter or are you looking for those with a small or medium sized team? Or are you looking for those working at companies with thousands of employees? All of this can be determined at the company filter level.

Other Filters

There are additional filters that Sales Navigator provides under the other filters category. This is where you can narrow your search based on when the user joined LinkedIn - whether they just joined or they have been on the platform for years. You can also target those that are members of certain groups, and you can narrow by posted content keywords.

Now that we are familiar with the search features on LinkedIn's Sales Navigator, there are plenty of other benefits and features Sales Navigator provides. One of the best features being its built in CRM system.

Nurturing Leads In Sales Navigator
LinkedIn's Sales Navigator offers a built in system where the user can save different leads to different lists. Those lists offer built in customer relationship management support inside of the LinkedIn platform. This is a way for users to easily see where they are in the process of following up with those leads they have on their radar in LinkedIn. This tab also keep tabs on their activity.

To take advantage of this feature, simply pull up the lead's profile using Sales Navigator and click the 'Save' button. From there, you will be prompted to select where to save the lead. Each user has a default list called 'My saved leads' but the user is also able to create new lists and name them accordingly.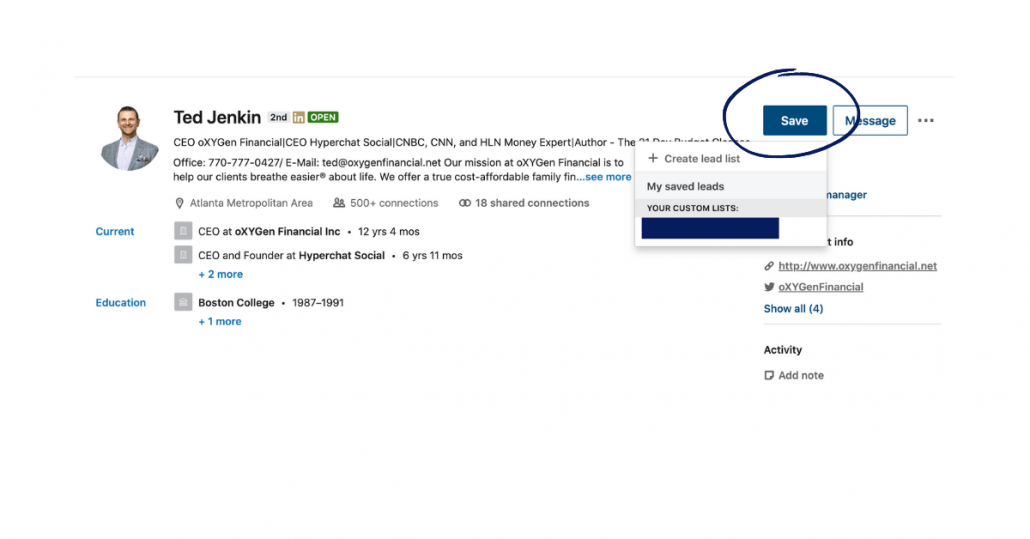 You can find your lists on your Sales Navigator home page in the 'Lists' tab (pictured below).


From there, you will select the list you are working through and this is what you should see: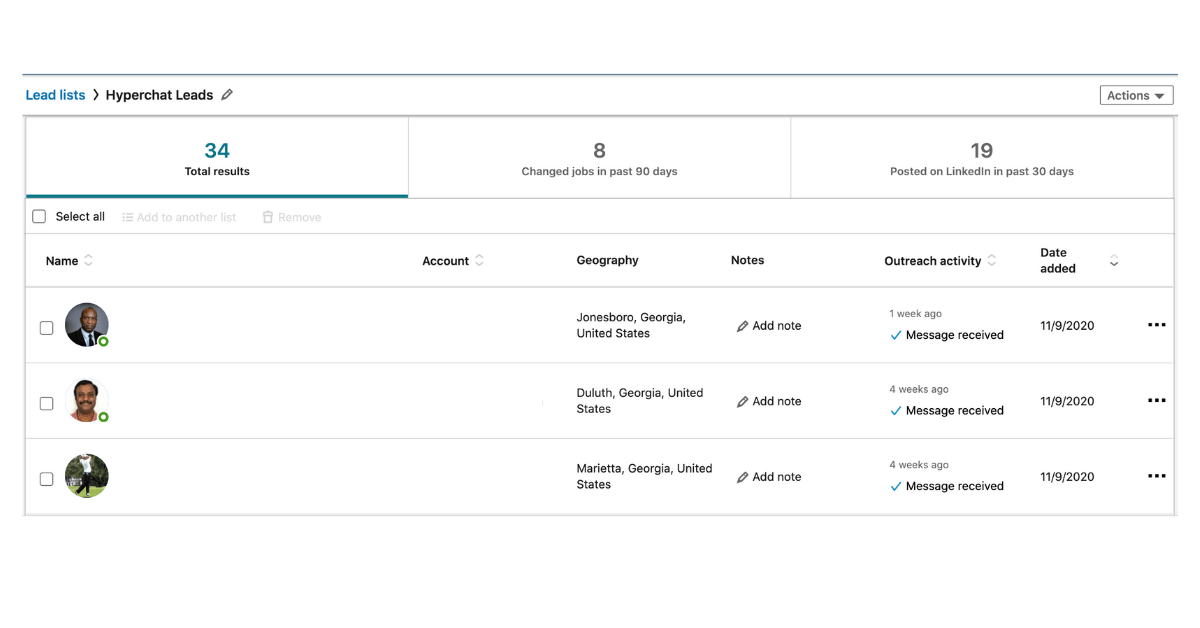 All of your saved leads will show up in this system where you can scroll through to get valuable information about the leads you are most interested in. You can see their name, job title, and company with ease as well as where they are located. You are also able to see all of your outreach activity and see those that are awaiting a response from you. There is even a section for you to add notes about each lead.

Another great feature of these lead lists is the content tab and the job change tab. LinkedIn's lists will alert you when one of your leads or prospects has changed jobs in the last 90 days. This is crucial for our financial advisor clients. Money in motion deals are all about being in the right inbox at the right time.

There is also a tab for those that have recently posted on LinkedIn, making your nurture efforts that much more effective. By knowing what kinds of content your leads are posting is a great insight to their pain points and interests. This is also a great tool to engage with your leads on the platform. No one likes posting a picture and not receiving any engagement!
Pro-tip: Take 5-10 minutes each week to look through your Sales Navigator lead lists and engage with the content they are posting. This will keep you top of mind for those that are on your top of mind!

Sales Navigator is a wonderful tool that has more uses than you may realize, but better yet, it works great in conjunction with our LinkedIn Lead Generation service. If you are interested in building your presence on social media and building your connections on LinkedIn, use this link to schedule your free demo so we can help you Turn Social Into Sales!

Prev
2021 Social Media Marketing Trends To Look Out For
Tik Tok and Social Media Marketing