4 Brands Killin' It on Social Right Now
November 07, 2021
I'm sure you don't find it surprising that social media ranks as one of the most used online platforms of all time. This includes all social media - Facebook, Twitter, Instagram, TikTok, Snapchat, etc. The list could go on. It's simple. People love social media because it's a great place to express yourself in your own light and connect with other people. And not only do people enjoy connecting with others online, but they also enjoy connecting with brands.
This is how brands make it on social media. A huge part of brand success online is based on how well it can form and build connections with its own audience. But it doesn't stop there. Brands must nurture those connections in order to develop a good relationship with them.
Building relationships on social media is not an easy thing to do or else every brand would be successful online; especially with social media platforms constantly changing their algorithm. But there are many brands that have hit the hammer on the nail with their social media strategy. Take some inspiration from these four companies who are currently killin' it on social media.
Chipotle - TikTok
When it comes to TikTok success, Chipotle is one brand that has been killin' the game. After seeing their audience post a lot about their brand on TikTok, they decided to take the plunge and join in and create an account. According to Tressie Lieberman, Chipotle's vice president of digital and off-premises, their strategy on TikTok was to establish a real, genuine personality that played into the fun and playful side their audience could connect with. They did this by posting personable behind-the-scenes content showcasing their staff and recipes as well as sharing other users' content who mentioned the brand.
The company now has over 1.7 million followers on TikTok and has tons of engagement on its posts. They have a consistent posting schedule and always make an effort to engage back with their audience.
Takeaway
If you choose to have your business on TikTok, remember these key things:
Keep your content light-hearted and fun

Post Consistently

Keep up with the latest trends (they change quickly) & participate

Engage with your audience
Shopify - Instagram
Shopify, the eCommerce company that helps entrepreneurs sell their goods online, has done a great job marketing themselves on Instagram. They have a fun and creative feed that does a good job resonating with their audience - business owners.
They share everything from educational content to motivational content and use relevant hashtags to expand their reach. And a big, unique thing they post from time to time is their clients. They show their support for them by sharing their client's stories on their feed as well as in their Reels. They also make sure to tag their company in the comments giving their client's business more exposure. This effectively shows Shopify's audience that they value and care about their own clients and truly want to see them succeed in their own business venture.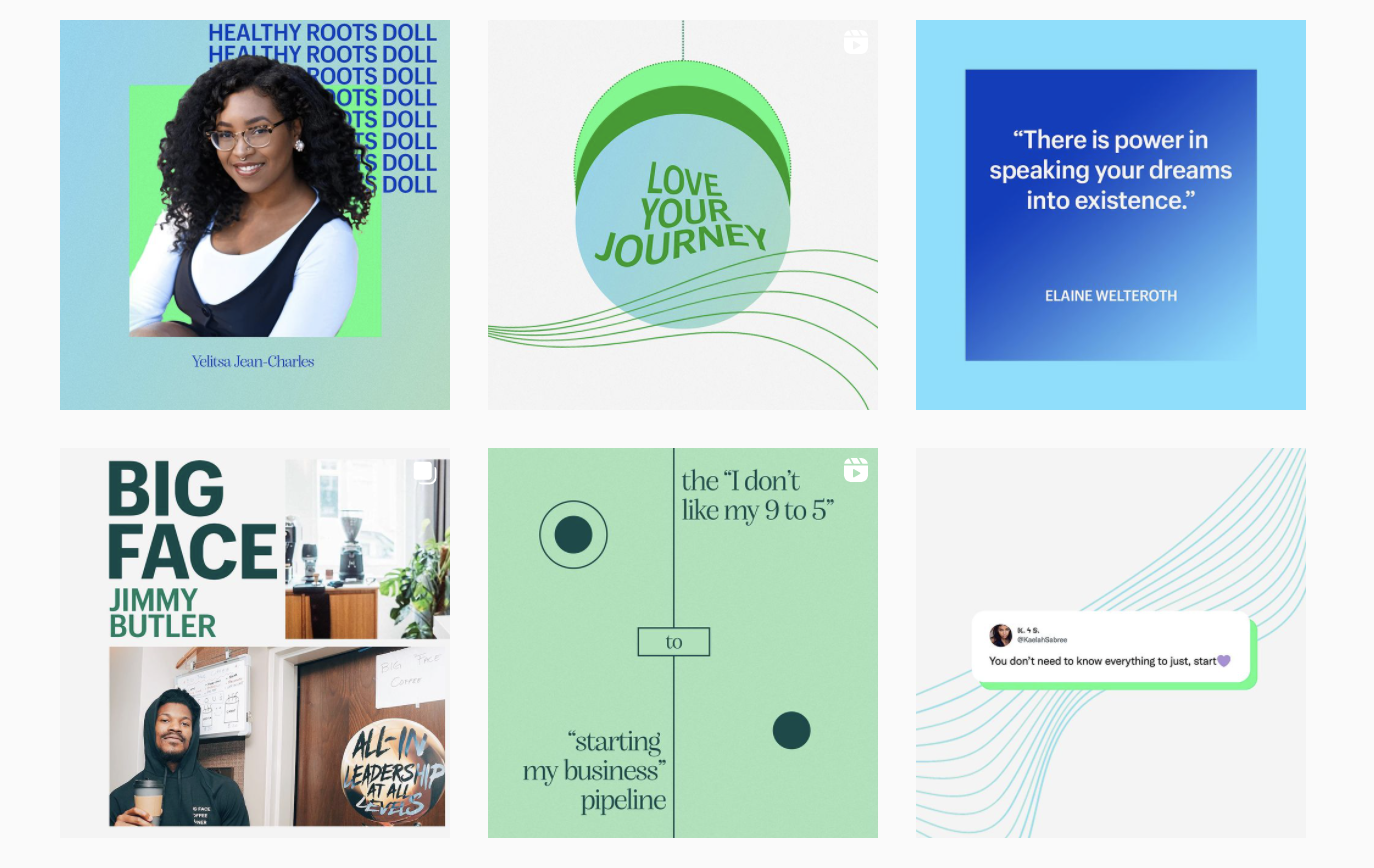 With Instagram being a photo-sharing app and all, another thing to note is the consistent color scheme they have on their Instagram profile. It makes for a visually appealing theme that differentiates them.
Takeaway
When using Instagram to market your business, be sure to…
Post consistently

Share your values

Engage with your audience

When posting photos, make sure you have good lighting

Use relevant hashtags

Create fun Reels

Post to your story

Focus on making your feed visually appealing (think color scheme, types of posts, etc)
It also helps to do some competitive research to see what's working for your competitor!
Oreo - Facebook
With over 40 million followers on Facebook, it's safe to say Oreo has done a pretty good job marketing itself on this platform. Oreo has been around a while, but what causes people to want to follow them on social? It's just a cookie… But their content is what drives follows and engagement!
The brand loves getting creative with their content and even does a good job portraying their fun personality in their posts. Take a look at some of their recent posts for example. For Halloween, they posted a "Ghosts of Oreo Flavor Past… which are you bringing back?" and had a cute picture of four Oreo flavors they aren't selling right now. This post alone generated over 2.3k comments and had 506 shares.


Takeaway
Show your unique personality through your content

Engage with your audience

Post valuable content

Boost posts

Create engaging Facebook ads

Get creative!
Airbnb - Pinterest
Airbnb, the brand that finds you places to stay on your travels, does a phenomenal job on Pinterest. Pinterest is a social platform that also acts as a search engine and according to Oberlo, it has over 478 million monthly active users.
People come to Pinterest for ideas - ideas on clothes, recipes, home remodel inspirations, holiday décor, gift ideas, etc. With this knowledge, Airbnb knew they had to provide valuable information people may be searching for. Unlike their other social platforms where they usually only show gorgeous destinations, on Pinterest they also provide informative guides on what to do in certain cities, where to go, and road trips tips. These are things most people would be searching for.
What also contributes to their success is their use of common keywords for Pinterest SEO, graphics that match the Pinterest preferred image size, and links that lead directly back to their website.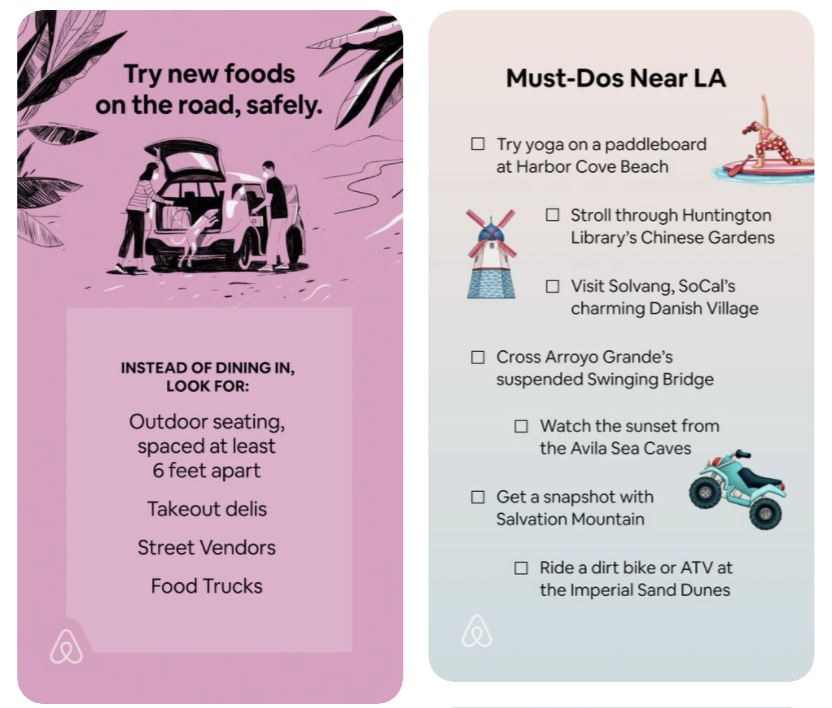 Takeaway
Tips for marketing your business on Pinterest:
Use strategic keywords in your descriptions

Make sure your account is a business Pinterest account

Post valuable, informative content your target audience would be searching for

Add links to your pin descriptions
The Key Takeaway
These brands made it big on social - yes - but it didn't happen overnight. Gradually they had to work on their social media marketing strategy and really do the research to see what resonated with their target audience best and build those relationships. If you're ready to start seeing your social media work for you, speak to the social experts today. Let us help you build your brand on social, so you can have more time to focus more on your business. Schedule a consultation with us today!
Prev
6 Tips to Better iPhone Photography
The Top 10 Social Media Platforms Your Business Should Be Using in 2021