10 Alternatives for Search Engines That Aren't Google
September 19, 2021
10 Alternatives for Search Engines That Aren't Google
Are you looking for a new search engine option that isn't Google? Google may be the top choice when it comes to online search engines, but there are a lot of different options you can use, too. In fact, a lot of competitor search engines offer different specialties that you may not be receiving from your normal browser experience.
DuckDuckGo: For When You're Concerned About Privacy
Ever heard of DuckDuckGo? DuckDuckGo sets itself apart as a search engine by not tracking or personalizing your searches and what is displayed to you. You can search for anything and everything without worrying anyone is watching what you're searching for. Consider DuckDuckGo your safe space if you're looking to keep your information private. It's a tool that you can even use as an iOS user, by setting your DuckDuckGo to be the default search engine in Safari. If you're working off of macOS, you can set it as your default browser, too.
Ecosia: For The Eco-Conscious Searcher
Time on the internet doesn't necessarily mean time wasted. With Ecosia, you can actually plant trees while you search! All you do is search as normal and Ecosia donates a portion of their income to conservationist groups that plant trees. Google searches actually create quite a bit of CO2 and Ecosia needs around 45 searches to plant a new tree. Just because you have never heard of this platform doesn't mean you'll be sacrificing results either. Ecosia uses Bing and other algorithms to deliver its user experience.
Bing: For When You Want to be Rewarded for Searching
Odds are, you recognize Bing's name. That doesn't mean you utilize it though! Nevertheless, there are a few reasons why you should. In January 2020, this Microsoft site handled a quarter of all searches in the U.S. Some argue that Bing outperforms Google, especially when it comes to its reward program. This allows you to accumulate points while searching that are redeemable at the Microsoft and Windows stores. In addition, Bing offers user-friendly navigation when it comes to video, without having a predominantly YouTube-based influence.
Brave: For When You Want to be Rewarded for Searching (With Your Privacy Protected)
Most search engines are built on information from Big Tech companies. That's why Brave has dedicated its model towards respecting privacy. Like Bing, Brave also gives its users rewards for browsing and supporting their favorite content creators.
They believe that your attention is valuable. You can earn rewards by watching privacy-respecting ads that keep your personal data is kept private. Brave Rewards is built on the Basic Attention Token, aka, the BAT. When you join Brave Rewards, your browser begins counting that attention you give to certain websites. You'll receive a corresponding amount of BAT each month based on how long your browser spent on the sites you visited that period. You can use Uphold to convert BAT into whichever currency you choose.
Boardreader: For When You're Looking for the Unbiased Opinion of the People
Boardreader is a great search engine option when you're turning to the internet with questions about a certain topic or if you're looking for unfiltered opinions. Boardreader scans the internet for forums or message boards that match the specific subject you're researching. Instead of getting lost in paid ads and biased articles, Boardreader will deliver exactly what you're looking for.
Qwant: For When You're Looking For Neutrality
Just like Brave and Bing, Qwant cares about respecting your privacy. Founded in France, Qwant prioritizes privacy and promises neutrality and impartiality. Qwant doesn't push data in your face or recommendations. Instead, Qwant's interface organizes your results into web, news, and social. They also offer a music section that utilizes AI to help you find lyrics and discover new music. You can also type "&" in front of websites to see external search results.
Disconnect: For When You Don't Want to Be Traced
Have you ever wanted to disconnect from your search history and future queries? With Disconnect, you can still get the great information you're familiar with from Google without them tracking you. In Disconnect, you search for terms, and your questions are rerouted through the servers before going to the search engine you choose. That way, you can still use your favorite search engine without an invasion of privacy.
Swisscows: For When Family Comes First
Swisscows has one goal in mind when it comes to your searches: delivering a "family-friendly" experience. Swisscows excludes inappropriate and violent content from its results and doesn't track data by avoiding work with third-party servers and the cloud.
Facebook Search:
As a social media company, we have to recommend Facebook for your search engine needs. Whether you're looking for a business, specific person, or topic - odds are Facebook is a great place to start.
Twitter:
What better place is there to get in the moment news on what's trending right now? You can find both opinions and professional news on Twitter and you can even share on your own. Twitter even offers Advanced Search, which is a great way to find the best results on Twitter. If you're looking for a local audience, you can use the "Near this place" field to find the closest audience.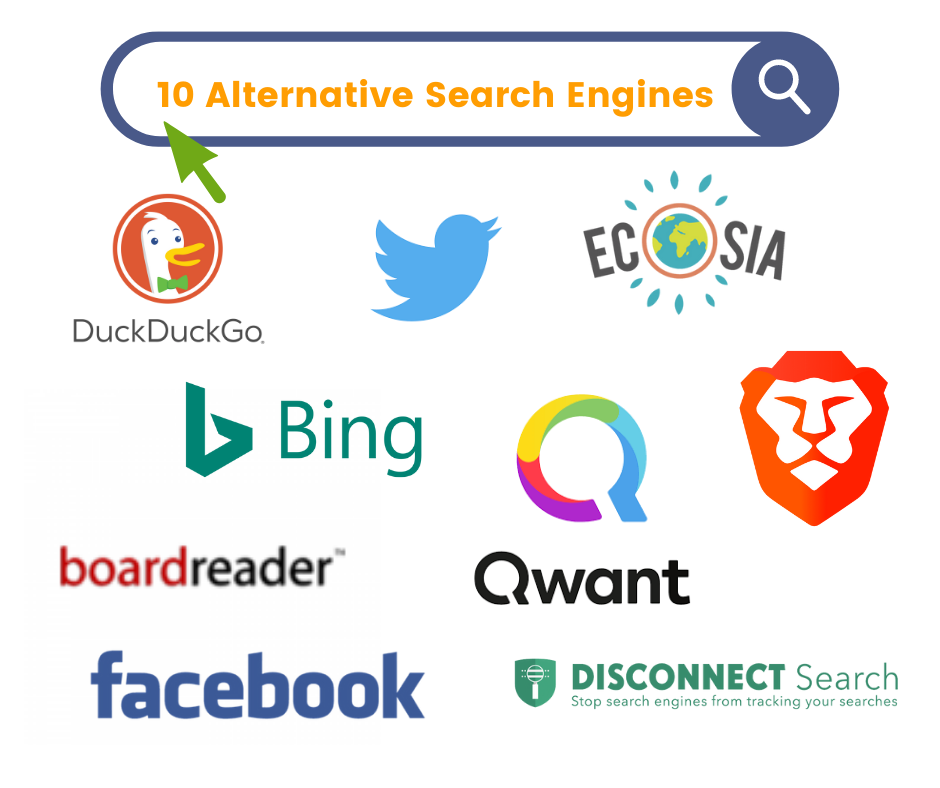 Want to learn more about other great social media hacks! Check out more by visiting our blog tab and click HERE to schedule a consultation today!
Prev
Does Social Media Affect Search Engine Ranking?
Why is Tik Tok so popular?